Light & Buzzy Vibrations
While this hasn't yet won me over on vibrating cock rings, it's gotten me to consider trying more. The Infatuation is soft and pliable around the ring but rigid around the clitoral attachment area. Too much rubbing in the wrong area could cause some discomfort because of this. It's light weight and not bulky but the vibrations are light and buzzy.
Published:
Pros:
- pliable silicone
- lightweight
- thin
Cons:
- vibrations are buzzy
- tip is rigid
The Infatuation comes in a tall white box with pictures of the cock ring on two sides, introductions and instructions on the other two sides. It is not discreet packaging and is rather large packaging for a cock ring. The bullet, batteries, and cock ring come individually wrapped in plastic inside of this box. This comes with 6 watch sized batteries though it only takes three. I think this is awesome that they included extra batteries.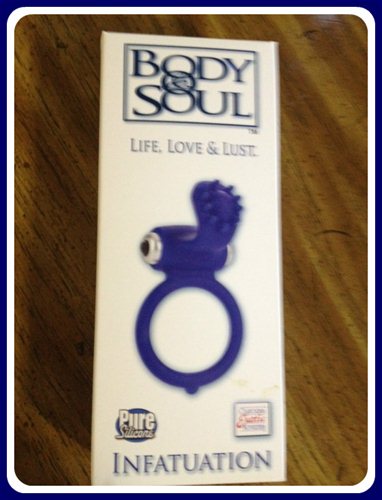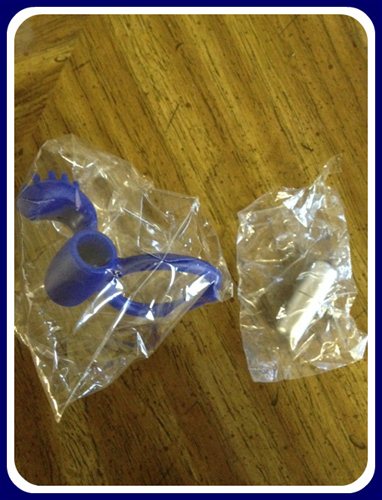 The Infatuation is made of silicone. The sleeve is silicone, that is, and the bullet is a thin plastic. It is completely waterproof and the bullet does have a rubber ring around the battery opening to prevent water from going inside. To clean this you would take out the bullet and insert the silicone sleeve in boiling water (i.e. dishwasher) or use a toy cleaner and to clean bullet you would use a toy cleaner or toy wipe.
When I opened the battery pack to put in the batteries the rubber ring fell off so I had to place it back into the seam. To turn it on/off there's a basic little black button the bullet you just press once. There is only one setting and the vibrations are very basic. They're not very strong either. They're pretty buzzy, but quiet.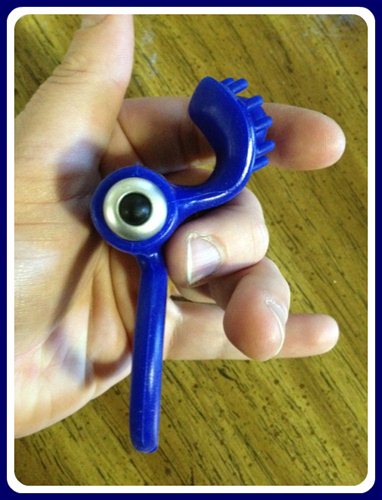 The silicone is only slightly flexible; it's rather rigid. There is a bit of stretch to it so it's not hard to place around the cock. It feels a bit gummy. Luckily I didn't have much resistance when placing the bullet into the ring or taking it out.
The tip isn't very soft so using this for long periods of time could possibly cause discomfort IF it's rubbing you the wrong way. There are about a dozen soft bumps for the clitoral part but there's a big bump in the middle that's hard. This didn't really bother me too much and was nice for point stimulation but if things get "wild" or get rubbed the wrong way I imagine this could cause some discomfort. There's also a warning on the box that this should not be used for more than 30 minutes at a time and you should wait 60 minutes between uses. The reason is prolonged use could cause bruising or permanent damage to the penis.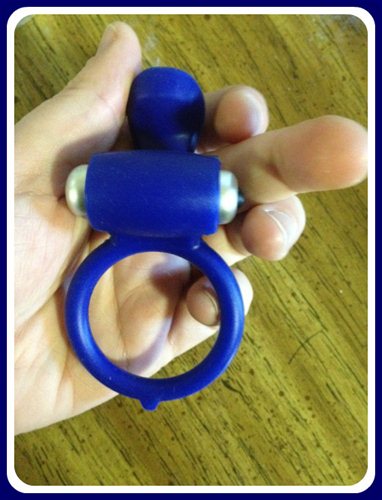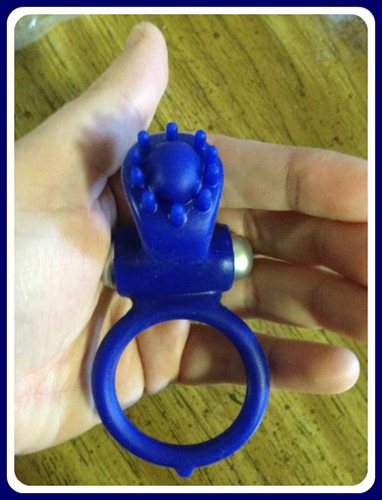 Experience
After we had a failed attempt with the Lia vibrating cock ring I thought we'd be turned off to cock rings forever. It's bulkiness and awkward size wasn't sensual in the least. We decided we'd try one more time with a different cock ring and got the Infatuation. The ring on the Infatuation is thinner and less annoying when worn and the clitoral stimulator isn't in the way like the Lia's was. It's more simple in comparison but much better.

First off, the ring of the Infatuation is thinner and therefore was more comfortable for my husband to wear because it felt like it was out of the way for him. There is one sleeve for the bullet on this cock ring which is just great because we didn't care for double-sleeved cock rings as ours just made intercourse awkward and uncomfortable. It's kind of a large bullet (1.75" x 0.5")but it doesn't have alot of weight to it and doesn't get in the way. There's a textured curve that protrudes out of the front of the cock ring for clitoral stimulation. The bullet transfers vibes through his protrusion and it does meet my clitoris during intercourse. His penis vibrates a bit as well but not so much that it's an annoyance to him.

I'm still not a fan of vibrating cock rings but I'm willing to search until I find the perfect one! This one isn't it for me but it's much better than ones we've tried before. I don't actually have much issue with this one except that the vibrations are too buzzy and not very strong. The tip also isn't very soft and I'd like a softer silicone.
This product was provided free of charge to the reviewer. This review is in compliance with the FTC guidelines.

Thank you for viewing
Body and Soul infatuation
– cock ring review page!