My Almost Perfect Wonderland
If you are looking for an amazing new C-Ring to add to your collection, AND fit (you, your man, your toy) the standards of girth to be able to use it, don't pass this by! This toy is made with high standards and I can see it holding up for a very long time. This is well worth the price and goes above and beyond in quality!
Published:
Pros:
- Smooth & Easily Washable Material
- Strong Vibes
- Great Reusable Case
- Firm Standing
Cons:
- Very low stretch that limits users available to wear it.
====================
The Heavenly Heart
Wonderland C-Ring
by Doc Johnson
====================
I LOVE C-Rings and firmly believe that everyone should have their own collection of them. Unfortunately, I threw my last collection away since they were all used with an ex, and have been looking for new ones to start anew. This C-Ring is a great start!
==========
Packaging
==========
The packaging on this is truly the best I've seen for any toy. This is exceptionally nice for those who want to use this as a gift or like packaging you are able to also store your toy in. The box all together is 7" x 3.5" x 1.50". The outer portion is a thin cardboard sleeve. It has a nice image of the product on top which doesn't allow for discretion, if that's what you're looking for. The back is cluttered with all the info you could possibly need for this.
Once you pull the sleeve off, you get to a thicker cardboard box. There is a nice magnet that keeps the lid closed, so if you are keeping the box for storage you can throw away the sleeve and just use this main piece. This part has the Wonderland logo on the top, but no picture of the product which will help with discretion. When opened, the underside of the lid has a picture of all the C-Rings in the series and a little story. The box itself has a plastic shelf to hold the C-Ring. The shelf is fuzzy on top AND removable so you can make room for keeping the toy with perhaps lubricant or other small items. Underneath you will also find instructions for the batteries as well as the speed settings of the bullet.
Presentation, check. Sturdiness, check. Usefulness, check. Overall, this box made me even more excited about the toy! Bravo Doc Johnson!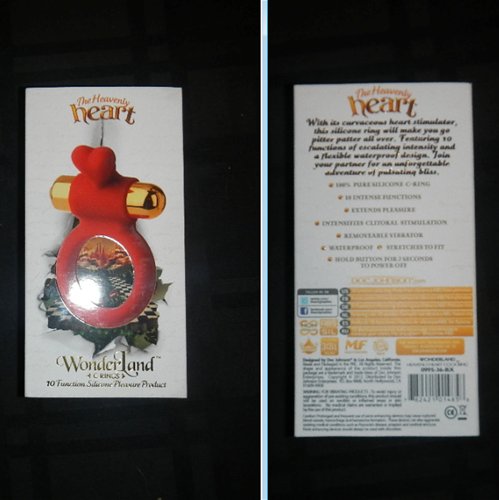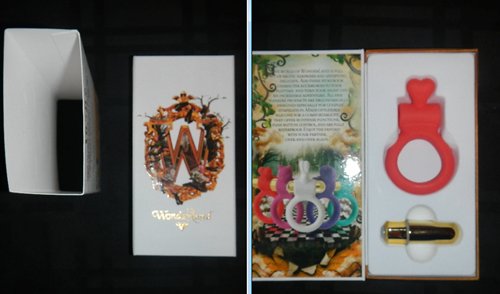 ==========
Bullet
==========
The bullet is removable, making it possible to use this alone or with other toys. It has an easy push button on one end which makes it ideal to change setting while in use. It's also cordless, leaving out the hassle of tangles some other bullets bring to the table.
Color
: Gold
Size
: 2.25" Long x 0.50" Wide
Sound
: Soft buzz that is easily covered up with a blanket and closed door.
Material
: It feels like a a coated plastic?
Speeds
: 10 Speeds! You have to cycle to get to each. The list noted on the inner guide is as follows.
1. Low Vibrate. 2. Medium Vibrate. 3. High Vibrate. 4. Gradient Burst. 5. Intermittent. 6. Surge. 7. Inta-Surge. 8. Even Step. 9. Roller Coaster Spurt. 10. Pulsate
Each click of the button cycles through the speeds. To shut the bullet off, simple press and hold the button for two seconds. NICE! So many other bullets, you need to cycle to shut them off! Not here!
The bullet works off of 3 button cell batteries (included) that are replaceable. You can find LR44H in most stores in either their electronics or jewelry sections. It is very easy to open and replace. Simply twist to open, push and twist to close.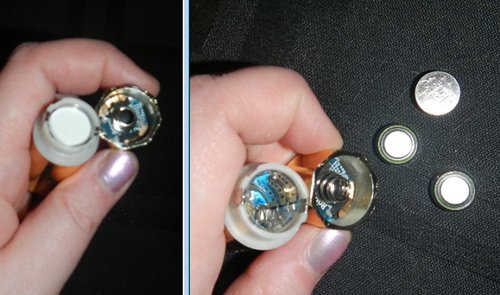 ==========
C-Ring
==========
* According to Box *
* 100% Pure Silicone
* Waterproof
* Non-Phthalate
The C-Ring measures 3.50" in total length. The diameter of the hole is about 1.35", and stretches to about 2.5", but uncomfortably. The stretch of this is the only disappointing part of the whole set. To be comfortable, your toy or man needs to be between 1.25" and 1.75" in total girth. Anything less, it will not stay on. Anything more, they may rupture blood vessels. The material is firm which is why it has limited stretch, but this helps the end with the heart stay standing upright to press against your clit.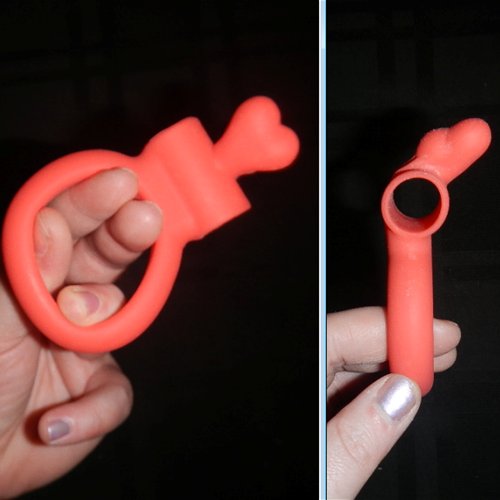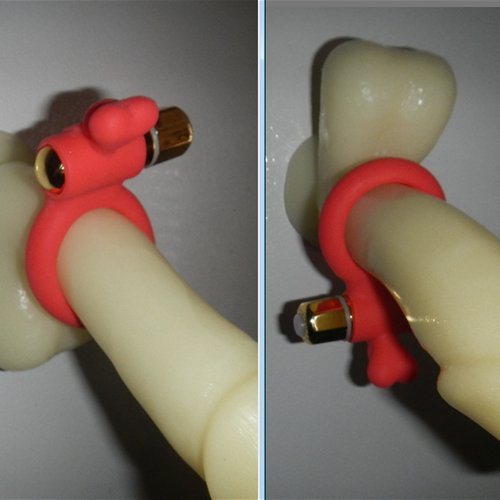 Experience
==========
Overall
==========
Assuming you, your guy, and/or your toy fits this, it's a great item to have! The amount of stretch to this is the only factor that may make it a poor toy to the user. Other than that, it goes above and beyond in my estimation. The material of the c-ring is smooth and soft, the bullet is full of great speeds and doesn't get in the way of your bodies, and the heart at the tip is positioned on a firm stand to keep it up against you.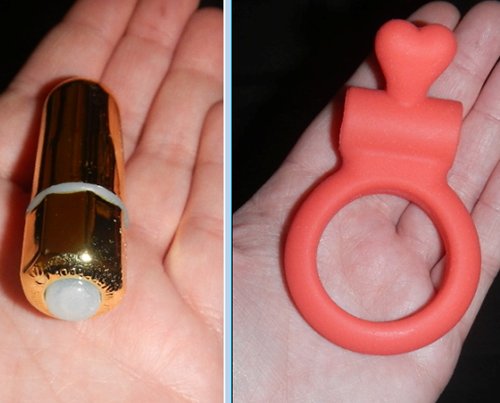 Follow-up commentary
15 months after original review
This toy is still in perfect condition! The mini bullet that came with has also given me no problems and only one battery change so far. I haven't noticed any rips, malfunctions, or anything to give me fear that this toy will be dying anytime soon. Great buy!
This product was provided free of charge to the reviewer. This review is in compliance with the FTC guidelines.

Thank you for viewing
Wonderland the heavenly heart
– penis ring with clit stimulator review page!