Not for Beginners
Unless you can stay hard while in pain, don't even bother attempting to wear this sleeve. And, Ladies? Be prepared to have your inner walls roughed up, even with liberal use of lubes.
Published:
Pros:
Easy to clean.
You can use any type of lube.
Cons:
Very uncomfortable for both men and women.
Too small. Too hard.
I'll start by saying that I think this item was meant for a certain type of crowd (masochists) that doesn't really apply to myself or either of my boyfriends. We didn't enjoy the product at all, but we're willing to admit that perhaps it wasn't intended for us. Please keep that in mind as you read this review.
The product itself came in a small clear bag with no instructions. Which is why I titled this review "Not for Beginners." As folks who have never used penis sleeves/extenders before, we were a little confused at first and had to look up online how we were supposed to get the darn things on.
They're incredibly small. My two boyfriends thought, at first, that they were meant to be worn on their fingers rather than their penises. The product had a faint plastic-y odor (that didn't go away with washing), and very little flexibility.
After I insisted that they were to be worn on a penis (as per the Eden Fantasys product description), my boys eventually managed to squeeze themselves each into a sleeve.
Boyfriend #1 has a 6.5" cock, and the sleeve barely covered about half of his shaft. Boyfriend #2 is about 3" long fully erect and the product fully covered his shaft. Unfortunately, both boyfriends found the sleeves so immensely tight and uncomfortable to wear that they lost their boners almost immediately and the sleeves popped right back off.
This made me nervous because I didn't want my boyfriends fucking me only to have the sleeves slip off inside of me! You absolutely MUST stay hard/erect for this product to work! So my guys suggested I test the sleeves out on a more "dependable" male -- my Uptown Boyfriend dildo from Eden Fantasys!
I slipped a sleeve onto my Uptown Boyfriend -- who is ALWAYS erect and ready to please -- lubed up, and had at it.
I did not enjoy the experience. The nubs and ridges on the sleeve are very stiff and were quite harsh on my insides. My inner walls felt like they were being roughed up and were scraped in a very uncomfortable way. It was quite painful and I absolutely hated the sensation. (If you LIKE pain, then perhaps this would be a good product for you!)
I eventually gave up on trying to pleasure myself with this product. But I wanted SOMEone to get off from it, so I decided to test out our original theory (that perhaps they'd be better used on fingers) and slipped them onto my hand, forming a makeshift glove ala Freddy Kreuger...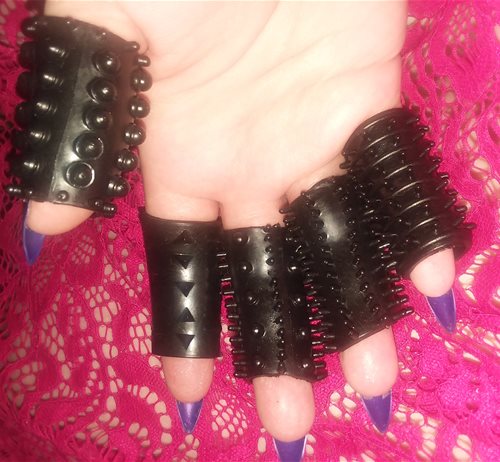 Looking like a creature straight out of a nightmare, I proceeded to give my boyfriends handjobs. And while we all had a great laugh at my futile attempts, neither man was pleasured by the sleeves. Unlike the soft, flexible nubs in their sex toys (Fleshlights, etc.), the sleeves' ridges were much too hard for them as well. They proclaimed that the experience was "too rough" and not pleasurable in the slightest. Oh well. It was worth a shot!
The only good thing I can really say about this particular product is that the TPE/TPR sleeves were very easy to clean. Due to the material, you can feel free to boil them or use very hot water and soap to wash them. You can also use whatever type of lube you feel most comfortable with without damaging the product.
In conclusion, if pain gets you off (as a male OR a female), then feel free to give this product a shot.
This content is the opinion of the submitting contributor and is not endorsed by EdenFantasys.com

Thank you for viewing
Xtra texture sleeve kit
– penis extension review page!