Not so Inspiring
Unless you (or your partner) is much thicker than average and you (and/or your partner) likes limited vibration, don't purchase the Inspiration cock ring. There are much better products on the market!
Published:
Pros:
easy to clean, comes with extra batteries, waterproof
Cons:
too big, weak vibrations, top heavy
My boyfriend and I absolutely love cock rings, but this is not one we would recommend. I'll start with the positives, since there are only two in all honesty.
The first is that the toy is waterproof and therefore, also easy to clean. The ring itself is made of silicone, so pretty much anything comes off with a bit of soap and water.
Second, the toy comes with an extra set of batteries. However, don't get too excited. The battery life for this thing is horrid! I never leave the batteries in my toys; taking them out makes them last a bit longer (it is also safer). However, this toy didn't even make it through one round of sex. We had to completely stop and change the batteries, which, let me tell you, is a mood killer.
Additionally, the bullet only has one setting and the vibration isn't actually that strong. We tried to replace the bullet with one from another cock ring, but the sizes were not the same. We have at least 4 different ones, but the bullet from the Inspiration ring is smaller than the others; thus, another bullet did not fit in this ring. This type of weak vibration may be good for a beginner or for someone with a sensitive clitoris; for both my boyfriend and I, it was not enough.
That issue in itself was a major bummer. However, there is a much bigger issue: the size of the ring. If you measure the diameter (from one side of the ring to the other) it is a little bigger than 1.5 inches (I have attached a picture for reference). Now, my boyfriend isn't huge, but he is definitely not lacking in thickness. He put the ring on, but it was too big; he had to be rock hard for the ring to stay in place. Since cock rings are supposed to cause the cock to become more engorged and, therefore, make a guy last longer, they should be tight. The Inspiration ring completely failed in this department.
Once we started having sex, however, the size became a bigger issue. The clitoris massager is pretty heavy, so the ring kept swirling, so that it was upside down. We repeatedly moved the ring so that it was facing the right direction once again. Unfortunately, it was getting to be too much to keep fixing the ring; we ended up just taking it off.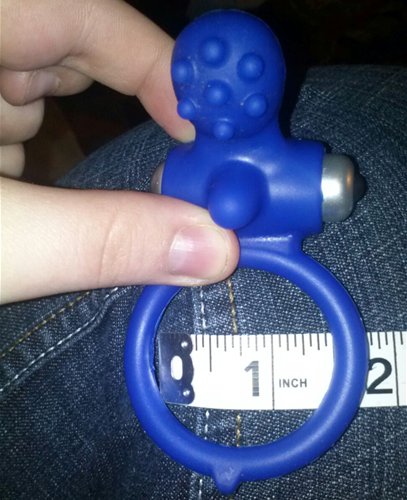 Experience
I also tried to use this cock ring on a dildo for masturbation purposes. However, the sizing continued to remain an issue.
Follow-up commentary
2 months after original review
I have tried extremely hard to get this product to work, so much so that I drove my boyfriend crazy. When the Inspiration ring was placed around my boyfriend's shaft, it was too big and did not stay in place. Additionally, I mentioned in my review that it is top heavy; therefore, the ring would swirl so that the vibrator was on the bottom of his penis most of the time.

Since traditional cock rings are meant to be worn around the testicles, we tried that with this product. Since the ring is pretty big, it seemed like it could be a good idea. However, the ring is not stretchy at all, so there wasn't a way for my boyfriend to position himself in that manner.

My last resort was to try this ring on another sexual partner (I'm in an open relationship). I was hoping that I would find at least one guy that Inspiration fit properly. After several failed attempts, I did find someone who was able to wear this ring. The issue is that he is far above average in girth, so this ring is still not good for your average (or even somewhat above average) male.

Since the ring fit, we decided to give it a try, but I still did not like the ring. The vibrations are pretty week and the design isn't anything amazing. The vibrations did hit my clitoris, but since they were so minimal, I didn't get much pleasure from the product. My partner found the ring to be rather uncomfortable and heavy. He said it felt like the head of the ring was tugging on his penis.

In an attempt to salvage at least a piece of this product, I tried to use the bullet by itself. I was hoping that the bullet would feel more powerful if it was separated from the rest of the ring. However, I was wrong; the bullet itself is quite weak. I can't say I'm too surprised since it's so small. Based on how weak it felt, I would expect those type of vibrations to stem from a product adjusted to a "low" setting; however, this bullet only has one setting.

Overall, don't waste your money on this product. The manufacturer suggested retail price is $17.99. While that isn't really a lot of money, it is far too much for this product. I suggest taking that and investing in a better cock ring!
This product was provided free of charge to the reviewer. This review is in compliance with the FTC guidelines.

Thank you for viewing
Inspiration
– cock ring review page!