Not your usual cock ring..
It is a great ring and has many uses. It provides lots of stimulation and is the perfect ring for a girl that loves being on top.
Published:
Pros:
Great Shape
Powerfull stimulation
durable
Cons:
Too hard and big for some positions
We are new to toys and just recently tried a cock ring for the first time. I loved how they worked so well for my husband and I. So when we saw this toy we had to try it. The shape of this toy was very interesting and unlike any other cock ring we had ever seen. We were very hopeful that the shape would add a lot more pleasure during use.
First of all the top of this toy was much bigger then I had thought it would be. When we first tried it out in missionary position this made it very uncomfortable for me as well as for my husband. The bumps on it seemed to be way to stiff for me and they really dug into all the wrong spots with every thrust. My husband couldn't go deep in me at all without hurting me and he had to go very slow also. We tried many times to reposition it to try and make it feel better but it hurt about every way we put it. I read in a previous review that this toy felt much better from on top so we tried that and that ended up feeling much better. I liked the way that I could control the simulation. Also the the bumps felt much softer once on top. The shape of this toy made it so the entire clitoris was stimulated leading to a much more powerful orgasm.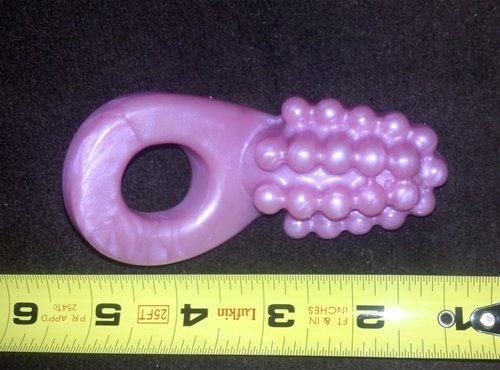 This toy is made out of a very safe food grade silicone. Silicone is a great material the only downside is that you cannot use silicone lubes. My husband and I really enjoy silicone based lubes and do not enjoy ourselves as much without it. This might not even be a downside to others. The toy is very durable and held up really good. It is a reusable toy and only requires soap and warm water to clean it up after use. Like I said earlier the bumps were a little to hard for my liking and I wish they would have been soft enough for me to use on bottom. We did end up finding a way that I really enjoyed this toy from missionary position. When the toy was turned around so that it stimulated my butt it made my husband able to go as deep as he wanted and it was very pleasurable for me as well. The bumps really felt good down there and led to me having a great orgasm.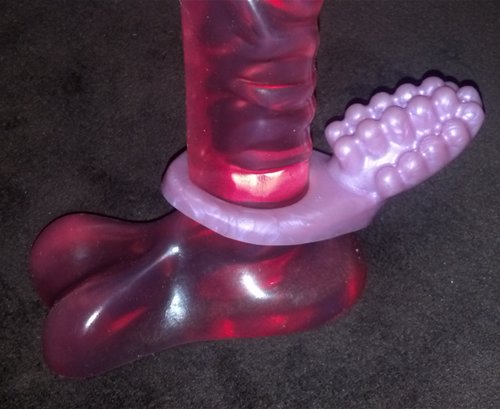 My husband said it was not the most comfortable for him though. He said that it kind of rolled and pinched him when we first started and he wishes they would have made it smoother all the way around like other rings are. During sex the pain would go away and he said it would feel fine, but every now and then he said it just felt uncomfortable and would have to reposition it slightly. It did work very well for keeping him hard and kept him hard for as long as any other cock ring we have used.
This product was provided free of charge to the reviewer. This review is in compliance with the FTC guidelines.

Thank you for viewing
Rollerball
– cock ring review page!