Sexy underwear for men without looking like a stripper!
If your idea of sexy underwear for men is a thong with an elephant's face whose trunk is home to your man's penis, then you might want to skip these. Otherwise, these shorts would make a great addition to any man's underwear drawer and are comfortable enough to wear at any time, not just in the bedroom.
Published:
Pros:
Sexy, clingy, well-made, comfortable
Cons:
One size fits all might not work for some,
Hand wash only, delicate enough to snag
So you've bought your toys, vibes, lubes and sexy outfits and have decided it's time for you (or the man in your life) to have a little something sexy to wear too. After all, there's so much to choose from for us girls, but if you're a guy then let's face it, the choices are pretty limited. Sure, you could get yourselves some matching panties if you're feeling a bit adventurous, but there's really nothing like sexy male underwear on your man, right? Cue Fantasy Lingerie's Striped Mesh Boxers. These are light, airy, sexy and the man in your life won't need the body of a Greek God to feel and look good.
The first thing to note about these is that they're not really boxers in the traditional sense, they're more like trunks. So if you're the type who prefers things to hang 'naturally' rather than have your bits cradled and supported (I'm talking about by your underwear rather than your partner, lol) then these may not be for you. We've bought other male underwear from EF that's more snug-fitting (i.e. tighter) than these (more of that in another review) but while these are pretty tight, they're certainly not restrictive. In fact, these are very comfortable indeed - light enough to be breathable and wearable for prolonged periods with no annoying itching or scratchy seams.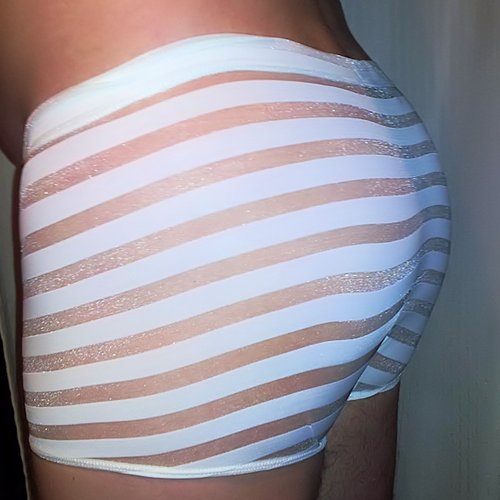 This doesn't help the review at all. I just love looking at Hubby's bum in these!
According to the blurb, these "low cut waist, sheer boxers gives you a full leg coverage". While they're not in the realm of bicycle shorts, the legs are a little longer than standard trunks, so I guess that's what 'full leg coverage' means. Fantasy Lingerie's official line also states that "The pouch provides comfort and support. Made of 90 percent Nylon and 10 percent spandex" There is a pouch to these, but we found it's really there just to add some room rather than give any real support or enhancement.
As you can see from the attached pics below, they're definitely see-through but the stripes mean that things aren't quite as 'in your face', which we found to be sexier than just all-out see-through underwear.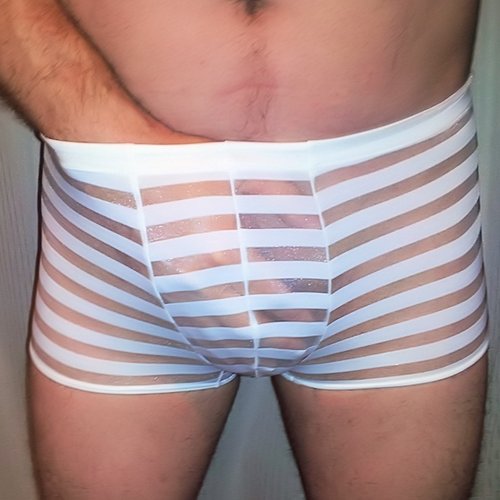 I wanted MY hand there but that would have left just the dog to take the pictures and she's not that well trained yet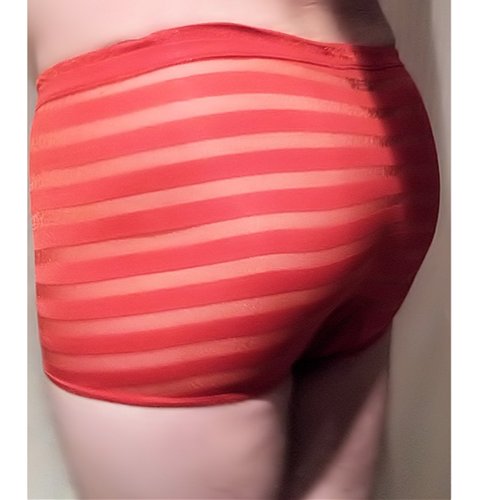 Experience
The whole 'one size fits all' thing tends to be used quite a lot and isn't always helpful. We managed to track down a sizing chart on Fantasy Lingerie's website which we've shared here: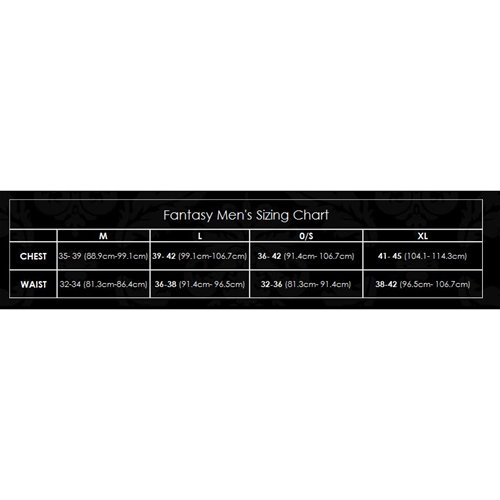 The pic is actual size so may be a little difficult to read, but the relevant part says that One Size (O/S) waist measurement is 32"-36". Hubby is generally anywhere between a 32" and 34" waist (although he usually denies the 34" measurement, haha) and these fit wonderfully - well, I think so anyway. Sometimes if you get stretch underwear, the waistband can often dig in, but this doesn't really do that, nor does the elastic at the base around the thighs. The material is even nicer to the touch than we expected, especially when they're being worn.
The care label on these gives the above info and on the back tells you to Hand Wash Cold, to Line Dry and finally Do Not Twist. Now, while these shorts aren't flimsy, they're delicate enough that they almost certainly wouldn't hold up well to machine washing/drying. We followed the label's advice and had no problems (although we found that flat drying gave the best results).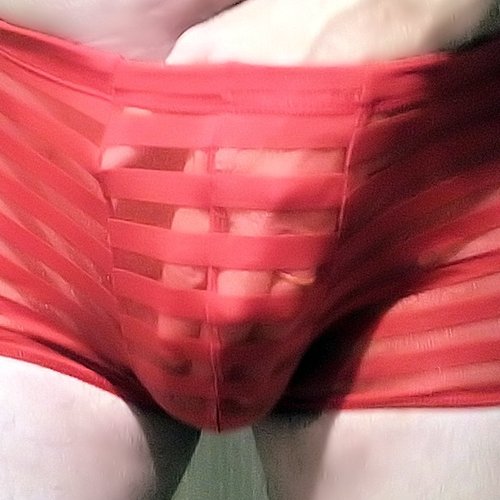 If we wanted to be
really
picky, I'd mention that the elastic in the legs rolls sometimes as you can see in the above pic, so they have to be straightened out from time to time. That's not really a criticism though since it's going to happen with any garments like this. Just don't expect these to look quite like the website pic - getting all of the little lines and creases out takes a lot of hard work (but I'm always happy to volunteer in the underwear adjustment area!)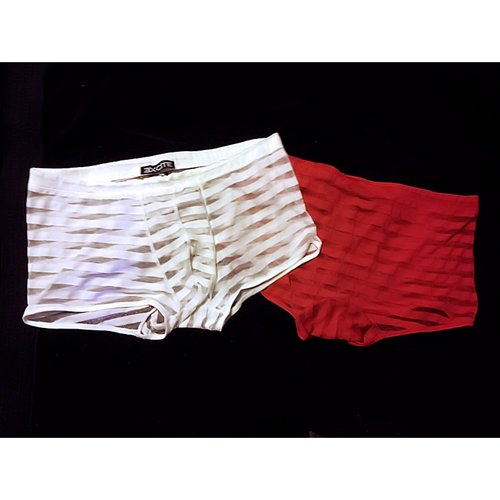 As you can see, we liked these so much we bought both the white and the red. If Eden Fantasys carried the black we'd definitely buy those too. More of the same please, EF!
Follow-up commentary
3 months after original review
Three months on and these are still holding up well with no wear and tear or sagginess (at least not in the boxers - the body's a different matter!) Bearing in mind the less-than-ideal experience with the Fishnet trunks, these are even more of a bargain and I'd definitely buy them again. I'd still like to see EF carrying the black ones, but there's absolutely no complaints about the white and red. The Striped Mesh Boxers have proved to be possibly the most comfortable male underwear I've bought from EF. If you're considering these for you or your man I'd certainly recommend them.
This content is the opinion of the submitting contributor and is not endorsed by EdenFantasys.com

Thank you for viewing
Striped mesh boxer
– shorts review page!