Should have just bought the head.
Buy this doll for the 'gag' factor, any other use will surly be painful. Having only one usable orifice, you can just buy a stroker and get better results. She might be fun for a pool party though, if you don't have a date.
Published:
Pros:
Usable mouth.
Cons:
Vagina/Ass seams cause pain, Lack of tattoos.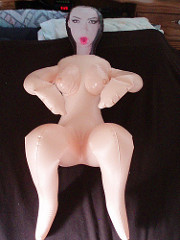 Once upon a time, many years ago, I fell to the urge to try out a blow up doll. It was a learning experience to say the least, pain during masturbation is one thing I did not care for. Wearing a condom to fuck some doll was something else I did not care for, especially if it was only to feel less pain. You live and learn, right?
I guess something's I will never learn. But in my defense, that was 20 years ago. Surely they make them better nowadays? Wrong! Do they only make these as gag gifts? Do guys really use these and enjoy them? I surely don't see how, at least not dolls like the Inked Biker Babe Doggie Style from Cal Exotics.
The Biker Babe (BB) comes to you folded in a bag and placed in a box with a good looking "Inked Babe" on the front. On the back she is posing in the doggie style position. On one side of the box she is standing giving you a frontal view and on the other she is standing facing away. In all the views you can see the tattoos that cover her back. What a way to get you in the mood, eh? Not discreet by any means but I am thinking that is something that most will not be concerned with.
First you need to take BB out of the bag, unfold and find the air valve. Take a deep breath and blow her up, this does not take too long to do but you could use a air pump if you have an attachment that fits the valve. If you blow her up by yourself, remember to take a break every now and then, hyperventilation is easy to do when you are excited.
During the blow up process one thing you will notice pretty quickly (Air valve is in the middle of her back) is the lack of tattoos. You only get one patch about 5 1/2" X 4" on her top left shoulder, so much for a full back tattoo!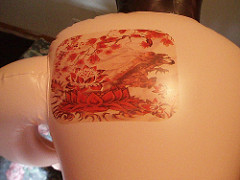 "Tattooed Biker Babe" my ass!
Once fully inflated, BB is pretty small in size. She is only about 10" wide at the shoulders and about 32" long from ass to top of head. She is held in the doggie style position so you cannot stretch her strait but I would say she would be about 6' tall if you could.
BB's face has a picture superimposed on the head so it looks somewhat realistic. If not for the bright pink
mouth opening it would be a lot more realistic.
As with most dolls, you get three orifices to chose from; Mouth, pussy and ass. Her mouth is about 1 1/2" wide and about 4-5" deep. This is the only usable orifice for pain free use. The edges have been folded over so there are no rough seams. Her pussy and ass are identical is shape and size to each other and are oval in shape. The opening is 1" wide by 2 1/2" long; both are about 5" deep. Both of them have raw edges on the PVC and this makes them pretty much unusable unless you like pain, even a condom does little to overcome this flaw.
To get at the ass and pussy you first need to take off a covering of PVC that hides them. I can't even guess why these are this way. There is a small hole in the center of the cover, I kind of forced my finger through this hole and was able to "Peel" the cover off.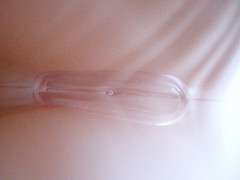 Another weird design of the BB is that the ass and pussy are about 5" apart from each other. The pussy is located where it should be but the ass is placed on top of the lower back. I cannot figure out why, it makes no sense to me.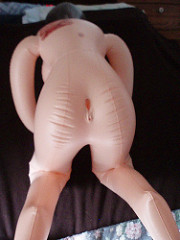 BB's tits are made of firmer PVC than the rest of the body; this too is strange to me. They would feel much better if they were the same as the rest of the body. As it is they are hard and not even good for a good titty fuck.
Should you find that you can use this BB to conclusion, simple soap and water or a toy cleaner will clean her up. It may just be easier to take her into the shower and clean her there. You can use water and
silicone based lubes with her. Water based will be much easier to clean of though.
Experience
I was hoping that I could use the
Seductora Caliente "tight hot ass"
with this doll. Figuring that the seams would be there, I was hoping that the two toys would work together to make for a good experience. Sadly this was not meant to be, no matter how hard I tried I could not get the stroker to go in and stay. Looking back, that would have been the only way that both of these toys would have worked for me.
Oh well, live and learn, eh?
One good use I found for it was to scare the hell out of my Min Pin. The first time I blew BB up I left her on my bed, his favorite nap place, and left to find my camera. I guess he went in to take a nap, he had one of the biggest barking fits I have ever heard. Hackles raised and teeth bared, I though for sure he was going to tear her apart. Even right now as I am writing this review he is sitting there watching her and growling ever so quietly.
This product was provided free of charge to the reviewer. This review is in compliance with the FTC guidelines.

Thank you for viewing
Inked biker babe doggie style love doll
– female love doll review page!