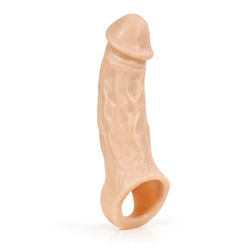 Colossus
Realistic penis extension by Vixen Creations
Simply Perfect
Many penis extenders are made of inferior products. The best thing about the Colossus is that it's made of a super safe product that can easily be sterilized. The Colossus gives the wearer a bit of extra girth as well as added length. It's easy to use and really just a wonderful product.
Published:
Pros:
Premium quality silicone, Easy to use, lifetime warranty.
Cons:
None.
I have had my eye on Vixen's ride-on for awhile, but due to the dimensions, I really didn't think it would work for my partner and myself. I was totally thrilled to see the Colossus pop up in the shop her and Eden, and I could.not.wait to try it out.

The Colossus is classified as a penis extender. It's really a sleeve that adds a bit of girth, as well as a bit of length. I wanted that extra bit of fullness and so I had to get my husband to help me out with this review.

The Colossus is a nice soft silicone. It's bends and stretches very nicely, and feels like a second skin. It's very easy to put on. Put a small amount of water based lube on your penis. Turning the sleeve inside out about half way up the shaft makes it much easier to get inside, then sort of unroll it down the length of your penis, while squeezing out any air that might be trapped between the head of your penis and the top of the shaft opening. Then secure the strap behind your testicles. The testicle strap is nice and stretchy. My partner says that it was firm, but very comfortable to wear.

While in use, my partner said it stayed in place very nicely, better than he really expected it to. He also said that having the sleeve on didn't really desensitize him as much as he thought it would (this can be good or bad depending on what you are looking for). He figured that with the silicone being as thick as it is along the shaft, that it would dull the sensations for him, but really the silicone is soft enough and fit snugly enough that it felt pretty much like wearing a condom during sex(as far as sensations go anyway). Inside the shaft of the colossus is a thin swirl ribbing that helps create the suction that keeps Colossus in place. My husband said he didn't really notice the ribbing much while using the toy.

As the receiving partner of this toy, I loved it. It gave a bit of extra fullness and feels amazing. The Colossus really feels like the real thing. The Silicone is soft and flexible, and the veining on the shaft is very realistic. It's less cumbersome than using a strap on. Easier on and off. There is really nothing between you and your partner with this toy, it's just so easy to use.

The dimensions are as follows:
Outer measurements: 6 and 3/4 inches by 2 and c1/4 inches
Inner measurements: 5 and 1/2 inches by 1 and 3/8th inches
The silicone is about 1/4th inch thick around that shaft. It gets thicker on the areas where the veining texture is, and thinner on a few spots, but more or less it's an average of about 1/4th of an inch. The extension area adds about 1 and 1/2 inches in length.

This toy, and all Vixen toys, comes in a clear tube with a black cap on both ends. It's great packaging and it works perfect for storing the toy. It's not discreet, because you can see right through it, but it makes finding what you are looking for easy, when using the tube for storage.

The Colossus can be used with water based lubes. It's easy to clean. Wash with warm water and anti-bacterial soap. You can also boil it for 3 minutes, or toss it in the dishwasher.
Experience
I have nothing but great things to say about the Colossus. But realistically, due to the this silicone on the shaft, I am taking extra care with this toy. I have it packaged in the tube, so that it doesn't touch any other toys in my toy box. It has a lifetime warranty, and with a little extra care it should last for a very long time.
Follow-up commentary
3 months after original review
Ok, so I admit this is not a toy that we use all the time, but I still love it. When we are in the mood to use an extender it's nice to have one that is made of such high quality materials. The shape/design of this product is really just brilliant. My partner says it's very comfortably to wear and easy to get on. I think the super soft silicone feel wonderful on my skin. I would recommend this a hundred times over.
This product was provided free of charge to the reviewer. This review is in compliance with the FTC guidelines.

Thank you for viewing
Colossus
– realistic penis extension review page!