Smelly Pussy
The Latin Nights deep penetrating pussy is large enough to accommodate even the largest male member. Warm it up with warm water and it feels better than a do-it-yourself hand job. The material stinks something awful and leaves a strong smell even after washing. It is just an alright masturbator if you can get past the smell.
Published:
Pros:
Feels real, Looks real, Pressure can be controlled manually, Large and deep
Cons:
Smells awful, no texture inside, hard to clean & store
The Latin Nights deep penetrating pussy is a male masturbator. It is made for solo masturbation, but can be used as a hand job aide as well. Inside it easily accommodates even the biggest male member. It says it has a depth of 7" inside, but it stretches so I am willing to bet it will fit more. The entire length of this masturbator is 9".
The material comes close to feeling like the real thing. I recommend warming this thing up in some warm water, it is downright chilly when at room temperature. The entrance looks like a very real pussy should, complete with uneven labia folds and a little nub for the clitoris. It looks
just
like the picture. The end has a small hole for ventilation. It makes a squishy sound when in use. The whole thing is a bit flimsy. Maybe we are spoiled by the fleshlight, this thing is limp. The nice thing about limp is that you can really control the amount of pressure with your hands. The bad part is that it limply falls over when you retract it.
It weighs 1.3 lbs, so that certainly adds to the limp factor.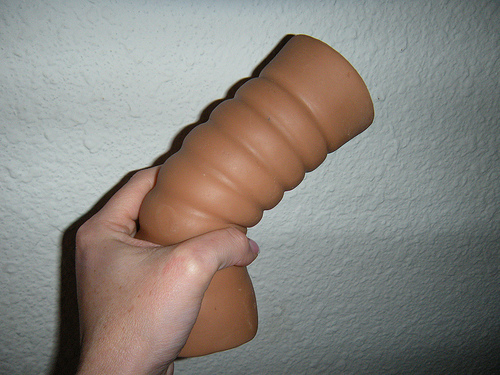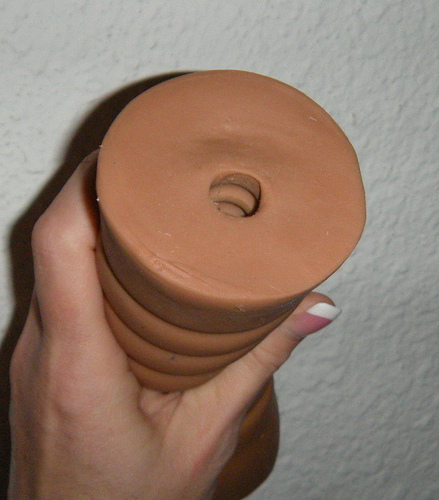 The inside is smooth. The texture comes from the outside nubs which you can control by applying pressure with your hands. The inside has virtually no texture.
This is a pic of the inside flipped out.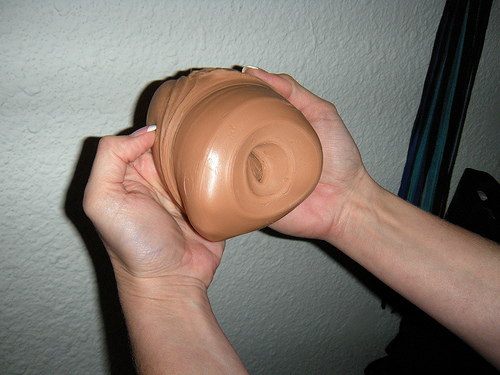 Cleaning this toy was a bit of a challenge. The whole thing can be flipped inside out for cleaning. Once it was all the way inside out I was afraid to stretch it too much to get it back right and rip it or something. It didn't rip, but it sure did feel like it could have. I used soap and water to clean this toy. You need to store this in a cool dry place. It is not fun trying to dry this toy off. I ended up flipping it inside out a few times, just to make sure I got all the water off of it. Since the material is so porous it is recommended to use a condom. We didn't do that though, it kinda takes the fun out of it. When storing I put it back in the original box. You will definitely want to store this all by itself in a zip-lock bag or something similar. The material can absorb dyes from other materials. This toy is only compatible with water-based lubrication, which you will need to play with this toy.
The problem comes in with the smell of this product. I don't know if all UR3 products stink like this one. I washed the masturbator as soon as we got it. I tried to mask the smell with a sex toy cleaner to no avail. This toy stinks even after washing it. This is the very first product I have ever had that the smell made me sick. Ultra Realistic 3.0 (UR3) is extremely porous. I knew that before I accepted the assignment. I don't mind the low safety rating for something that feels real. My partner didn't seem to mind the smell so much, so it may just be me.
Experience
I spent about 15 minutes trying to clean this toy before I could stand touching it enough for my partner to use it. He used a lot of water-based lube on his member, and even put some in the toy before insertion. The toy looks real so it was a bit of a turn on watching him lube "her" up. He used it at first by himself and that is when we noticed how limp it is. I took over after that and I needed to use both hands to keep it from falling over when I worked it on the head of his cock. It made a funny squishy sound when he used it but it was no louder than actual sex. I am rating it only 3 stars due to its smelly material. He gave it three stars as well. He said it felt better than doing it himself, but no better than a hand job I could give him.
This product was provided free of charge to the reviewer. This review is in compliance with the FTC guidelines.

Thank you for viewing
Noches latinas deep penetration pussy
– pocket pussie review page!