The existence of the sea means the existence of pirates.
Jesse Jane's Pirate Booty Stroker is wonderfully crafted with few faults. Though gripping it might give you trouble and the head may bounce around, the innovation of this product is second to none. Because of how great this feels, the good outweighs the bad by a long shot. Digital Playground continues to impress with this sea bound beauty.
Published:
Pros:
Great look, clear!, clever tie-in to the movie, feels awesome
Cons:
Head is wobbly, awkward to hold, sticky, hard up keep
Jesse Jane's Pirate Booty Stroker is a masturbation sleeve which is part of a collection tying in to the Pirates movie series. Digital Playground proves to be innovative with each and every toy I try from this collection, and doesn't disappoint. While these sleeves probably aren't as good as the fleshlights made for this movie, they get the job done at a quarter of the cost. It perfectly plays in to good marketing, like that of action figures from your favorite superhero movies---I find myself wanting to collect each toy and I still haven't even seen the movie yet.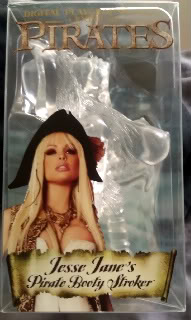 The sleeve is made of cyberskin which is a combination of PVC and silicone—the one I received is of the clear variety and it is quite striking in appearance. To get cyberskin so crystal clear like this product is not an easy task, they managed it perfectly and without getting air bubbles. As artists we were both really impressed with how this copy came out.
A perk of this being made of cyberskin is that it will fit most guys, there is so much stretch I don't see girth being an issue. The page say 2.5" for girth and with enough lube you will easily slide right in. Length wise it is listed as fitting 7" but again because it is so stretchy and sports a mouth hole this is gonna slide all over your length during use.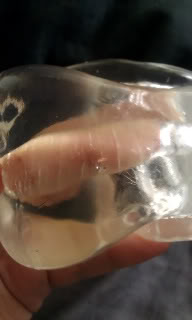 The sculpt is nice aesthetically but not particularly practical. The idea of this sculpt is that she is the figurehead on the front of a pirate ship. Figureheads are generally carved out of wood usually of women or mermaids and were made largely between the 16th and 19th century. So in this case your "mast" will hold the figurehead up---it is in my opinion a clever idea in terms of promotional items for this movie. At 7" in length this sleeve is sculpted to look like Jesse Jane, it show cases her curvy body and has her wearing a pirate hat to keep with the theme. You enter vaginally through the bottom—the top has an air hole through the mouth but it really isn't intended to be an exit. The problem with the make of this lies during use, it is really difficult to figure out how you are supposed to hold on it---do you grab her waist, her neck, what do you do? On top of that, during use her head bobbles around quite a bit, while you can't really feel the weight shifting because of this it is kind of a bother and distracting.
From the outside of the crystal clear toy you can see the ribbed texture. During use each of these ribs stretch out and feel, from what Ive been told, more realistic. You can also see where the tunnel starts at the base and where it ends, through the mouth. Covering the mouth will provide little suction, I think the material is too pliable to work on this particular sleeve. Because the hole stays open it promotes sliding throughout---without this hole I have a feeling it would have a lot of drag and not be as pleasant.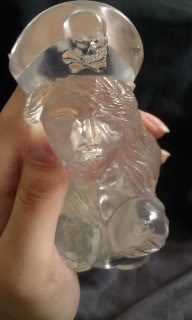 Although cyberskin feels really awesome and supple, one of the downsides is maintenance. What I have noticed is toys that you can smell as soon as you open the box usually have more of an upkeep problem. Cyberskin is really porous and easy to rip so after your standard cleaning of soap and water you must wait for it to dry then apply cornstarch or baby powder. Because there is some silicone used in the material of this toy, stay away from silicone based lubes---water based is the way to go. Lubing the sleeve up can get very messy, make sure you block off the mouth hole with a finger while pouring it---even then tons of lube may come out during use. Cyberskin already has a tacky feel to it, so the lube on top of this made gripping awkward at times and required clean up a few times during use. I really thought the box showcased the toy well, it is a clear plastic with Jesse Jane herself towards the bottom, the back shows you other items in this collection---primarily the ones with Jesse Jane attached. Usually for sleeves we take them out and throw them in baggies to save storage space, but I think we are going to hold on to this one---because she is bulkier and really sticky I think the set-up of the box works well for our needs.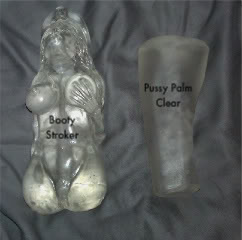 Experience
During use we switched off back and forth taking the helm, I wanted to make sure I fully understood what it felt like before writing a review on it. I enjoyed being able to see what was happening on the inside, but must admit it wasn't as comfortable to grip on to as some of the other sleeves we've tried. My partner said although it feels really nice and he would use it again, it probably isn't going to be his go-to sleeve. Right now we haven't had a chance to venture into the world of hard shelled sleeves but we do enjoy the Pussy Palm Clear. The difference between these two being mostly the grip and being able to give oral to him during use with it. He also wanted me to note that he thoroughly enjoyed the texture on the inside of the booty stroker, it wasn't overwhelming and during use felt really natural. Due to how accommodatable it is to girth and length and how well it is made I would still recommend it to anyone looking for a lovely collector's piece.
This product was provided free of charge to the reviewer. This review is in compliance with the FTC guidelines.

Thank you for viewing
Pirates Jesse Jane's pirate booty stroker
– masturbator review page!