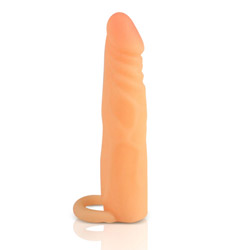 Cock xtender with scrotum ring
Realistic penis extension
by Blush Novelties
The Xtender is a pretty fair toy, it can be fun, but has a few drawbacks.
The product is a pretty fair buy. There is still sensitivity, flexibility, and realism. It's good in most positions and fairly visibly pleasing.
Published:
Pros
Strong material while maintaining flexibility and realism.
Cons
Don't let it touch other like material toys, a chemical reaction makes it melt
My wife asked me to review this with her and I'm all to happy to help.
Most men will enjoy using a penis sleeve at one time, as will his wife or significant other. We have enjoyed several of them.

Some of the pros of the Xtender is the TPR Material and doesn't feel like a hard rubber product. What that means is that you can still feel what you want to feel. In some of the sleeves the material really are so stiff that you can't even tell if you are even still in the right place unless you are looking, or relying on her to let you know. With this Xtender you can still feel what you are doing.

The material works with any type of lubrication you want to use.

It adds a few inches in length which she will enjoy and it adds a few inches in girth, she enjoys this as well.
In short, it makes what you bigger. Most men have insecurity about their size, and this sleeve can definitely help with that. It's visually pleasing and she does enjoy the molded ribbing that is encompassed in the material. One of the things she enjoys is that the material feels more real in flexibility. There is a degree of flexibility in this product that makes it feel a lot more realistic. It can also shape to you in a fairly descent way, if you aren't "strait as an arrow"

It can be used as well to help you last a little longer. If you have problems with stamina, over sensitivity, or just want to enjoy a little longer session. This sleeve is pretty helpful.

There are a few cons for me with this one.

The scrotum ring, it works, in most positions, and is helpful to hold it in place, however is she is on top, she can literally pull them out of it. I think if the material were just a little bit stronger or a little smaller opening for the scrotum ring it would work better.

If you are a man who produces a lot of pre lubricant, there can be some pretty interesting noises while using it, however if you have a great partner and a sense of humor, it can also be a lot of fun.

Don't let this sleeve touch other toys. I don't know what it is about this material, but if it comes into contact with other materials, like TPR, Silicone, etc., it will literally look like it's melting. You'll ruin it pretty quickly. Best to keep it in something that keeps it from touching other toys of similar material. This toy ended up melting into another. This is not from heat, moisture, etc. It was kept in a cool, dry, area with plenty of circulation, it's something in the material. Once it's done, it's done.

The last con I have is related to the insertable size vs. the internal size.

If you are a man with a standard to smaller size penis it fits really well. However if you are a little above average, this can be a little frustrating. It's not so much if you are in most positions, but if she is on top, it can be a little uncomfortable and she could possibly pull it off. .
Follow-up commentary
4 months after original review
After the 3rd use of it, the scrotum ring broke the material is not very good for any kind of long term use. It was fun while it lasted, however now, it's been sent to the dildo grave yard.

This content is the opinion of the submitting contributor and is not endorsed by EdenFantasys.com
Thank you for viewing
Cock xtender with scrotum ring
– realistic penis extension review page!