This things looks real, feels real, it must be reAAWWWWWWOOOOWWWWWW!
This is the first masturbation sleeve I have used and I doubt it will be my last. I am so glad that EF asked me to review this so that my world has been opened to (and rocked by) this type of sleeve. I have no idea what the price of this toy will be set at once Eden starts carrying it in their inventory but from my wonderful experience, I would spend up to $50 on this toy. It is very stimulating, realistic feeling and gets the job done.
Published:
Pros:
ALMOST realistic vagina,realistic feel, latex & phthalates free, soft ribbed inside, stretchy
Cons:
gummy lube, vaginal enterance not detailed, closed end causes squishy noise, no instructions
EDENFANTASYS SENT ME MY FIRST ASSIGNMENT! What a surprise it was to receive the Seven Teen Bordeaux Masturbator by Toy's Heart. Apparently Toy's Heart is a Japanese company because the box is FLOODED with an anime school girl as well as a TON of Japanese writing. Just for the record, the number Seventeen DOES NOT mean that this is based on an underage female, but is named after a Bordeaux wine from Bordeaux, France.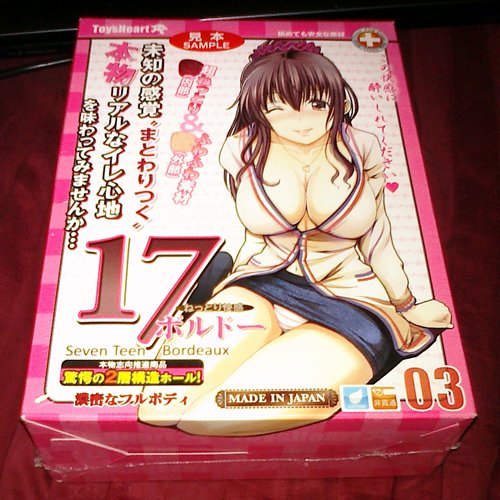 I cut the cellophane from the box and pulled out a very well packaged, closed end masturbator. This sleeve came with a small FREE BOTTLE of "massage lotion" (a.k.a. LUBE). The toy was inside a thick plastic bag and had just the right amount of some kind of powder on it. It slid right out of the bag as if saying, "Time for that assignment, Stud!" (Just for the record, I did NOT actually think that. HA HA HA) There were NO instructions included with the, toy so I had to do some research on clean up.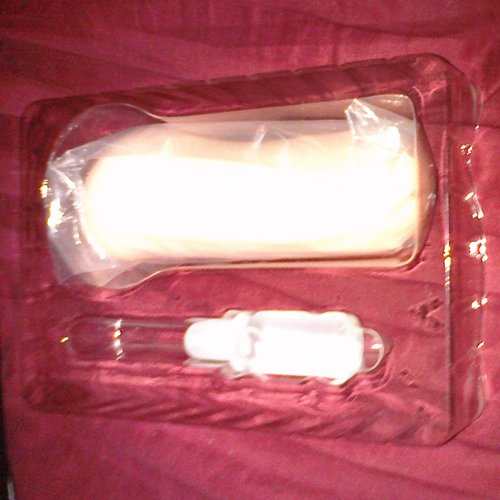 The detail on the vagina was not as great as I thought it would be. It is just a small opening designed to look like a simple vagina. What was inside the toy got my attention. On the back of the box, they cut the toy in half and actually show you what's going on inside. I beleive it's the same material but it feels more dense than the outside of the toy. It is colored and ribbed with as much detail as the inside of a woman's vagina does have. It measures in at approximately 6.5 inches in length and is made from TPE material. It is very realistic to the touch and squeeze as well as being quite stretchy. Any well endowed man could use this toy carefully and not worry about breaking it. Men with an average penis, HAVE FUN! I believe that the stretching for longer than a 6.5 dick would take away from the ribbed action inside and not be as stimulating.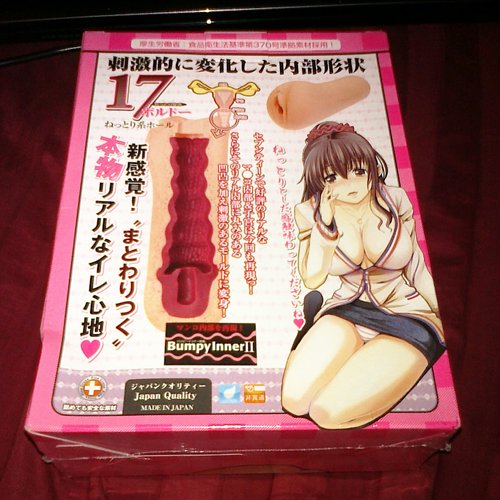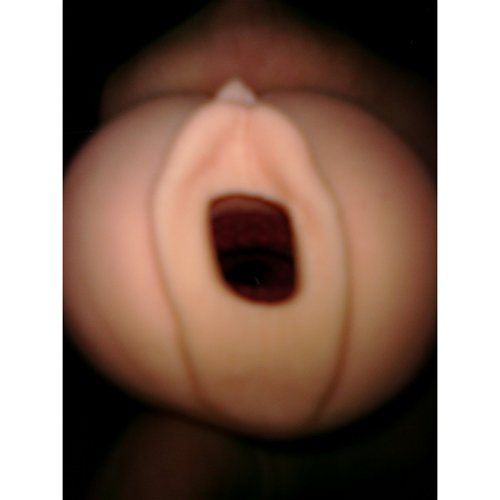 The toy is hypo-allergenic, latex free and phthalates free which makes it friendly and safe for most people. The lube that comes with it seems to be a silicone based lube (although it does not say on the package, unless it is in Japanese!) that gums up after a bit of friction. So you might want to set it aside, or in the trash, and grab your favorite lubricant. Water and silicone based lubes are both OK for this toy!
As far as price range goes, I see these types going for around $25. I would go to almost $50 for the price on this one.
This toy is porous so it is recommended to use a condom if you plan to share this toy in any way. Clean up is easy smeezy. Warm water with toy cleaner or a mild soap is all that is needed. Make sure to air dry completely before storing it for your next use. A light dusting of cornstarch would help to keep the TPE from sticking to itself and gathering hair, dust and lint. Just be sure to rinse the cornstarch off before using it the next time.
Experience
The number seventeen on the box turned me away a bit, but after further review I found it's named after the process, in Bordeaux, France, where wine is identified before being bottled. It's not an age!

I got myself hard and was ready to try my first ever masturbator. I didn't like the feel of the lubricant that was included as an added bonus so I used my own. I prefer "Equates", a generic version of KY Jelly Personal (water based) Lubricant. Lubed up and ready to go, I did what I would normally do during insertion. I felt HUGE penetrating this vagina. The walls of the toy were bumped and ribbed with a denser but still soft material than you feel outside. This was JUST enough to stimulate. I added extra tightness by squeezing the toy a bit more but prefered to let the natural glide take over. This toy didn't take long to do the job. The only problem I had with it was trying to keep quiet. The closed end caused suction and a steady squishing noise while coming out of the toy.
Follow-up commentary
3 days after original review
This thing STILL gets me through my long nights alone. Definitely a good grab on this one. Been through a few uses. Some harder than others. And STILL it holds up on durability.
This product was provided free of charge to the reviewer. This review is in compliance with the FTC guidelines.

Thank you for viewing
Bordeaux
– masturbator review page!