This vagina glows in the dark!
Here we have a stroker, made to replicate what I can only describe as the most interesting alien pussy you will ever encounter. Glows in the dark, made of plastic and TPR, and includes a clit piercing! Want to know more? Then check out the rest of this review!
Published:
Pros:
Glows in the dark
Cons:
Everything, except that it glows in the dark
"not a very impressive vagina" - quoted by my guy!
About the toy
I decided to go ahead and buy the
Glow Stroker Pierced Pussy
by
Cal Exotics
for my boyfriend.
I thought about how to write this review, and I will be as objective as possible but I will prefix this review by stating that this toy is
not
for us.
Materials
The pussy is made out of plastic and TPR. Because of the combination of materials you will want to stick with a water-based or silicone-based lubricant. TPR is meant to feel more like skin, and the combination resulted in a jelly-like material.
What it is supposed to do
Basically, strokers like this are meant to be placed over the penis for added sensation while masturbating. You apply lubrication to the inside of the toy and slide an erect penis into one end of the toy and move the toy up and down the shaft as you would during regular masturbation. If used correctly and with a decent toy, this should simulate (in this case) a combination of masturbating along with vaginal sex. Some strokers and sleeves are meant to imitate anal sex or oral sex.
General Description
The pussy has a "vaginal depth" of 5". This means that if you are over 5", the head of your penis will poke through the other side of the toy. This may be great for you if you like to receive oral while using a stroker, but if you are using this solo, you may not enjoy or appreciate this. That being said, this toy does not accommodate all sizes.
The toy is clear aside from the lining of the hole that runs through the toy for the penis. This tube-like hole is a greenish hue, and is that part of the toy that glows. The coolest part of the toy was the fact that it did in fact glow, but unfortunately, it did not do this very well. After 45 seconds under a bright light, this toy only maintained a strong glow for about 2 minutes, and after 10 had completely faded.
This stroker also has a "clit piercing", meant to add more stimulation to your session. Unfortunately, this did not accomplish its task. In fact, while using the toy, this ring did not come into contact with my guy's penis at all.
Packaging
The box that this toy comes in shows a nude model on the front, her pussy showing and the toy to the left. There is some basic product information on the front and one of the sides of the box. There were no instructions given with this toy. My boyfriend made an observation that the model, who is both on the front and back of the box, is in the exact same position and it is clearly the same picture, but on the front of the box there is no piercing. On the back of the box, she has her obviously photoshopped ring. The box claims that if you "dive into my soft, tight pussy" her "pierced stud will drive you wild". Sorry, Cal-Exotics, but you've failed me this time! Your clit ring didn't drive anyone wild!
Front of the box: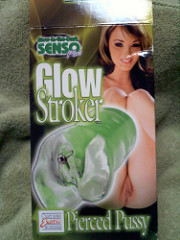 Photoshopped piercing: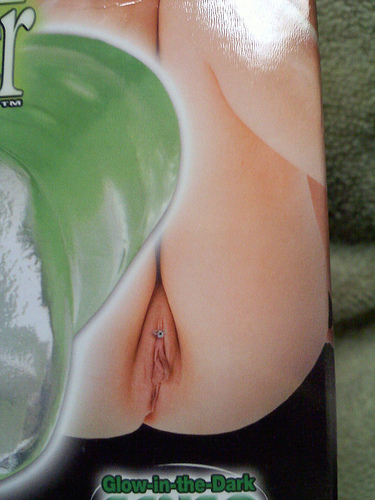 Maintenance and Storage
You can not boil this toy, and must clean it only with toy cleaner or antibacterial soap and water. This squishy-feeling jelly-like toy will attract things it should not quite easily so I would recommend washing before as well as after use. Personally, I am keeping this in its bag and pulling it out when I need a lint roller, since it seems to work well for that. You can store it wherever you like, but I would avoid putting it anywhere that may allow dust, lint or pet hair to get on it. Cleaning it was a bit frustrating as well, because it didn't want to dry on the inside for the longest time.
Experience
First, once he was hard, I applied a water-based lubricant to the inside of the toy and entrance. Once it was all lubed up and looking and feeling like a nice, wet pussy, I slid the stroker over my guy's penis. I began to masturbate him but there wasn't too much excitement. I forced it down a bit and allowed the head of his penis to come through the other side, and I tried giving him oral while using the toy. Not much more of a reaction. He then tried to use it on his own, still not much!

He said he "prefers the real thing", and that it didn't feel real at all. It didn't add any stimulation whatsoever for him, and it was a total dud. We were very disappointed in this toy, and he wasn't able to orgasm at all with it.

Overall, he had this to say "not a very impressive vagina!". We rated this 1 star. If we could rate it 0 stars, we would still rate it 1, because it does glow in the dark, and we like glowey things!
Follow-up commentary
5 months after original review
We threw this away after the review was done. We couldn't justify holding on to it, because he didn't like it, I had no use for it unless I want something cool that glows in the dark, so trash can it was.

It had potential, but it just wasn't well made.
This content is the opinion of the submitting contributor and is not endorsed by EdenFantasys.com

Thank you for viewing
Glow stroker pierced pussy
– pocket pussie review page!