Treat Yourself!
The Tenga Ona Cup Soft is a great toy for anyone who wants to try a Tenga toy but not break the bank. It even works great as a treat for yourself. It is a self contained unit with lube and everything so there is no messing around. Just open it up and pump away.
Published:
Pros:
Pleasurable, Self-contained, Decent value if re-used, Great introduction to masturbators
Cons:
Expensive as a single use item.
Having had a little bit of experience with lesser known brand strokers/masturbators; I was delighted to be trying out the Standard Edition Soft Tube Onacup from TENGA as they have a great reputation.
-Packaging-
The Tube Cup arrives in a container that reminds me a lot of a tube of gel. It has silver and red stripes all over the cover and has a label on the back with some information about the product. As well as some instructions for use. The writing on the sticker is very small so if you want to read it I recommend a magnifying glass. The outer plastic peels off to show the tube itself which is plain white save for a sticker on top. I have to say the packaging is actually pretty decent. It is simple and practical as well as being free of any pornographic images or phrases. I also really like that it is an entirely self contained unit.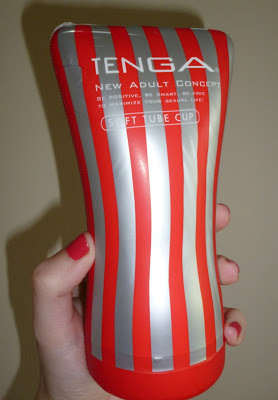 -Specifications-
The toy measures in at 6 inches long externally but is obviously a little shorter internally. This is ideal for those who are average to small. If you have a lot of length then it will still work as it will stimulate the head but just not the entire shaft. The hole around the base measures in at around 5 ½ inches in circumference but the actual opening is a little bit slimmer. It should not be a problem for you unless you are very girthy.
As I mentioned above it is a self contained package and so comes pre –lubricated internally with a water based lubricant. The lube ingredients are as follows. Aqua, Glycerine, Propylene glycol, Hydroxyethylcellulose, Sodium polyacrylate, Phenoxyethanol, Methylparaben, Hydroxypropyl cyclodextrin and lodopropynyl butylcarbamate. It mentions on the product page that the lubricant has been allergy tested which is great piece of mind.
Internally there is a complicated structure including reversible nubs which will bend with you on insertion but will rub and stimulate as you pull back against them. There is a bulbous head portion internally with a variety of large and small nubs to provide increased stimulation to the head. There is also an air hole which you can cover or leave open to vary the level of suction.
It is made from a combination of plastic outer casing and TPE internally. This has a decent safety rating and as this is designed as a single use, external toy; TPE is more than adequate in terms of hygiene.
-Use-
Once you peel away the outer plastic (which has a perforated strip for ease of removal), you are left with a plain white tube. There is a lone sticker on top which covers a hole used to vary suction. The base comes off and exposes the opening but it holds the lube in so won't leak or make a mess. This toy is designed as a single use toy but having read that you can use a condom to prolong the life I put on a "Durex Featehrlite" before inserting.
The feeling was really nice, the lube wasn't too cold or anything and the sensation was still very strong despite the condom. Once fully inserted you can pull it up and down or if you want to cover the whole at the end it will suck hard onto the penis and won't really move. A few reviews talk about the noise being off putting but I didn't really find it too loud or intrusive. It is at least as quiet as some vibrators. There is a slight "squelching" noise for want of a better word but that is unavoidable when it comes to vibrators. I found it to be really nice and definitely more pleasurable than just hands. Once I climaxed I removed the tube and put the lid back on and it is ready to be used again. I should say that it will not stand up to use indefinitely and if you don't use a condom there is pretty much no way to clean it effectively.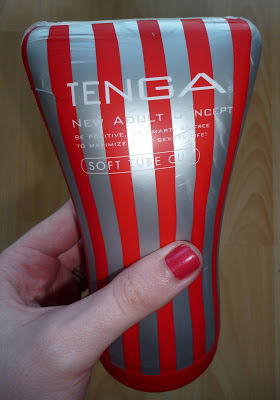 Experience
-Summary-

I really didn't know what to expect from a Tenga toy as I had always heard good things but had no experience. I can say that the Soft Tube Onacup did not disappoint! While it might be a little bit pricy if you only intend to use it once it is still a nice, simple and above all effective item. I really like that it is a self contained pack with lube and all so once you open it there is no messing around. The outer packaging looks decent but as I mentioned the writing is miniscule. Overall I think this is a great item and if you are considering a stroker/masturbator but want to test one out without going for a really high end Tenga or Felshlight then this might be just what you are looking for.
This content is the opinion of the submitting contributor and is not endorsed by EdenFantasys.com

Thank you for viewing
Soft tube cup
– masturbator review page!