When just one size does not fit all, try three!
Three sizes for the right fit at the right time. There are thick ribs around each ring and 8 nubs on each side. The rings are a bit stretchy but are unlikely to comfortably fit around the Penis and Testes together. The thickness makes them unlikely to break or rip even with the most vigorous users. The rings can also be used at an adult party for a vibrator ring toss and then the guests can take home a little treat to use later.
Published:
Pros:
Variety of sizes
High Quality
Textured
Cons:
Pink Color
Nubs
Potential ego issues
These rings arrived today in a very festive white box with a picture of the rings and Posh on the front. The rings are inside a sealed plastic bag inside the cardboard box. The Posh Love Rings are made of 100% Silicone which is body safe and rated a 10 on Eden's safety scale. The rings come in three sizes so that your man should be able to find one that fits comfortably. The sizes are:
Large - 1.75" or 4.5cm
Medium - 1.5" or 3.75cm
Small - 1.25" or 3.25cm
One potential drawback I see is that some men may have hurt egos if they are only able to fit into the small size. Some men do not have the self-confidence to see two larger rings that just slip off them in the same package. That was not a problem now. However, from my experience in my first marriage, I know that there is that potential.
The Posh Love Rings have 4 ribs around the middle, making it look a bit like a lifesaving ring. But I suppose if it helps maintain an erection than it could be lifesaving. The Posh Love Rings have 8 little nubs equally spaced on both the top and bottom of the rings to allow for a bit of sensation for both partners while in use. You will want to use some water-based lube to get the ring on. Remember to only use water-based lube or you could damage your Love Rings.
I found the quality of the Posh Love Rings to be very good. They are quite thick and substantial. I would estimate that the thickness is about 1/4". The thickness could be a blessing or a curse depending on how tight of a ring you choose. These will not easily break or rip as some cock rings do.
Clean up is easy as they are made of 100% Silicone. They can be washed with gentle soap, bleach solution or boiled for 3 minutes. Silicone does retain heat well, so if you want to take the chill off your rings, soak them in warm water for a bit. Of course use only water-based lubes or you could degrade your rings. Never store Silicone toys next to other Silicone toys as doing so can degrade or ruin both toys.
My main complaint is the bright pink color. Personally, I do not like to see a Penis with a pink ring around it, but that might just be me. The Posh Love Rings do come in other colors but since this was a review item, I did not choose the color. All of the colors appear to be very vibrant and fun.
I must say that the rings do bring to mind that ring toss game you play at the fair where you try to toss the ring around on of the tops of the long neck bottles. Then that does bring yet another fun use for them.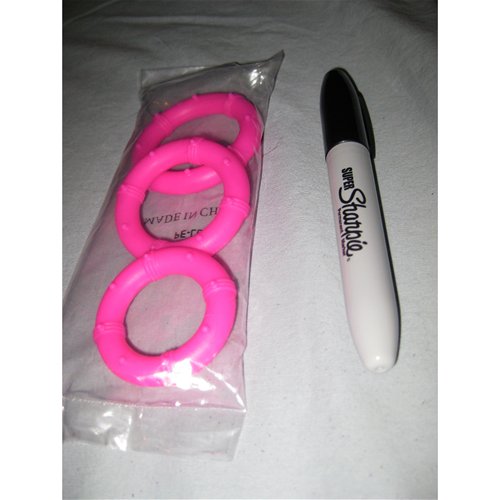 Experience
The rings are a bit stretchy and finding one that fits is easy. If you are looking for a ring to fit over both your cock and testicles, it does not have enough stretch to comfortably do this even with the largest size. The ring is thick so it stays in place well. The choice of sizes is great for those who want to vary their constriction levels. The more constriction, generally the longer lasting the erection. Please remember to not use any cock ring more than 30 minutes.

I am not a big fan of the nubs. They are a bit hard and distracting to me.

If you are having a bachelorette party or other fun and sexy party, you may want to get a few of sets of the Posh Love Rings and a thin vibrator and play Cock Ring Toss. The bright colors are perfect and you can assign a higher point level to the smaller rings.

The rings are easy to take along by slipping them into a bag and placing them in your purse or bag. They do pick up a bit of lint so I would not just drop them in my bag without putting them in a smaller bag.
This product was provided free of charge to the reviewer. This review is in compliance with the FTC guidelines.

Thank you for viewing
Posh love rings
– cock ring review page!