Who is More "Excite" About These? Me or Him?
These boxer shorts are VERY short, the sizing is a bit off (on the small side) and they have a surprise olive crotch bottom you weren't expecting! But in turn, they are comfortable, look nice, are well made and accentuate the package! They look so good on my husband, that I secretly hope I see the "excite" band when he stretches or undresses.
Published:
Pros:
Comfortable
Eye Pleasing
Cons:
Short
Sizing is Off
Limited Sizing - Only M&L
Honestly, I have gotten really into the lifestyle here at EdenFantasys. I went from owning one sex toy, to now owning about thirty! I am thrilled to try out new lingerie and toys... so much so that I often forget about getting my husband stuff too. Oh right, maybe he would like something (other than a cock ring - which let's face it - is more for me) every now and again. That is why I decided to get him some of the new boxer briefs that EdenFantasys is now carrying! I got him the
Black Knit Silk Boxers
and the Accent Cotton Blend Boxers!
Packaging:
Basic, like you'd see in a store.
The Accent Cotton Blend Brief Shorts by Fantasy Lingerie are basic men's underwear. They come wrapped in a plastic bag inside the main cardboard box/tube. The plastic bag has a small sticker in the corner that says, 'EP08 WHITE L(36-38)'. The box/tube itself is something you would likely see in the men's underwear section. It is just a small box/tube that has the front and back lower half of some very ripped 6-pack hunk. The front of the package says 'Excite For Men' and 'Accent boxer Brief Premier Series'. The back of the packaging says 'Contrast Boxer Short With Logo Waist Band'. Truthfully I am not sure what the purpose of that sentence is, but I get the point. There is also washing instructions, a bar code, and other basic information on the box/tube.
The packaging is something you would typically expect from a men's underwear package. It is not discreet, and probably not the best for re-storage. But the photo of the fabulous 6-pack man body is something I don't mind looking at. ;)
Made in China.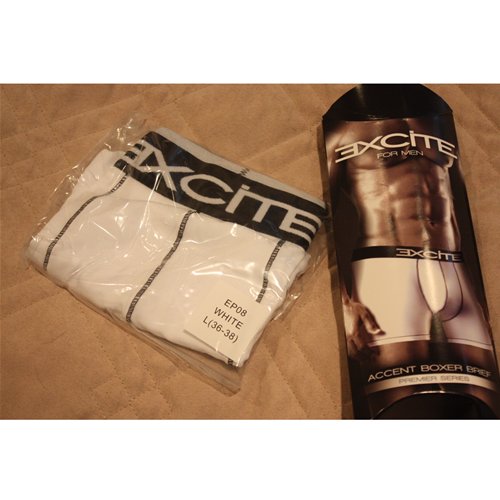 Design/Shape/Size:
The boxer shorts design is a bit different than what I expected. First, from the product photos on the main purchase page, you do not see any olive green fabric in the crotch. But there is! Surprise! The colors on the product page say black/white not black/white/olive. Yet there is a big chunk of olive crotch.
Of course this is no big deal though, my husband could care less what they looked like as long as they aren't itchy and ride up giving him a wedgie. But I just thought I would give you fair warning that there is a huge patch of olive fabric in the crotch area - in case your crotch doesn't look good in olive green or something.
Speaking more about the crotch, there are three lines of black stitching that go from the crotch to the top band. This accentuates the package well. Seriously, my husbands package is exceptionally primo in these!
As for sizing. Things are a little off. We got the
LARGE
and they fit fine, but are not a 36-38 like they say. My husband is a 34-36 and they are pretty perfect on the verge of tight. He weighs about 180lbs and has a nice fit waist. Here are the sizes I measured:
Across Top Band: 15" (Stretched 21")
Down the Side: 9" (Stretched 12")
Leg Opening Circumference: 21" (Stretched 26")
Fullest Back/Butt Portion: 15" (Streteched 20"
From Crotch to Bottom: 1/2"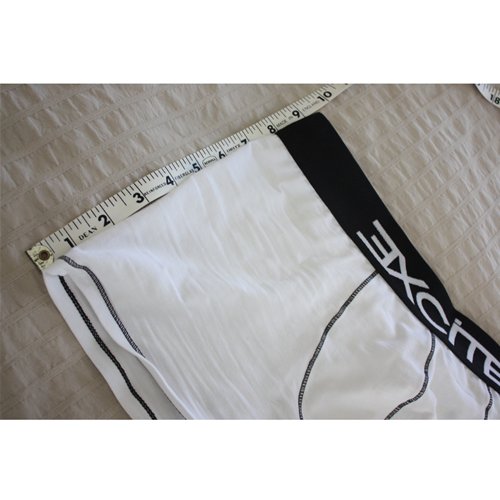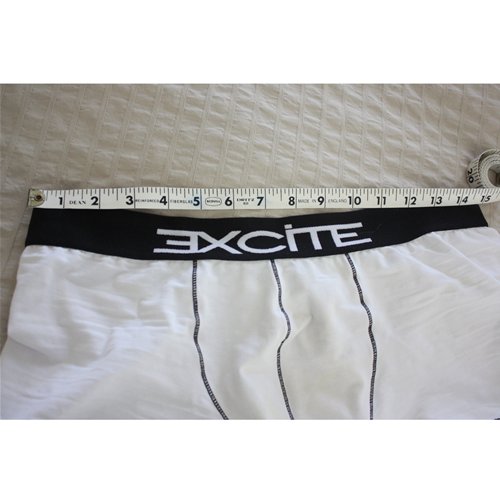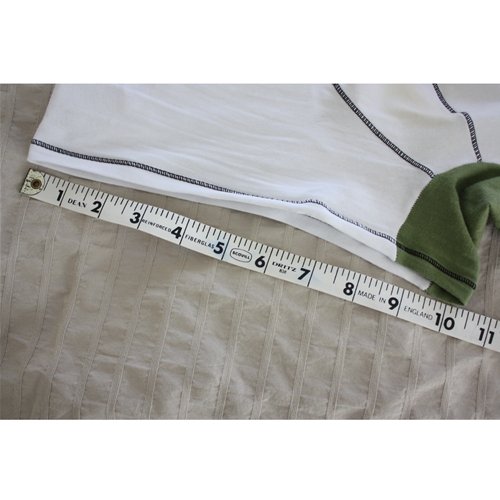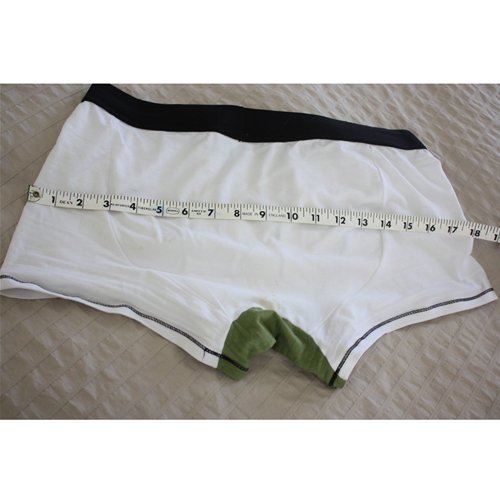 Do note: the length in the product pictures looks longer than what you really get. There is only about 1/2 inch from the crotch to the end of the leg, not the couple inches it looks like in the product pictures, aka these are short shorts!
One part about the design that is a bummer is the fact there is no flap to open for pee-pee bathroom purposes. It is one solid piece of shorts. Which after asking my husband about, he says it is a little annoying when wearing pants with a belt, but no biggie.
Overall, I love the design of the shorts. From the black stitching on the bottom leg hem (Which makes the boxer shorts look complete and well made) to the thick top waist band with big bold white letters that say "excite" (except the e is facing backward).
Experience
cont....
Material/Texture:
The material is 95% cotton and 5% spandex.
Weight: 0.2 lb
These boxer shorts are comfortable to wear under pants or lounging in around the house. They have some good stretch to them and the waist band is stretchy and accommodating. The fabric is light-medium weight and is breathable. The stitching is well done and finished. The seams are durable and long lasting.
Care/ Maintenance:
Are you kidding?
The care instructions say to hand wash separately in cold water. Um, yeah, that's never going to happen.
It is great to hand wash for lingerie and all, because it is only worn once in a while and is obviously delicate, but for men's boxers? I think we'll be washing these in the laundry with the other whites. I really can't see my husband remembering to hand wash these. No, he'll just be throwing them in with other dirty laundry.
Plus, since white boxers get dirty easily, the hand wash thing is a bit much to ask for, especially since it is a cotton blend. I don't see why the washing machine would be a problem. I do see that the dryer would likely shrink them though, I will make sure we stay away from that. Yeah, I'll let you know how it goes.
Personal Experience :
I really like the look and design of the shorts, but they could be a little longer. My husband found himself tugging at them at first, and we are a little worried what would happen if they accidentally slip into the dryer!
The design with the stitching is nice and overall the quality is good. My husband has worn them during the day and night and found them to be very comfortable.
I will have to get my husband more items, because I am just as excited or "excite" about these new men's items as he is!
Conclusion: ★★★★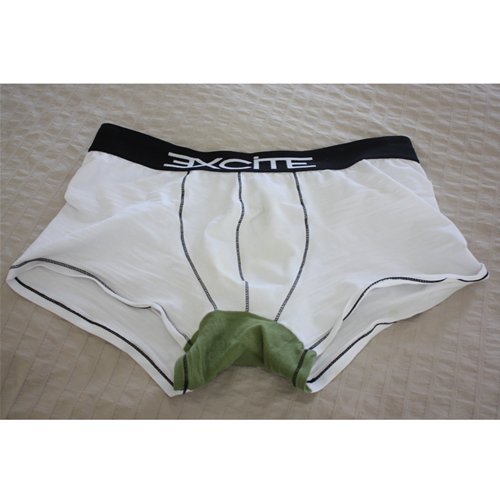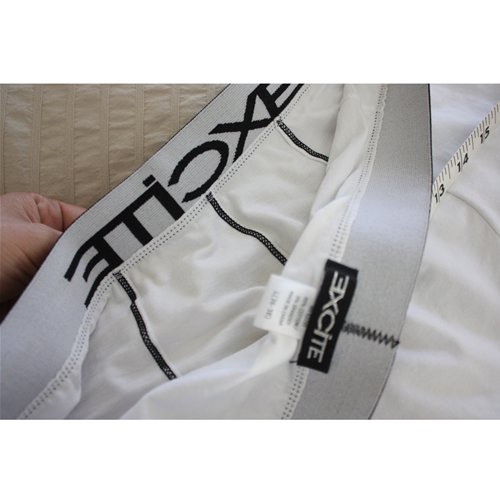 Follow-up commentary
9 months after original review
I still love these shorts, they look sexy on the hubby, but I am not the one wearing them. My husband is! So his opinion is what really matters. Here are his thoughts, "comfortable, still soft, easy to wash in washing machine, have shrunk with time though...oh and also I wish there was a flap for easy access!"
This product was provided free of charge to the reviewer. This review is in compliance with the FTC guidelines.

Thank you for viewing
Accent cotton blend brief
– shorts review page!