2040: The Future of Porn
2040 is a great movie for any sci-fi fan. All aspects of this movie are very high quality, so you are definitely getting your money's worth.
Published:
Pros:
Amazing package, Tons of content, Great story, Cool costumes, Sexy cast
Cons:
None
2040 is a futuristic sci-fi movie with a really interesting premise. In the future, an easily-spread super STD causes the porn industry to shift from humans to androids called anabots. The movie sets a pretty good backdrop with some nice narration, then leads you into a story filled with corporate espionage and great sex.
This beautiful package comes with four discs packed with content. The box itself is fairly large, glossy, and folds open to reveal a table of contents for each disc.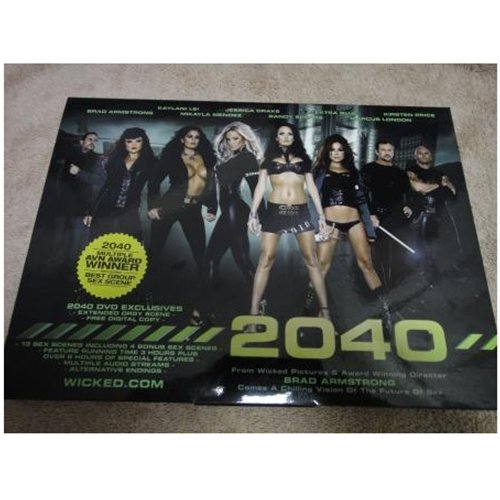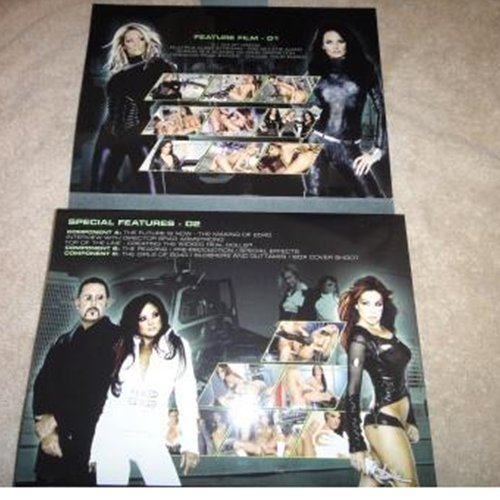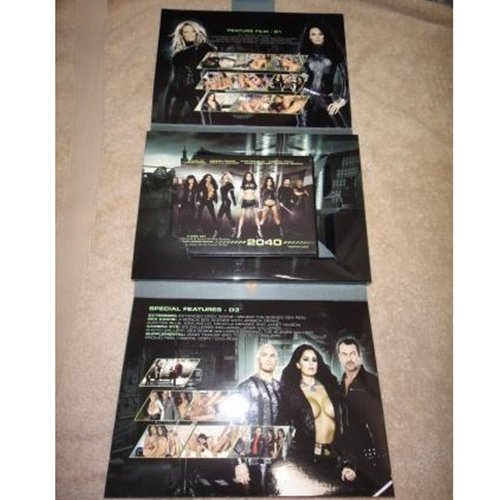 Disc 1:
Feature Film, Alternate Endings
Disc 2:
Component A: The Making of 2040, Interview with Director Brad Armstrong, Creating the Wicked Real Dolls(TM)
Component B: The Reading, Pre-Production, Special Effects
Component C: The Girls of 2040, Bloopers and Outtakes, Box Cover Shoot
Disc 3:
Extension: Extended Orgy Scene, Behind the Scenes Sex Reel
Sex Cache: 4 Bonus Sex Scenes with Jessica Drake, Alektra Blue, Kaylani Lei, Mikayla Mendez and Janet Mason
Camera Eye: 23 Galleries Including Star Galleries, Photo Gallery, Sex Scene Galleries, & Behind the Scenes Gallery
Supplemental: 2040 Trailer and Teasers, Trailers, Promo Reel, Digital Copy, DVD ROM
Disc 4:
Wicked Pictures sampler disc
What We Liked
When I first opened my package from Eden, I was shocked at how large the box for 2040 was. I was expecting your typical DVD box, but instead found a very high-quality box which really impressed me. This would make an excellent gift.
We loved the story of 2040. I would say that this is one of the best stories I have seen so far. It was developed very well and the acting was impressive, especially compared to other pornographic movies. In some of the special features, you even get to see the actors rehearsing the script. Wicked definitely understands how much better good acting and story development can make a product, and to top it off they added some great humor. Another great aspect that added to the background of the movie was the excellent costumes. They were very sexy and really helped to promote the futuristic vibe.
Of course, you can't have a good porn movie without a sexy cast. 2040 has some really great actors/actresses and their scenes are excellent. The sex scenes were pretty standard, including 1-on-1 sex, anal sex, threesomes, blowjobs, etc. However, there was also a very long orgy scene which was very good. My wife particularly liked this one as it was her first.
We also loved all of the extra content. The behind the scenes features give you a nice, in-depth look at how much work and thought was put in to making this film. It was really interesting to see how they created some of the special effects, and who doesn't love a good bloopers reel?
What We Didn't Like
There was only one thing that we didn't like about this movie, and it was the overabundance of blow jobs. Almost every scene had an extremely long blow job, which wouldn't be a problem except that sometimes after starting with penetrative sex they would go right back to blow jobs.
This product was provided free of charge to the reviewer. This review is in compliance with the FTC guidelines.

Thank you for viewing
2040
review page!