A Little Hard To Follow...
Keep in mind that this book focuses almost entirely on Shibari (Japanese rope bondage). The book covers a lot for its size, but I felt that more written instruction was needed. Additionally, not every position pictured was explained. I see it as more of an inspirational book than a how-to.
Published:
Pros:
Inspirational, good safety information
Cons:
Not all positions explained, needed more detailed instruction
Dare To Try Bondage
by Axterdam is roughly A6 sized and has 83 pages. It focuses on Shibari (Japanese rope bondage). The author is a French bondage artist, and as such the book has been translated from French. Other sexuality related books in the "Dare...To" series include Dare To Have Anal Sex, Have Sex Everywhere but in Bed, Make Love With 2,3,4 or More, Try Bisexuality and Try Kama Sutra.
The book consists of six chapters, plus an introduction (giving a basic history of Japanese bondage), conclusion, short glossary of bondage terms, bibliography and list of resources.
"Are you ready?" focuses on safety information, such as the need to have a pair of scissors handy in case of an emergency and areas of the body to avoid, such as the front of the neck. It is simple and easy to understand, and encompasses all important safety information (as far as I can tell).
"Supplies and Basic Techniques" focuses on different types and lengths of rope, basic knots, one and two column ties and accessories. It is clear that the author prefers cotton and polyurethane rope. He says that he does not recommend other types of rope, but goes on to say that hemp "pricks, burns the skin and is impossible to untie". Cotton and polyurethane are probably better for beginners, yes, as someone who has tried jute rope (quite similar to hemp from what I've read), I'd say that this is a bit of an exaggeration. The diagrams are black and white drawings, with a series of arrows showing where the rope should go next. Written instructions are very limited, so the techniques are not always easy to follow.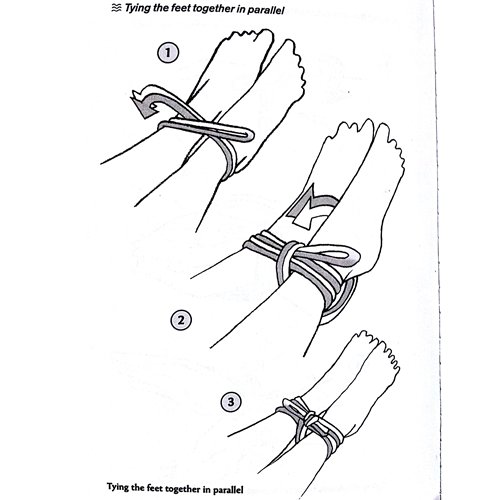 "The Session" covers more advanced techniques, such as breast bondage, hog tie and open leg crab. It also gives you ideas for using various props, such as chairs, trees and beds. The techniques of these latter positions are not explained, however.
"The Sensations" consists of quotes of around three lines from both rope tops and bottoms about certain aspects of bondage they find appealing. This is more of a "why" than "how to" chapter. Annoyingly, the people are characterized as either "master/mistress" or "slave" (and these terms are used throughout the book). As not everyone who is into bondage is into power exchange, I think top and bottom would have been better terms.
"The Session May Be Over... But Not the Pleasure" is a very short chapter on aftercare, describing the feelings felt after a scene is over.
"Scenarios" provides ideas about things to incorporate into bondage, such as tickle torture. More positions are pictured, but as with the props section in chapter called "The Session", we are not shown or told how to perform these.
Overall, this book was OK. The language did bother me at times (it was rather casual in tone and it often seemed that too many exclamation marks were used), as well as the use of the terms master/mistress/submissive, but I'm probably nitpicking. I did feel that this book serves more as an inspiration rather than a how-to, due to the lack of written instruction and the fact that many positions were left unexplained. However, the safety information was of high quality, and it did cover a lot considering its small size.
This product was provided free of charge to the reviewer. This review is in compliance with the FTC guidelines.

Thank you for viewing
Dare to try bondage
– book review page!