Because you'd rather get back to your iPhone.
Apparently sex in the 21st century is dull, boring, and lacks any creativity. Does the thought of doing something new and different scare you to death? Do you absolutely hate reading? You might like this, then. However, after "reading" (because there's barely anything to read here) this book and fighting off of the urge to fall asleep in it, I'm highly certain that just about anyone out there has more interesting sex than this book contains. At least it won't waste much of your time.
Published:
Pros:
Works as a door stop, great for pressing tofu.
Cons:
Same 5 positions over and over, no useful information at all, dull, interesting, full of fail
Summary
If you don't know what the
Kama Sutra
is, you've been living under a rock for . . . pretty much ever. It's one of the most infamous texts on all things sexual and has been the go-to book about getting it on since somewhere between 400 BCE and 200 CE. (According to Wikipedia. I do my research.) So yeah, everyone's basically heard about it by now. In modern times, there are hundreds, if not thousands, of books featuring advice from this respected sexytime tome. Some pull it off brilliantly, while others just leave you scratching your head and cursing your normal human level of flexibility. Annie Hooper gives us her modern take on the ancient scripts in
Kama Sutra For 21st Century Lovers
. (Sadly there was nothing about incorporating your iPhone into foreplay. Damn.)
Content/Style
The book looks incredibly classy and fun on the outside, but as they say, you should never judge a book by its cover. Once you crack this open you'll be cracking up over how absolutely silly this book is even though it tries to be super serious. Basically, imagine this as
Cosmo's Guide to Awkward Sex
. Sexy? Totally . . . not. Oh, and the fact that there's usually no more than 20 words to a page doesn't really make it much of an informative guide as it does a book of awkward pictures of awkward sexual activities. My recurring thoughts during this book: "Does sex look this weird?" (I also have a feeling I'm going to use the word awkward very generously during this review.
The first thing we get introduced to is "The Art of Arousal". Simple stuff, right? Basic foreplay. How to touch your lover and make them want to bang you. Well, that's not exactly what we get here. Here's a few pieces of the "advice" this book gives us:
"For him: stoke your penis as she caresses you. Four hands are better than two?"
Hey! I'm trying to be sensual here! Knock it off! That comes later. (Yes, a pun.)
"Tongue bathing works well . . . Let your saliva mingle with your partner's sweat . . . "
Sorry, but I don't find being covered in spit a sexy thing, really.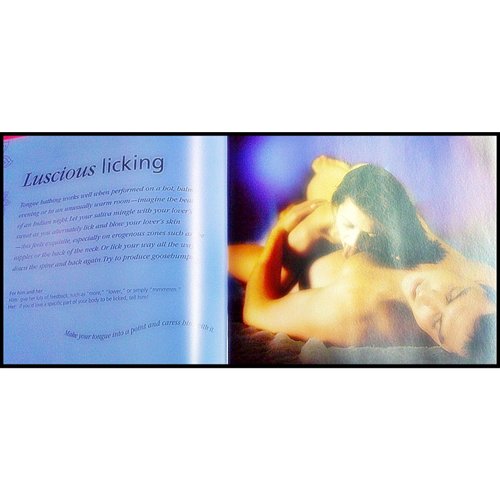 "Under the pretense of shampooing (washing and massaging) the body, a eunuch would fondle his master and indulge in eight kinds of fellatio."
Then the book tells us how to do some oral sex-like activities in a rather dull way. They're trying to come off sexy, I promise.
Next we get taken into the actual positions and stuff that these texts are known for. We get a bunch of variation of the things that we're all already doing: missionary, doggy, missionary with the legs up, doggy with the head smashed into the pillow, missionary with the legs wrapped around him, woman on top. Oh boy! I'm so intrigued! Apparently lifting one leg one way and then lifting it differently makes two different positions. Then there's some weird position where the guy gets on top of the woman and does this propeller thing with his body. Okay . . .
The second chapter of boring sexual positions is called "Anaga Ranga". Again, the same damn thing as the last chapter using the same base positions each time. Missionary, woman on top, spooning, yeah . . . And we still have some of these priceless little quips that take up half of a page because of the massively large font. Really, I thought I was reading the same chapter over again.
Hooray! Time for another. This time the chapter is called "Perfumed Garden". (Why? Cause she used some Summer's Eve this time or something?) Well, there goes 80 useless pages of nothing even noteworthy except some odd quotes stuck to the sides of the page that aren't remotely interesting, either. Good job if you're still awake at this point.
One more time. Here we have "The Tao". In here it's the same boring crap that's in the rest of the book. I really think they just photographed the same position from a few different angles and called it a day. Then they even get bored with everything for a second and throw this in: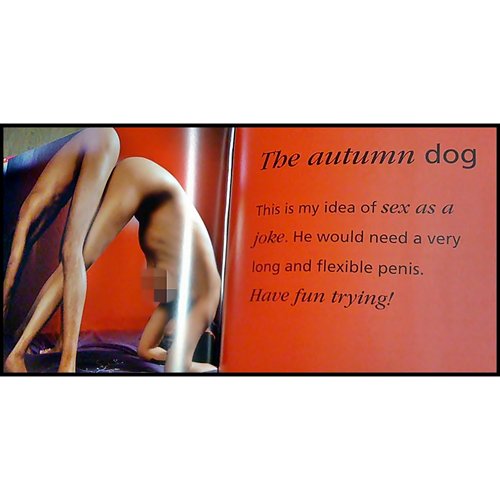 Then we get another small chunk of horrendously uninteresting repetitive nonsense.
And then the book is over.
What? Really? They wasted a whole 360 pages by showing the same 5 positions over and over again? Yes. Not to mention it would probably only take you about 20 minutes to read through the actual text in this book, and in those 20 minutes you'll learn absolutely nothing except that you have a great attention span when it comes to incredibly dull and pointless reading. Congrats to you!
Experience
I'm not sure how this book could be topped in the fail department. It has no practical knowledge and nothing even remotely inspiring unless you find softcore pictures of boring sex arousing. Not me. I'd rather watch porn, and honestly, porn would teach you a whole hell of a lot more than this book would. You want some info on the Kama Sutra? Well, you've probably stumbled across the book you'd probably be least likely to learn anything from.

If you've taken the time to read any of my previous book reviews you know that I'd write a ton of information about what the book covers and such. Sadly, there's really nothing even here other than some short nonsensical rambling and repetitive pictures of sex your grandparents would probably laugh at.
This content is the opinion of the submitting contributor and is not endorsed by EdenFantasys.com

Forum
| Discussion | Posts | Last Update |
| --- | --- | --- |
| Books | 4 | |
Thank you for viewing
Kama Sutra for 21st Century Lovers
– book review page!