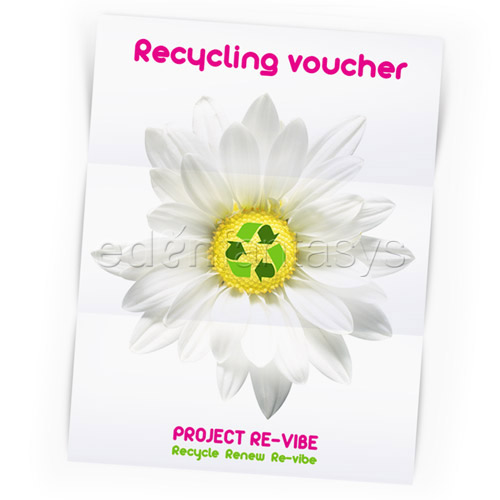 Recycling voucher Re-Vibe (Email Delivery)
Recycling voucher
by EdenFantasys
Do Your Earth a Good Turn And Get a Reward from Edenfantasys
Whether or not you want the 15% discount on the future purchase, recycling is it own reward. We all need to do our share when it comes to helping save the ecology. Edenfantasys' offer of a discount encourages one to recycle unwanted sex toys.
Published:
Pros
Discount code does not expire
Transferable
Good for entire cart of eligible products.
Cons
Cover own return shipping charges
Limitations on coupon.
Many people are into recycling now days. We have only one Earth and need to take care of her. Many of us are already recycling paper, plastics, glass, and yard waste with local scavengers companies. Government agencies also mandate properly disposing of electronics. Electronics, computers and the such should go to Sustainable Materials Management Electronics Challenge participants.
EdenFantasys is doing their share to be environmentally responsible. They encourage sex toy recycling and have set up an easy way to take care of unused and unwanted sex toys. Overview of the program can be found at https://www.edenfantasys.com/sex-toys-recycling/
There one will be able to order a $5 Recycling voucher and send in as many toys as you want in one package.
The toys will be segregated according the highest eco-standards.
As a reward for being a responsible consumer, EdenFantasys will give you 15% off your next purchase. Not just for one toy, but 15% discount off all eligible products in the entire cart.
Here is how the program works and how to obtain your voucher. Follow the link provided above OR while on any EF page, click the large green/purple EdenFantasys logo found on the top left of any page.

That will bring you to the EdenFantasys home page.
On the right side, about half way down, are 4 promo boxes. One of them will say "Project Re-Vibe" " Sex Toy Recycling Program "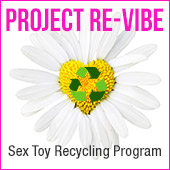 Clicking that will bring you to the Re-Vibe Program page.
This page will provide links to how to recycle your unwanted toys, what happens to the used toys, and a path to cart tab.
The Instruction page will explain how to send and what are acceptable items. Such as Vibes, bullets (w/o batteries), dildos of any materials, cock rings, anal toys, pocket and life size pussies (really? lol). You can not send in lubricants, lingerie candles, condoms packing, dvds, cds, and non-toy items. It also goes on to say, "You cannot request for them back". Once sent, the toys become the property of Web Merchants and its recycling partners.
Adding to cart will cost you $5.00. In return you will get a voucher for 15% off a future purchase.
One voucher per one recycle shipment. You can, of course, order another voucher when needed.
When your recycle packet arrives, it will contain 3 slips of paper. 1) packing slip of what you are sending in / pre-printed shipping label. Both of these are on the same slip. You need to cut it, put packing slip portion inside and tape the shipping label to your package or box. Note this shipping label doesn't cover postage. You will have to pay the shipper according to the weight and size.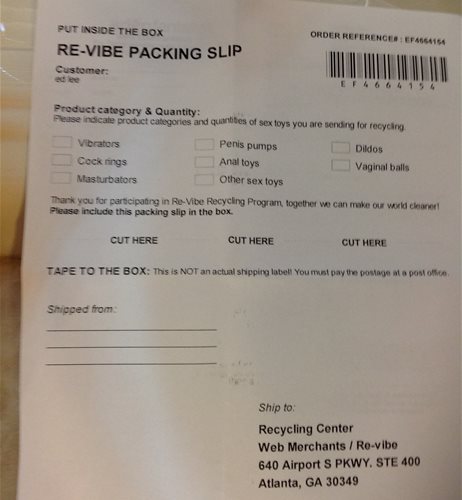 2)The standard edenfantasys sale's receipt from Web Merchants Inc.
3) A coupon code document for a 15% discount. There's info such as : does not expire, is transferable, and limitations and conditions of the program. This document also states what may and what may not be sent in. The code is active right away.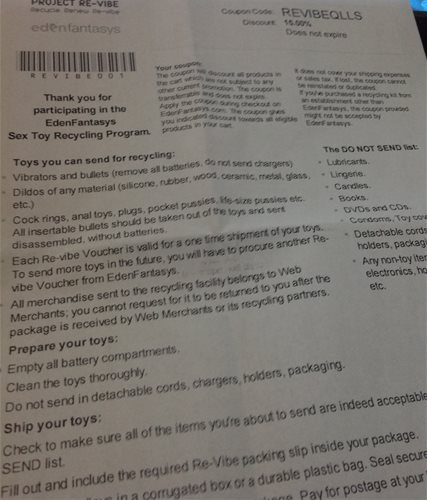 It also again states shipping cost is incurred by the sender (you).
It also states limitations on the 15% code. Although it will cover all items in your shopping cart, it will not allow any products subject to any current promotion. Only eligible products.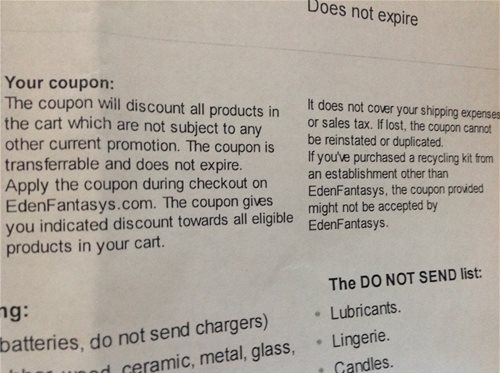 Experience
We have been putting our unwanted toys in the trash. I saw this Re-Vibe ad and decided to look into it. Seemed simple enough. Just add to cart, send them in, and get a voucher for 15% off future purchase. Within a week, I received my voucher in the form of a coupon code.

I packed a 5 yr old toy collecting dust and a seldom used rabbit. I packed them in a recycled box from a online company. I carefully covered up any previous shipping bar codes on the box and taped the pre-addressed shipping label over the one previously on the box. I had a prior poor experience with UPS. I shipped something and the very next day what I sent out was back at my door. The clerk didn't catch a label on the bottom of the package I was sending out. So it came back to me. Fortunately, when I told the clerk he did not charge me a second time to reship.

I looked over the conditions on the Re-Vibe document.
In bold print was the code and underneath it states 15.00 % Does not expire. My first thought was why I wish I had this discount when I purchased that $115.00 Njoy product few yrs ago.

I tried putting a product in the cart. It was the Semi-realistic dildo for $97.29 and it showed ships free.
My checkout page showed free shipping and total price of $97.29 before applying the code. I applied the code, but up popped a message saying" Sorry, This coupon code not appropriate for the product selection in your cart. So I guess since it was already on sale from $139.99 to $97.29, the Sumo was not eligible for the 15% code.

So I selected another item. Sure enough after entering the code it gave me discount of 15%. However, the item included free shipping and it added back the shipping charge.

So I figured best way to take advantage of the coupon code was to select multiple items not on sale already.
And to add toy cleaners, wipes, and lubricants. Another thought was to get a bunch of lingerie not on sale or some very expensive items. On a $350 purchase I could save $52.50.

Anyway, plenty of time to figure out what to do with the coupon. After all, it does not expire. Perhaps I will gift it to a friend. Who knows ? A super expensive new product may come out one day. I could use it on that.!
Follow-up commentary
5 months after original review
Great to recycle unused or not needed toys. We are waiting for the box to fill up before sending in.
This product was provided free of charge to the reviewer. This review is in compliance with the FTC guidelines.
Thank you for viewing
Recycling voucher Re-Vibe (Email Delivery)
review page!