Jessica Drake Wants YOU to be a BJ Expert!
This film is a great idea for those who qualify as beginners to porn, oral sex, or just a bit timid when it comes to trying new things with you partner. It begins with 38 minutes of instruction followed by about 32 minutes of sex scenes for your pleasure. But if you're already advanced then this could be a bit boring for you.
Published:
Pros:
Great techniques, Interesting polls, Film layout is well organized
Cons:
Lube was WAY underrated and not well explained
Disclaimer –
I have to put a disclaimer before going into this review. This is just for the people who may be reading this review for all the useful tips and information contained in this film itself. I won't be telling you everything she says and I won't be giving away all her instructions and knowledge. If you want that, you should get the DVD. This review is just to tell you what to expect and how
I
liked it.
Content & Audience
I think it's obvious that this film is a beginner's guide to fellatio (fancy way of saying mouth-on-penis stimulation). It's more a sexy and pornographic avenue to the otherwise too cold or medical instructional how-to guides. It's a very approachable and organized layout. Even down to the DVD case it's comfortable for any person, no matter their experience or background, to pick up and watch. Though it may bore a few of the advanced crowd, it still maintains being sexual and arousing.
Cinematography & Acting
The cinematography was superb. The narration given by Jessica Drake was done very professionally and so were the interviews. I was really impressed with that. And the sex scenes with the stars were beautifully lit and it felt less cheesy and pornographic than other adult films. It felt like we were really seeing people have sex rather than paid actors to pretend.
Menu & Opening Sequence
The menu is just like the cover of the DVD case. It's sexy and suggestive but not explicit. I appreciate that they've kept it classy and approachable for those who want to watch this film for its instructional and educational value rather than merely for the arousal.
And the opening sequence and introduction to the film (both before and after the DVD menu) are just Jessica Drake speaking to the viewers directly, which I think is wonderful. I wasn't sure what I was expecting going into it but the guide being treated so maturely really impressed me. She covers a quick explanation of what fellatio is, the etymology of the word, and what she plans on covering in the film. She even mentions who this film is best suited for and what purpose it can serve them. I more than approve, I commend!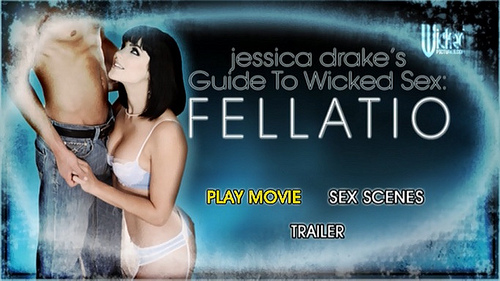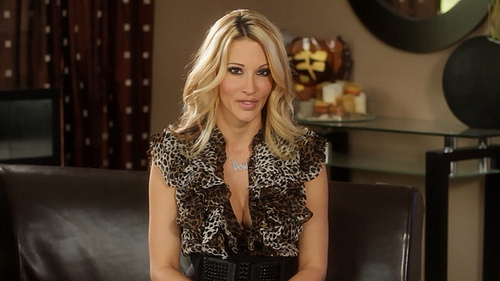 1st – Interview with Porn Stars
The first part of the film consists of a handful of porn stars answering questions honestly about blowjobs. These are also the stars that will be demonstrating the fellatio at the end of the film. And while the answers that some of the men gave didn't leave me feeling very inclined to like them as individuals (warning: sexism), I did appreciate the honesty from the viewpoints of both the giver and receiver.
The ones interviewed that will be in the later sex scenes are: Eric Masterson, Jordan Kingsley, Chris Johnson, Allie Haze, Danny Mountain, and Bobbi Starr.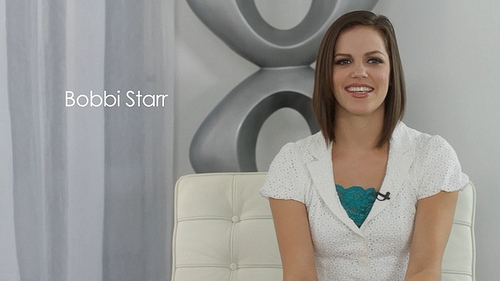 2nd – Examples of Positions
Not only does she describe some positions that are useful for fellatio but the stars also demonstrate them for us. And she explains the significance of each of them in how they relate to a relationship and mood between partners: domination or submission, worshipful or intimate, or affectionate and loving.
3rd – Step-by-Step Instruction
She walks us through by narration in how to start the sexual experience of a blowjob while the stars demonstrate for us. It's sexy and arousing but it's still dealt with in a sensitive manner for any conservative viewers who picked this film out of shy curiosity. She explains the importance of lubrication, tongue play, eye contact, using your hands, and asking questions. She starts with basic instruction and introduction and moves on to advance technique for more knowledgeable or adventurous couples. She covers 69 position, deep-throating, role-playing, and prostate stimulation.
4th – Sex Scenes
There are three sex scenes following, each with a different theme. You can choose to have Jessica Drake's commentary on or off during the scenes as well so that you can choose between instruction or pleasure in watching. Now I won't go into too much detail on each of them but I will give you a few highlights.
Beginner BJ Technique –
Allie Haze & Eric Masterson
9 minutes
Woman kneeling in front, man sitting/standing
Advanced BJ Technique –
Bobbi Star & Danny Mountain
12 minutes
Woman leaning over perpendicular to man sitting
Hand Job Technique –
Jordan Kingsley & Chris Johnson
10 minutes
Woman kneeling in front of man sitting
Experience
Personal Comments

My first complaint that kept this from being a 5-star rating was that lube was discredited quite a few times for the mere reasons that women didn't want to taste it or didn't know if it was safe to swallow. They were obviously not as well educated as, say, the average reviewer here on Eden. I just wish they had emphasized the importance more. They even, at one point, said that it's so important to get your saliva worked up during giving a blowjob so that when you switch to vaginal sex that he's already lubed up to penetrate you. What? No! Saliva is not adequate lube for anyone who has not created plenty of their own natural wetness, ok? If you're not wet enough on your own, saliva will not help you. It is not viscous and evaporates very quickly and lube is the only thing that will help keep friction down. Got it?

My second complaint wasn't even big enough to bring the rating down another star. Jessica Drake mentions a few times that the instruction portion is followed by some 'hardcore sex scenes' for us to enjoy. But, really, they're not hardcore. I think what she was trying to say was that there were pornographic sex scenes coming up to warn anyone who bought this film just for conservative, subtle instruction. I actually much more appreciated them being short and 'softer'.

And lastly, I just wish there were more bonus features or materials. After viewing the program, that's all there was. But really, for what it is, I think it's a great resource, especially if you're a beginner to watching porn, oral sex, or unsure of how to open conversation with your partner about sex. You could learn a few things, perfect your current technique, open up important dialogue about your sex life, or just sit back and enjoy the sex scenes solo or with your significant other.
This product was provided free of charge to the reviewer. This review is in compliance with the FTC guidelines.

Thank you for viewing
Jessica Drake's Guide To Wicked Sex: Fellatio
– instructional video review page!