Lust and Desire!!
This lovely book is full of a variety of stories detailing hot sex with a variety of characters: femmes, butches, genderqueers, queers, transmen, masters, slaves, and more. It's a must read for anyone who is into that genre of erotica. I loved this book!!
Published:
Pros:
Great stories, variety of scenarios, lusty, lusty, lusty
Cons:
None.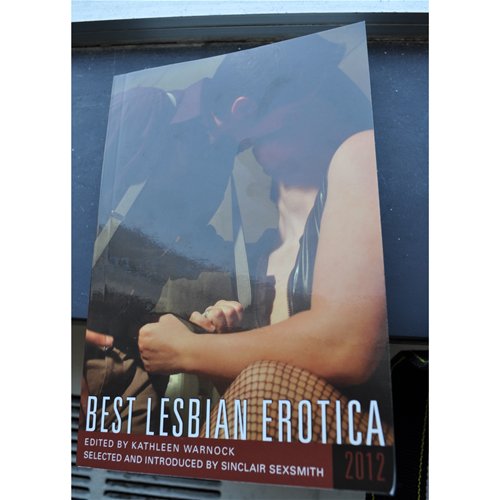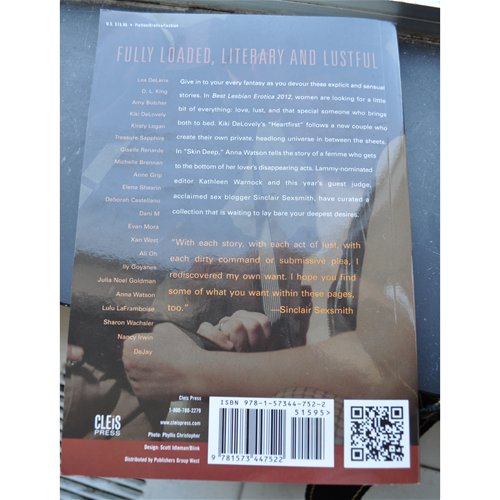 This lusty book is a standard size paperback book featuring 22 sensual stories that provide 183 pages of reading carnal pleasure. The book is edited by Kathleen Warnock who is a playwright, fiction writer, and editor. She has written numerous erotica stories and won numerous awards. Her intro to the book discusses the variety that this book offers and how last year people who reviewed to book either loved or hated it. She states that some people do not consider it lesbian if it has a cock on any kind in the story or if the story features a trans man or woman. The editor goes on to say that some people like to put their selves in boxes and label them and that this book is the dynamite to blow those boxes up. I just loved this comment and related as I identify as queer and have a trans partner. I loved the stories in this book, but some lesbians have issues with my identity as well as that of my partner. It's something that I hope to see shift in the future in the LGBT community and to see us be welcoming of everyone who identifies under the LGBT umbrella.
The stories in the book are introduced and were judged by Sinclair Sexsmith, who is someone that I admire so much in the LGBT community. Sinclair has published numerous stories and is a regular columnist for sites like SexisMagazine.com and AfterEllen.com. Sinclair also has an online project that is just fantastic that can be viewed at sugarbutch.net. Currently Sinclair teaches community and academic workshops on gender, sexuality, chivalry, healing, communication, and getting the sex life you want. I cannot imagine a better judge for the stories submitted for this book, but perhaps I am a little biased.
The authors of the stories are varied. Most of them have been published previously and this is not their first erotic rodeo. There are a couple of authors who are published for the first time in this book, but you cannot tell just by reading through the stories. Many of the authors are active in the LGBT community and the erotica community. The cover for this book is not discreet and have a lesbian couple kissing and says Best Lesbian Erotica in decent sized letters so don't leave this around for company to see unless you are not out and need a conversation starter to come out to some one. You could read this in public if you were careful without anyone noticing. It travels well and would easily fit into any luggage. The construction of the book itself is high quality and the spine held up well to repeated usage.
Experience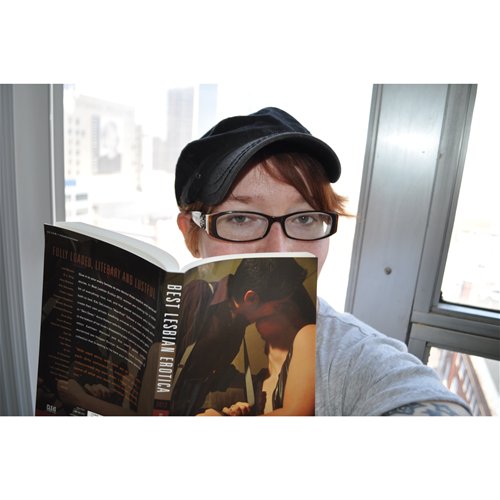 I just enjoyed this book so much. As a yoga student I got lost in the story "Hot Yoga" by Anne Grip which describes what happens when a woman who has a crush on her friend goes to a hot yoga class followed by a sex party. The author practices yoga and I felt like I was reading her fantasy or maybe experiencing something that she experienced. The story "Come to Me" by Ily Goyanes describes a woman who has never able to masturbate and make herself come. She meets someone who takes charge of that and the result is pretty hot. The story "Rebel Girl" by Kristy Logan is a great story if you have ever felt that charge between yourself and a friend and wanted to act on it.
There were a couple of stories in the book that I did not like because they just are not my thing. There is a story that involves cutting and scarification. Another story has a very heavy BDSM theme that just is not my cup of tea. But overall, it is a great collection and it helped me tap into a more carnal side of myself while I was reading the book.
Follow-up commentary
27 days after original review
I still love this erotica collection. Some of the stories have been read more than others, but overall I am very happy with this purchase. I can't wait for next years edition to come out.
This product was provided at a discounted price in exchange for an unbiased review. This review is in compliance with the FTC guidelines.

Thank you for viewing
Best lesbian erotica 2012
– book review page!