Not so dirty, hardly delicious
I remember now why I stopped buying Playgirl DVDs... Porn made with women in mind is a great concept, but poorly executed here. The scenes rank somewhere between snooze-fest and buzz-kill, and I couldn't wait for it to be over. The only reason I finished the disc was that I owed EF a review.
Published:
Pros:
+ The bonus scene with Cleo Alexis & Grant Michaels
Cons:
- Only six, boring scenes
- Director bait & switch
- DVD is letterboxed widescreen, not anamorphic
The cover of Playgirl's
Dirty & Delicious
is very pretty. There is a very fit long-haired man with wings, who could give
Fabio
a run for his romance-novel-cover money, kissing a shapely female while wearing (very little) white clothing and standing in crystal clear water.
The outer, cardboard sleeve leaves nothing to the imagination as the photos show the performers naked,
in flagrante delicto
. However, the DVD wrapper can be flipped around for a cleaner version where everyone is clothed. The
Playgirl
title is likely to raise an eyebrow, but with the XXX pictures hidden the DVD might be mistaken for one of those edited erotic movies that ends up on late night cable.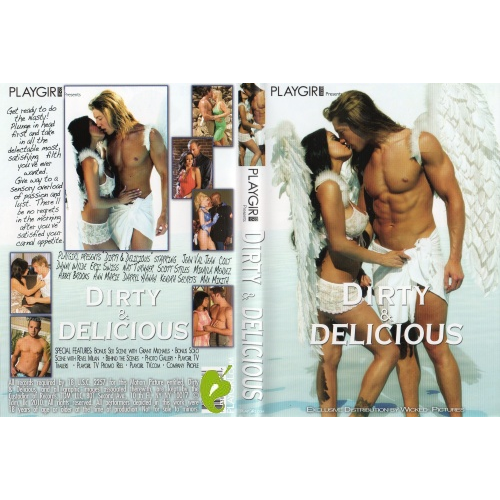 Like every other erotic DVD, this one has legal notices at the start, but unlike the
Island Fever 4 DVD
I watched before it, this disc does not allow you to skip the warnings. It also force-feeds a Playgirl TV advertisement.
Directed by Skye Blue (with one exception),
Dirty & Delicious
has six scenes with six completely different couples, however the sexual escapades of each are similar: the couples start with kissing, move on to oral, then have penis-in-vagina intercourse, and finish with a pop shot (most often on the stomach). Before each scene is a cheesy title card and a throaty narration of phrases like
What's Your Fantasy?
. The actual scene titles and performer pairings are:
Scene 1: Up a Creek ~ Abbey Brookes & Scott Styles
A couple rows their boat downstream to a tiny waterfall where they make love on the rocks. The music starts out as big band swing, but switches to generic electronic synthesizers once the shorts and sundress comes off. There is practically no location audio for this
tableau vivant
.
Scene 2: Back Alley Secrets ~ Ann Marie Rios & Eric Swiss
The setup here is that the wife doesn't know it, but someone is recording her lovers' tryst which, strangely, takes place on a staircase. This scene has dialogue and the usual moaning and groaning of an adult movie. The background music is of the jazz variety.
Scene 3: Angelic Desire ~ Mikayala & Jean Val Jean
If you purchased this DVD because of the cover, this is the scene you've been waiting for. Two angels get it on in a beautiful setting of white and blue, and a dash of pink. The music is slow, ambient-trance.
Scene 4: Military Secrets ~ Darryl Hanah & Nat Turner
This scene is as close to comedy as we get on the entire DVD even though there is no dialogue and very little location sound. The story is simple: a military man catches the eye of a showgirl and gets lucky. The tableau has
I Dream of Jeannie
-worthy sound effects, and a soundtrack which bounces between sock-hop rock 'n' roll and 60's lounge music.
Scene 5: Morning Magic ~ Max Makita & Colt
This scene seems designed to appeal to housewives with an inner
June Cleaver
. We watch as a loving couple abandons their OJ and morning paper in favor of a sexy romp. There is narration and location sound for this setting, and the background music is vaguely mediterranean with a touch of spanish guitar.
Scene 6: Pretty Handy Man ~ Kendra Secrets & Danny Wilde
In the final scene, a handyman gets the best tip ever after hanging an apartment dweller's painting on the wall. Once the painting is up, the clothing comes down. The music is 100% elevator at the start, but quickly morphs into standard porn electronica when the heavy petting gets underway.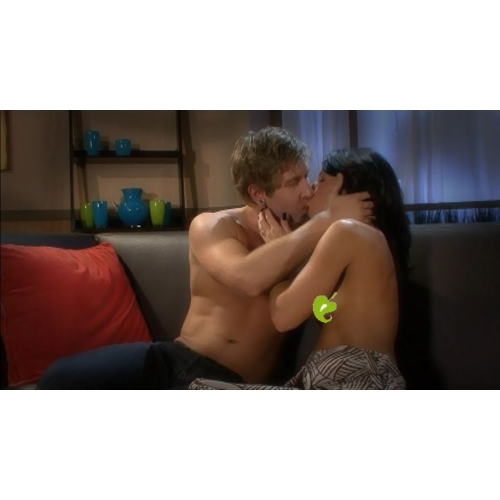 The total running time for these six scenes is 99 minutes. Some scenes include condoms, some do not.
The bonus features include a sex scene titled "Belly Dance" featuring Cleo Alexis & Grant Michaels, and a solo scene with Revel Milan which looks like it might have been shot during a magazine photoshoot. There is also some behind-the-scenes footage from the "Up a Creek" and "Morning Magic" segments, a photo gallery, Playgirl trailers, a link to PlaygirlTV.com, a promo reel and company profile.
Experience
Experience has taught me that judging an adult film by the cover is a great way to get burned. Yet, when I saw the cover of this title a flame of hope kindled in my heart. The art direction looked worthy of a large lingerie retailer who likes to hire blockbuster directors, and it featured
Jean Val Jean
, one of the better looking guys in the business. It was also by Playgirl, one of the few women-centric adult filmmakers, and it had been a long, long time since my husband and I purchased an adult DVD.
It must not have been long enough, because I popped this DVD in and the only feeling it kindled was boredom. I didn't learn this until later on, but the scene featured on the cover was directed by Fernando Vega. Usually people don't care who is behind the camera, but they should.
Why do so many people love Chi Chi LaRue?
Because his performers look like they're having the best sex of their lives.
Why are so many people fans of Robby D?
Because even if the performers suck, Robby D makes the scene look gorgeous. Playgirl presents a DVD of Fernando Vega's aesthetic, but what they give the viewer is Skye Blue's vision. Those are
not
the same thing.
The locations, costumes and music change from scene to scene, but
Dirty & Delicious
is not as entertaining or nice to look at as
Island Fever 4
. Even though that DVD is little more than sex on the beach, over and over, it has better music and, more importantly, the cast has great chemistry.
Most of the couples in
Dirty & Delicious
look like they've shown up for a paycheck. Scott Styles looks like he is bored out of his mind even though the voluptuous Abbey Brookes is giving him oral. Max Makita & Colt are so blasé about their morning pick-me-up you expect them to fall asleep. Jean Val Jean injects a little originality, i.e. foot-worship, but it's wasted on Mikayala who looks like she's trying harder to model than connect with her partner. One couple, Ann Marie Rios & Eric Swiss, do convince the viewer they're having a good time, but Rios' non-stop moaning and talking towards the end had me pressing the mute and fast-forward buttons.
The only redeeming scene on this DVD is an extra directed by Kelly Holland, "Belly Dance." It has a gorgeous set, beautiful costuming, no dialogue, and the female performer has actual dance skill. It is unfortunate that they obviously replaced her dance music with some generic stuff that doesn't match her movements, and watching Grant Michaels try to shimmy along with her tickles the funny bone, but those are tiny minuses in what is otherwise a nice scene.
If you don't mind spending the money for
one
good, twenty minute scene, or if you are a big fan of one of the performers, you may want to add this to your collection. If you're budget conscientious or don't see a name you recognize, I highly recommend you skip it.
This product was provided at a discounted price in exchange for an unbiased review. This review is in compliance with the FTC guidelines.

Thank you for viewing
Playgirl: Dirty & Delicious
– dvd review page!