Fever...what a lovely way to burn.
The Island Fever movies are very specific: straightforward sex in beautiful locales. No dialogue, no plot. If physically appealing peeps rolling in the sand, playing in the water and having lots of sex sounds like something you'd like to watch, you have almost three hours worth of high quality here. However, if you long for a semblance of plot or acting, or if you just like the sounds of flesh pounding, this is not your movie.
Published:
Pros:
+ Gorgeous cinematography
+ Good looking male cast (rare!)
+ No dialogue or clothing!
Cons:
- Excessive jump-cut editing
- DRM?
I've owned this 3-DVD set for a few years and while it's not an all-time favorite of mine or my husband, it's proven pleasant enough to keep for occasional viewing. I like the music-only aspect of this Digital Playground release and my husband likes the female cast, specifically Kinzie Kenner, Sophia Santi and Jana Cova. I was sad Tera Patrick was absent after she headlined the first three
Island Fever
titles, but it was no surprise after her acrimonious split from the company. The presence of some of the better looking (in my opinion) male performers — Jean Val Jean, Marco Banderas and the irrepressible Evan Stone — make up for it.
Large scale Digital Playground releases tend to be a little expensive, however for your buck you get a 16x9 anamorphic transfer, Dolby 5.1 and Dolby 2.0 audio tracks, an audio commentary, top-notch cinematography, two discs of pretty people having sex in beautiful locations (totaling almost three hours) and a bonus disc filled with behind the scenes footage.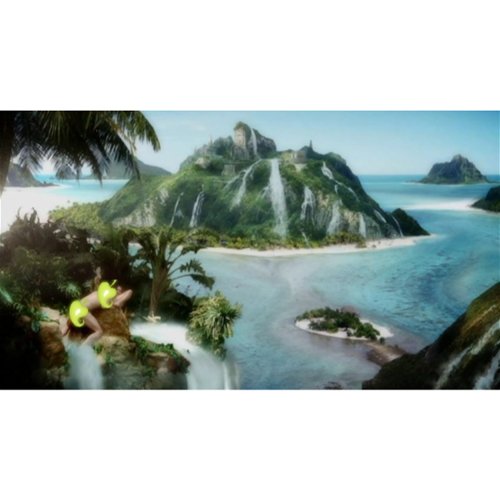 Disc one begins with the normal FBI warnings and Studio IDs, all of which can be skipped or fast forwarded through. The disc plays without problem in a stand-alone dvd player, however, there was a conflict with Windows Media Player when I tried to view it on my computer. Sometimes it played, sometimes it froze and sometimes an event window citing DRM popped up.
The content is, without question, very pretty, shot on location in Bora Bora (with a few exceptions). Every girl on the disc gets a solo scene, and to my husband's delight girl-on-girl action abounds. The only two female performers
not
featured in girl-on-girl action are Kinzie Kenner and Marie Luv. Instead they each get quality time, separately, with Marco Banderas for oral sex and good old fashioned penis-in-vagina.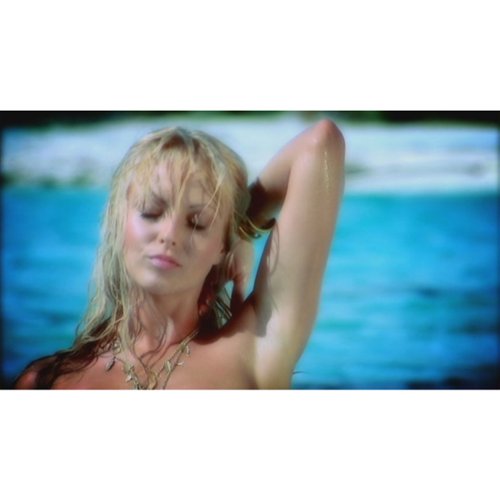 As mentioned before, there is no dialogue or location sound. The audio is music-only, mostly percussion with some synthesizers worthy of Brian Eno, and the occasional acoustic guitar. There are no toys, though condoms appear on the male performers from time to time. There is also not a stitch of clothing with the exception of the last "chapter" where Jesse Jane plays
bocce
with the locals. I guess non-sexual interaction requires at least a bikini.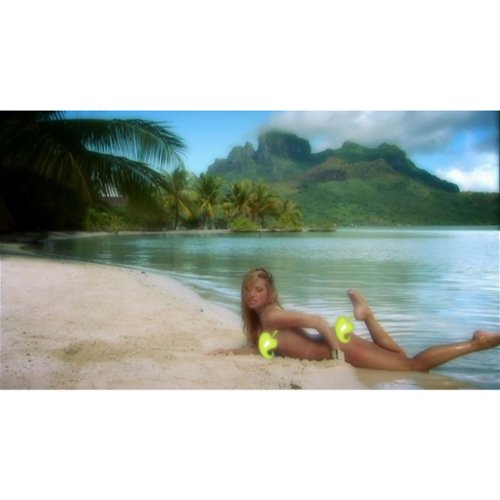 It also features the 2007 AVN Award winner for
Best All-Girl Sex Scene - Video
: a wild four way between Jesse Jane, Teagan Presley, Jana Cova and Sophia Santi on the beach.
Désolé!
I can't show you that one, it's too naughty.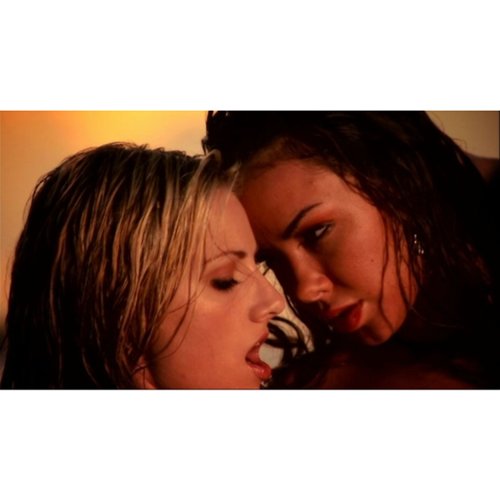 The bonus DVD is chock-full of content: a Behind-the-Scenes featurette, Behind-the-Scenes Confessionals, a slide show with audio commentary, Bora Bora Moments (short videos), Bloopers, a Photo Gallery, Biographies, Trailers and instructions for loading performers' wallpapers from the disc. All this and the audio commentary on the main discs offer additional entertainment, but nothing I think anyone will watch more than once.
Experience
Island Fever 4
is not hard to look at, but visually the sun, sand and surf start to grow fatiguing. From the Behind-the-Scenes featurette I learned that the cast and crew visited five different islands in Bora Bora, but from where I was sitting it looked like the same stretch of beach. The occasional 'jungle' scenes (which were really shot in Joone's backyard) didn't offer much change of scenery.
They should have used one of the guest huts or boats seen in the BtS clips as a backdrop. They also should have added some clothing. One hundred percent nudity turned out to be too much of a good thing, and I was longing for a bikini or board shorts to break up all the skin.
You know what else was fatiguing? The editing. Jump-cuts abound in porn, but
Island Fever 4
took it a step further. Most of the cuts are done at a jarring speed — to match the drum beats of the soundtrack — and the stylized effects used for transitions emphasize the non-linear edits. This works in small doses, but almost three hours of it irritates the eyeballs.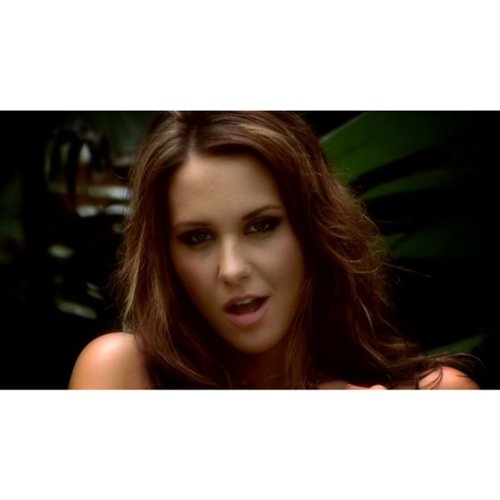 Last but not least, I wish they would have switched up the cast. I got more Jesse Jane and Scott Nails — who came across as a real jackass in the extras and audio commentary — than I need in a lifetime, while Kinzie Kenner (the person my husband was most looking forward to seeing) had less than 15 minutes total. Blink and you will miss her and Marie Luv. Likewise, Tommy Gunn and Jean Val Jean had only one ten-minute boy-girl scene each — out of
thirty-seven
scenes.
Island Fever 4
had greater potential than it achieved, but I like what Digital Playground did manage. I'll take halfway decent music over grunts, groans, badly delivered dialogue and a performer screaming "Oh yeah!" a million times, any day of the week. Add stunning visuals courtesy of Robby D and I'll take a chance because the man knows how to achieve on-screen
pretty
.
This content is the opinion of the submitting contributor and is not endorsed by EdenFantasys.com

Thank you for viewing
Island Fever 4
review page!