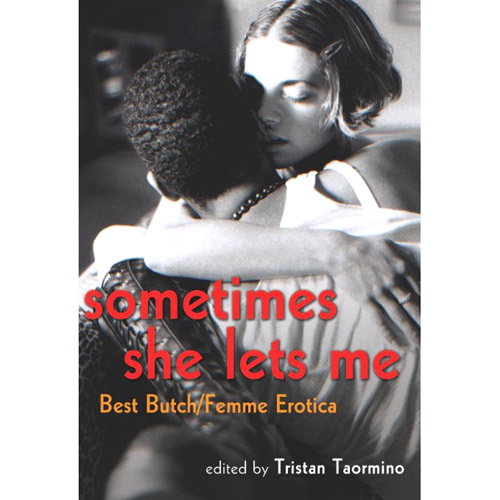 Sometimes She Lets Me
Book discontinued
by Cleis Press Inc.
PLEASE Let Me?
This book will have a place in my nightstand for years to come, I think. The stories were what I look for when I want to be turned on; when I want to escape into my fantasy world. Loved it.
Published:
Pros
Sexy. Erotic. Gender-bending. Well-written. Well-selected.
Cons
May not appeal to those who are not a fan of queer erotica.
Sometimes She Lets Me, is a scintillating collection of queer and butch/femme stories that were collected, edited, and introduced by Tristan Taormino, who, in my opinion, is a natural choice for a book of this caliber. There are 23 delectable stories. I'm not very versed in the world of erotica authors so I don't know which names you'll have heard before. The only author I was familiar with was Sinclair Sexsmith.

The stories range from chance encounters to long-term relationships and many relationship dynamics in between. All levels of butch and femme are showcased as well as several stories that involve gender-bending or gender-fucking. I will be honest and admit that while I enjoyed most of the stories, the stories that elicited stronger reactions were the ones that escaped the traditional gender roles. There were exhibitionist stories, voyeur stories, some BDSM and power exchange dynamics. Some were very tender; while others were a little grittier.

A few of the stories that stayed fresh in my memory, as I mention above, were the ones that played with gender. Examples of this type of story are: "The Diner on the Corner," by Sinclair Sexsmith, "Does She Look Like a Boy?" by Tara-Michelle Ziniuk, and "You Can Write a Story About It," by Jera Star. Here's a little taste of "Does She Look Like a Boy?"

I realized very soon that he had more experience than he had let on. I ran my other hand through what I assumed to be sweat on his inner thigh. He was moving his body accordingly, so I knew he wanted to be fucked.

Then, later in the story:

As I inched my hand upward he jerked away from me. I pulled her close to my body. The hand I had rested on her face came down and pressed against her collarbone. I felt the tiny recognizable ripples of a tensor-bandaged chest.

As hot as all this gender bending is, there were plenty of stories that aroused me that were not gender bending tales. For example: "Sweet Thing," by Joy Parks was a very hot story; as was "Voodoo and Tattoos," by Lynn Jamneck.

Overall, I think this a well-rounded and complete collection. Upon completing the book, I didn't feel like anyone had been left out nor do I feel like anything was missing from it. I truly enjoyed this collection.
Follow-up commentary
5 months after original review
This is a go-to book for me when I want a little one-handed reading. I love the stories. Some of them never get boring.
This product was provided free of charge to the reviewer. This review is in compliance with the FTC guidelines.
Thank you for viewing
Sometimes She Lets Me
– erotic fiction review page!