Sex + Cookies = Love
The Cookie Sutra takes two common things many people enjoy and blends them together to create a unique and special book! This book makes a great gift and is the perfect option to snag if your partner is shy about trying out new positions. With lots of humor and creative illustrations, this book is sure to be a hit, whether you buy it for yourself or for a friend.
Published:
Pros:
- Adorable Illustrations
- Non-intimidating
- Recipe Included
- FUNNY!
Cons:
- Geared Toward Hetero Couples
- No Position Instructions
Introduction
The Cookie Sutra is an adorable book that takes one part helpful information, two parts humor, and a dash of creativity. Combined, these ingredients form into a satisfying treat; a discreet, non-intimidating, and comical sex position book.
The Basics
This book is written by Edward Jaye (which is a pseudonym of a writer named Ted Jendrysik) and is published by
Workman Publishing
. The book is paperback but has a durable cover on it. Both the front and back covers have flaps on them that can be used as you would a bookmark and give you a basic rundown of what the book contains and a few lines about the author.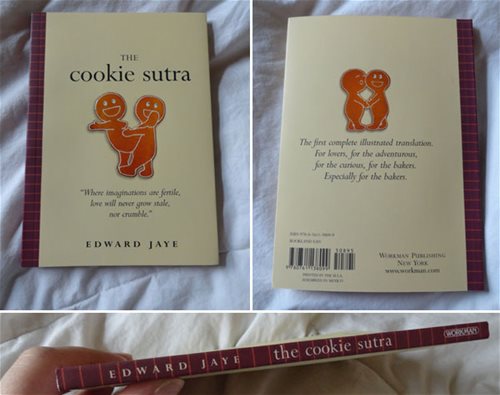 The book itself is 60 pages long and features four color coded sections which include a total of 31 illustrations. There isn't a table of contents, but there is a dedication page where it also gives the copyright information, and there's a page on 'The Origins Of The Cookie Sutra'. In the back of the book, there's a gingerbread cookie recipe, in case you feel like baking your own adventurous sweets.
The book itself is fairly compact and is a good quality. The cover is smooth and should you decide to use it in the kitchen (for whatever reason, I won't tell!) it wouldn't matter if something got on the cover since it would easily wipe away. It's 6 7/8" tall, 5" wide, and 5/16" thick. It's not small enough that it could be toted around in your pocket, but it would be very travel friendly and would make an adorable coffee table book if you don't have children.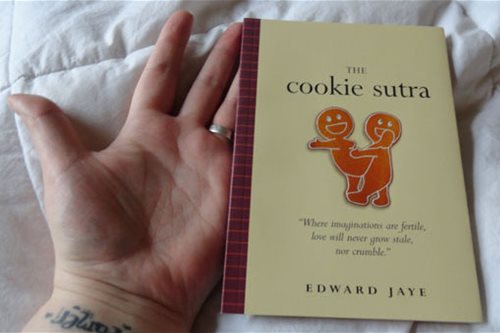 What It Contains
Each section starts with a page that lets you know what the following pages are about and gives you a brief introduction on the section. Each of these pages feature an image of a gingerbread man or woman that gives you a small taste of what the following pages contain, but don't show the actual positions.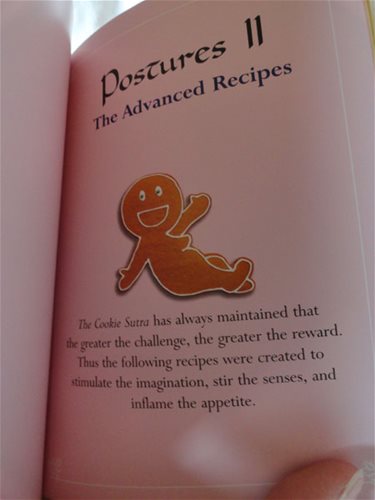 Each position is featured on the right page and the little description of it is on the left page. The information provided for each position is done in a humerus way which is sure to make you chuckle, but doesn't give you an idea on how exactly to get into the position and how it works.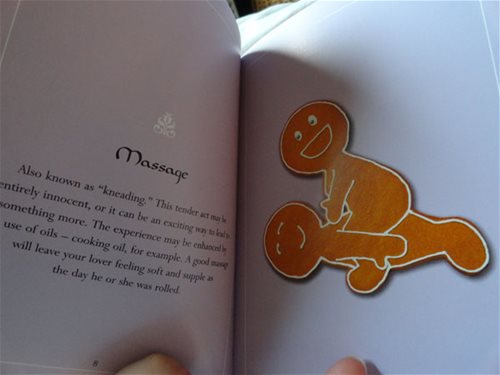 The four sections and contents are:
1: Getting Ready - A Recipe For Success
This section discusses the importance of preparing yourself for sexual acts, first starting with things you can do on your own, like shaving and bathing, and then moves on to things you and your partner can do as the first steps of foreplay. This section is very basic and are things we all do but perhaps tend to forget the importance of. This section is 13 pages long and has a pale purple page coloring.
2: Postures 1 - The Basic Recipes
This section is where you start seeing actual sex acts. These are the most basic positions anyone could do, but are told and shown in a cute and comical way. You see missionary (First Position), doggy style (The Sheep's Posture), and so on. These are for absolute beginners. This section is 15 pages long and is light blue.
3: Postures 2 - The Advanced Recipes
Here you will find positions that are a little more challenging to get into. These positions include reverse cowgirl (Rabbit Grooming), standing doggy style (The Congress Of A Cow), and other positions you'd try once you had the basics down and were looking to get a little more adventurous. This section is 13 pages long and the pages are pink.
4: Postures 3 - For The Adventurous Cookie
The positions featured in this section aren't off the wall and crazy, but are a little more complicated. They have the wheelbarrow (which appropriately, has the same name), a stand and carry position (The Suspended Congress), and positions that are of a similar difficulty level. This section is 13 pages and is done in yellow.
The final page is the 'Afterwards' which simply says you needs time to cool down and relax after receiving pleasure. It's again, said in a comical way and features a cute stereotypical image of a cookie couple in bed, smoking after their sexual adventure.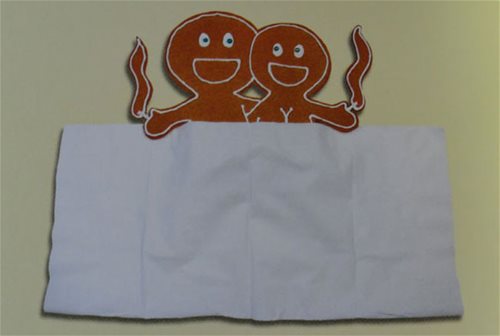 Experience
What It Doesn't Contain
Nudity! This book doesn't have any type of nudity and the only 'suggestive' thing in any of the images is gingerbreast which is simply an outline, no gumdrop nips were shown. You also don't see any type of penetration, gingerpeen, or gingervag in any of the images.

Truly helpful position information is another thing this book doesn't contain. There isn't any solid information that truly tells you how to get into the positions shown. Fortunately, the images, though simple and unrealistic, are done in a way that makes it easy to understand what you're looking at. You can always tell which one is the gingerbread man and which is the woman, which is helpful to those that are in heterosexual relationships.

This book doesn't contain any images of sexual acts between two gingerpeople of the same gender. While I realize that the positions could be applied to any type of couple, with or without a little creativity, it would have been nice to see a few positions designed with same sex couples in mind.

Oral sex of any type is not shown. The positions in this book are full on intercourse other than the first section where it shows massage and kissing.

Experience/Uses
I purchased this book because I'm always looking for something my husband and I can enjoy as a couple. He's a funny guy and appreciates things being lighter and can relate to them better. This book doesn't disappoint as far as humor is concerned! We've both had our fair share of laughs while checking out this book. Between the funny phrasing, the adorable images, and the concept in general, it's a wonderful book to look over every now and then.

While you probably won't learn any new positions in this book (though there might be a few that are new to you), it's still a great item to have. Don't keep the fun all to yourself! This book makes a great gift for a newly married couple, a good friend, or anyone you want to share a laugh with. Because of the way this book is done, it's a non-intimidating approach to sex positions and can really help break the ice with a partner who is shy about experimenting in bed.

For a kitchen themed gift, get a basket and include a cookie sheet, rolling pin, cookie cutters, measure spoons, and this funny book! It looks innocent enough that it shouldn't cause too much embarrassment. Just try to keep it away from children since it could provoke some interesting questions!
This content is the opinion of the submitting contributor and is not endorsed by EdenFantasys.com

Thank you for viewing
Cookie sutra
– book review page!