The Beginners' Porn Collection for Heterosexual Couples
The perfect introduction to porn for beginners, this DVD features a variety of scenarios and sexual acts which should appeal to a broad range of interests. The emphasis on fantasy from a female perspective through the use of voice-over narration help make it more accessible and less intimidating than some other porn as it seems like the next step up from erotica audio books. Unfortunately poor editing choices spoiled the mood for me.
Published:
Pros:
Beginner friendly
Lots of variety
Great close-ups of the action
Cons:
Discs overlap in the DVD case
Jump cuts spoil the build-up
The music
Playgirl's Erotic Collection comes in a cardboard sleeve which features exactly the same design as the DVD cover insert.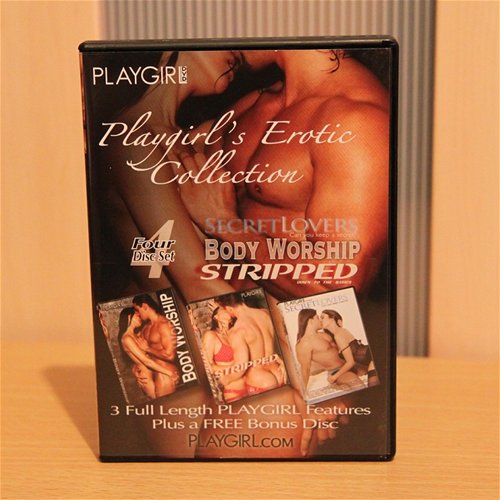 It is presented in a standard-sized DVD case with 2 disc holders on the inside of the front and back cover each.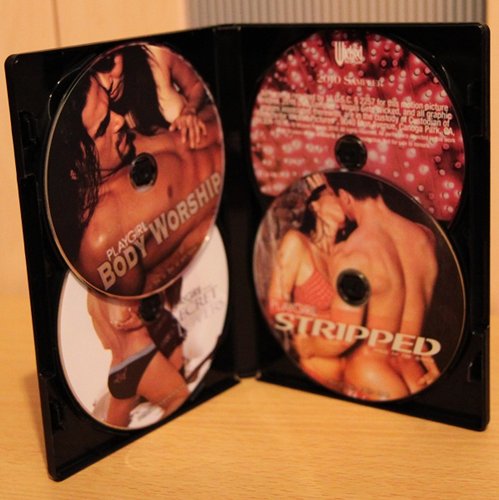 There are 3 Playgirl DVDs in this collection (Body Worship, Stripped and Secret Lovers) plus a bonus DVD sampler from Wicked Pictures.
Here is a list of the content on each disc:
Body Worship
Chapter 1: Private Dancer
Chapter 2: Live on Film
Chapter 3: Prisoner of Fantasy
Chapter 4: The Wet Elevator
Chapter 5: Let Me In
Chapter 6: Fondling his Pool Stick
Chapter 7: Priest
Bonus Scene: Ramon solo
Bonus Scene: French Composer
Behind the Scenes: American Classic
Stripped
Chapter 1: Randy Spears
Chapter 2: Secret Rendezvous
Chapter 3: An Experimental Twist
Chapter 4: Lancelot & Genevieve
Chapter 5: The Bathtub
Chapter 6: Weekend In Cabo
Chapter 7: 50's Fantasy
Chapter 8: Hot Property
Bonus Scene: Skid Romance
Behind the Scenes: Passion Potion
Interview: Austin Gregory
Music Video: Cocktails by Verbal Threat
Secret Lovers
Chapter 1: Gone With the Wind
Chapter 2: Blue Collar
Chapter 3: As You Wish
Chapter 4: Job Performance
Chapter 5: Fruits of their Labor
Chapter 6: Mid-Summer Nights Dreams
Chapter 7: The Psychiatrist
Bonus Scene: Pink Pictures
Behind the Scenes: Chris Evans
Bonus Feature: Playgirl Centerfold - Moon
Wicked Pictures 2010 Sampler - Vegas Gets Wicked
Scene 1: 2040
Scene 2: Educating Alli
Scene 3: Operation Tropical Stormy
Scene 4: Hush
Scene 5: Kayliani Lei's Fornic-Asian
Scene 6: House of Wicked
Behind the Scenes: Wicked Pictures Promo Campaign
2010 AVN Nominees trailers
The Playgirl DVDs feature 7 or 8 chapters each, along with some extra content such as Behind The Scenes footage and interviews with the porn stars. In addition to this extra content, all 3 discs offer a photo gallery, Playgirl TV trailers, and a Playgirl TV promo reel.
The Playgirl chapters seem to follow a certain formula. They all feature heterosexual couples (one man with one woman) except those that are solo male masturbation scenes. Most of them start with a voice-over narration from the female lead character introducing the scenario. Then the action begins, usually with some kissing while undressing, which leads to oral sex. The oral sex consists of fellatio as well as cunnilingus. Then the couple proceed to have intercourse (most often in doggie-style, reverse cowgirl, and missionary positions) before the man ejaculates on the woman's stomach.
The Wicked sampler DVD has 6 sex scenes from various porn films produced by Wicked Pictures. The trailers for these films can also be found on the DVD along with some other trailers, all of which were AVN (Adult Video News) Award Nominees. These trailers offer more insight into the scenarios in which the sex scenes take place. This disc also has a Behind The Scenes film from Wicked Pictures' promotional campaign which focuses on the photo-shoot for their 2010 calendar at the Palms Casino Resort in Las Vegas.
The Wicked sampler features mostly group sex encounters and it's heavier on the fantasy elements, such as droids built for sex. Some of the sexual activities that are included on the Wicked sampler are fellatio, cunnilingus, fingering, vaginal sex, anal sex, rimming, double penetration, facials, swallowing cum, girl-on-girl, threesomes and group sex. Playgirl is very tame in comparison.
Overall, there's a lot of different scenarios and a variety of sexual acts on this 4 disc collection so you're bound to find something that works for you.
Experience
I'm pretty much a newbie when it comes to pornography, so when I saw that this collection was available for testing, I was excited to venture into the unknown and offer a beginner's perspective, and since I wasn't sure of what I would enjoy watching, choosing a varied collection like this reassured me that it would be easier to find something to suit my tastes.

My first impression when this arrived was that the cover sleeve was absolutely useless. It's slightly too big and slides off the DVD case with no effort at all. It has exactly the same design that's on the DVD which makes it wasteful and environmentally bad. It's also far from discreet; you cannot look at this from any angle without being aware that it is porn.

Inside the case the discs are laid out very awkwardly. They overlap which can make it difficult to see which disc is which and it's annoying having to remove a disc to get to the one below it. Removing the discs is easy; you just need to press firmly on the centre of the disc holder and the disc will pop free.

The Playgirl DVDs have some voice-over narration which reminds me of an audio book of an erotic short stories anthology. Personally, I found this to be quite tacky but I am not a fan of erotic literature. I just wanted to see them having sex and hear them having sex, which brings me to my next point. A lot of the natural sounds of sex such as moaning were blocked out by cheesy music right until the porn stars were close to climax, which spoiled the mood for me.

Another criticism I have with the Playgirl DVDs is that, while some of the camera angles and close-ups of the action are fantastic, I find the editing to be very poor at times. There seems to be jump cuts far too often; for example, in one scene it abruptly switches from cunnilingus to intercourse with no build-up in between, which I find very disruptive and distracting.

The "Behind The Scenes" feel more like interviews with the porn stars to me, and are inter-cut with footage from the movies in question rather than showing you how the movie was actually made, which was a bit disappointing. Some of the interviews were still interesting though.

The Randy Spears chapter on Stripped seems out of place to me. It's basically an interview along with a solo masturbation session, which doesn't fit into the formula used in the other chapters whereas the bonus scene, Skid Romance, does. I feel like this disc would make more sense if these scenes were switched.

I found that Prisoner of Fantasy on Body Worship was definitely the roughest chapter out of all the Playgirl DVDs, which sees James Deen forcing his cock down a woman's throat, making her gag and choke. I found this very off-putting and uncomfortable to watch. There is also some spanking in this scene during sex in the doggie position. There's also quite a lot of spitting on genitals for lubrication on the Playgirl DVDs which really grosses me out. Still, the Playgirl DVDs overall are much tamer and more suitable for beginners compared to the Wicked sampler.
Follow-up commentary
5 months after original review
I still think this DVD collection serves as a good introduction to porn for women and couples, but I personally haven't felt any desire to watch it a second time.
This product was provided free of charge to the reviewer. This review is in compliance with the FTC guidelines.

Thank you for viewing
Playgirl's Erotic Collection: Secret Lovers, Body Worship, Stripped
review page!