Very informative... AND fun to watch!
This DVD is something that every heterosexual couple should own. It will make your sex life 20 times better and leave you completely satisfied. I never knew that I could find something that was completely romantic as well as completely sexy and sweat inducing. I would recommend this to every couple I know.
Published:
Pros:
Informative, Romantic, Sexy, helpful
Cons:
Commentary is hard to understand
The better sex guide to the Kama Sutra is an instructional DVD that teaches you how to appreciate your lover and shows you the basic principals of making love according to the Kama Sutra. It comes wrapped in thin plastic.The front has a picture of a naked couple and the title of the DVD, so not very subtle. It also says it was the winner of the Telly award. The back has a description of the movie and a list of contents.It comes with a DVD and CD, both of which are approximately and hour long. This movie is not rated with a Spanish version included. The CD has 16 songs plus a bonus track. The case is a normal DVD size (7 1/2 in. long, 5 1/4 in. wide, 1/2 in. thick).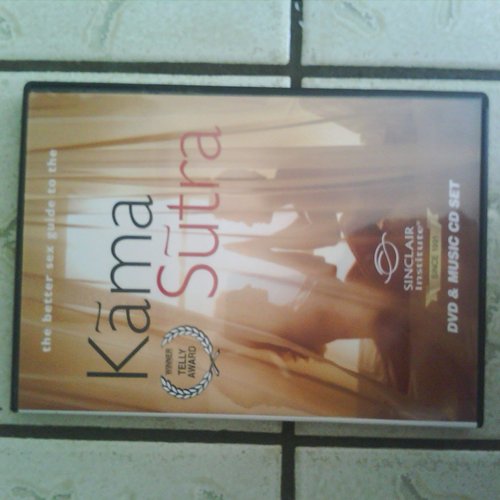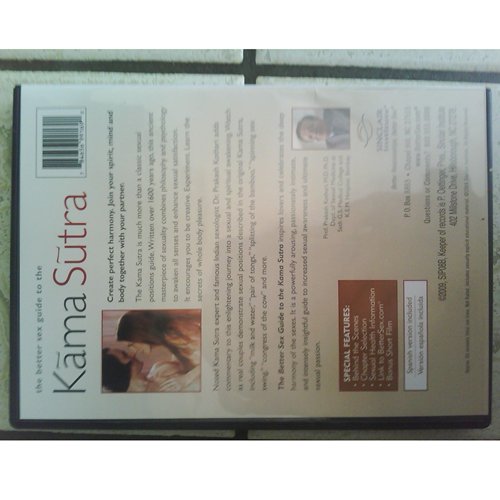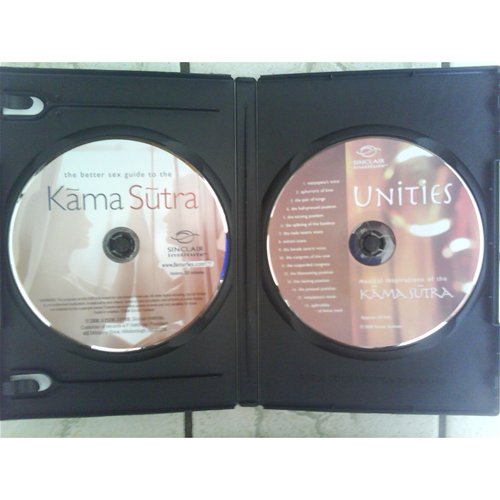 Professor Prakash Kothari does commentary throughout the movie, most of which I could not understand, because of his thick accent.There are a handful of couples who act out the different positions that they include, although not all the positions in the book are covered. Some of the positions included are "blossoming position," "Indrani Asana," "pressed position," half pressed position," "splitting the bamboo," "Turning position," "milk and water," "pair of tongs," "spinning sex swing," and "congress of the cow". Most of the positions are actually pretty simple and looked fun. Some of them looked alright, but the faces the women made convinced me they must be uncomfortable. Then there was the "turning position" which made me and my boyfriend giggle at how silly it was. This DVD also focuses a lot on foreplay and enjoying just touching and bathing each other. It shows you how making love should be an entire experience instead of a "get it over with" type of thing. They use real couples, but they seemed to be a little fake to me at times. This DVD is geared towards heterosexual couples.
My boyfriend and I watched this movie together to get ideas on some fun things we could try. We were very much into it and were watching very intently. The stuff about washing each other and enjoying touching and foreplay were all very interesting. We both got excited about that. As they went through the positions, we would always nod at each other when there was a good one, laugh at the silly ones or when we would make stupid jokes about them. We got halfway through and it was getting quiet as we both started to really get into it and before it could even end, we practically ran to the shower! We washed each other in the shower slowly and it was amazing. Then we went to the bedroom slowly playing with each other and seeing what each other really liked before trying out one of the positions. It was a great experience and we are definitely going to keep this going for a while. This movie taught us to really take our time and enjoy just making love together instead of our normal "lets fuck like wild animals and tear this place apart" sex.
Follow-up commentary
3 months after original review
I still very much like this DVD. It is a must-have for couples everywhere! Buy it! Trust me, you won't ever regret it. I have absolutely no complaints. I don't know what else I can add except for that I am very glad I chose this for my love and I.
This product was provided free of charge to the reviewer. This review is in compliance with the FTC guidelines.

Thank you for viewing
The better sex guide to the Kama Sutra
– cd review page!