When I Get That Feeling I Want Sexual Healing!
This was a very inclusive, deep look into the world of spirituality, human sexuality, instinct and self-empowerment through control and expression of one's own pleasure. The instructional scene was very informative, artistically done. It was an intensive exercise in paying attention to and understanding one's body. The interviews with Jaiya were delightful. This is a great pick for those interested in Tantra, orgasmic breathing, erotic trance states and deep orgasm.
Published:
Pros:
Great new techniques and information about many types of orgasm, so sexually positive
Cons:
Dance and yoga/masturbation scenes may be a bit underwhelming for some, and are not instructional
The Art of Female Self-Pleasuring is the most interesting, informative, beautiful film I've seen on sexuality. It is liberating entirely, and I suggest it for anyone looking to deepen their bond with the feminine. This 2-disc set follows three women through their personal rituals of self-pleasure. It includes a narrated instructional session, as well as insight into the female anatomy, stigma surrounding sexuality, and how to overcome those stigmas.
The first disc brings us the self-pleasuring session narrated by Jaiya, the film's writer, and performed by Shayne.
Jaiya suggests that one watch the video entirely before engaging in play yourself, and I recommend watching the interviews with Jaiya foremost, as she sets a welcoming sensual mood. Smiling the whole time, she is well-spoken and calming. She addresses shame surrounding sexuality, and how it can have origins as far back as birth, even to conception.
Jaiya's demeanor is lovely.
According to Jaiya, a child who born in a burst of ecstacy, into a warm loving environment, who is placed upon its mother's breast at the moment of birth and allowed to bond, the first burst of oxytocin hormones flowing, will experience less sexual shame than the average person. The child's 'reptilian brain' or limbic brain, will be imprinted forevermore with this experience of the world as a good place, where people can be trusted and love is abound.
Contrariwise, a child born into a world of pain - mother screaming, doctors poking and prodding with needles, bonding only with cold machines -- will experience a shutdown of the initial oxytocin burst. This child will perceive the world as a colder, darker place, and have trouble bonding later in life. Not receiving that necessary touch when first born can create issues later in life when touch or closeness to another human is presented. The child may have craved it subconsciously their entire life, and once it is present, the child doesn't know how to accept it.
Interestingly, according to Jaiya in her interview, there are ways to lessen the pain of childbirth through sexuality. The hormones in sperm contain pitocin, the drug used to induce labor. If a woman has intercourse before her water breaks, the cervix will open and childbirth will be less painful. Sucking of the nipples has the same effect. And if the clitoris is stimulated as the baby is crowning, the vagina will not tear. These facts were astonishing to me, and impressed upon me a more beautiful idea of bringing life into the world.
As a sex educator, Jaiya has dealt with her own sexual hangups, and discusses her journey through what she calls 'peeling away layers of shame.' She accomplished this through a Tantric ritual called 'limbic re-imprinting' during which she entered a trance state and recreated her birth as an environment of love. To come into the world in a burst of love and ecstacy for her was liberating and allowed her to let go of the irrelevant past to focus on the safe, present moment. She overcame a bit of her shame by owning her sexuality. Her empowering mantra?
'I am a woman and I want sexual pleasure.'
Jaiya discusses the healing aspects of sexuality. In the collective consciousness lies the pain of all women throughout history victimized for their sexuality, their desirability. In the collective consciousness lies potential for healing. The G-spot is an interesting gateway to unearth feelings and begin to work through them. The G-spot is highlighted as an emotional sponge, soaking feelings up to be released under stimulation. Jaiya recalls many women she's worked with who have burst into tears as their G-spot was first stimulated, often unable to explain the outburst of emotion.
Now comes the anatomy lesson! Jaiya highlights the G-spot and details
the A-spot
a.k.a. the Anterior fornix, connected to the Skene's gland, which causes 'squirting orgasms.' This tissue holds an alkaline fluid that is released when this 'deeper G-spot' is stimulated, causing intensely delightful orgasms.
Believe it or not, one can also have a 'urethral orgasm,' according to Jaiya's teachings. So the single application or combination of any of the following orgasms can yield unending and rapturously delightful results: clitoral, urethral, G-spot and A-spot. Who knew we had so many pleasure zones? I sure didn't.
Jaiya delves into the realm of spirituality and its connection to sexuality. We all came from sex. The entire world has been created due to sexual reproduction. Sex is the creative spark, the creation of life.
Experience
And what is sex, exactly? It can be sensual massage, eating a meal, gazing deeply into another's eyes, anything deeply engaging one in the present moment.
Sex is spiritual in its ability to engage one in the present moment, creating a space for clarity and insight. Seeing beauty in another person beyond their flesh. Connecting to something greater than oneself. According to Jaiya, religion made a mistake in taking god out of the bedroom and disconnecting it from our human experience. By bridging the gap between god and sex, we become the creators of life, the channels through which trancendence flows, and become inherently good and divine ourselves.
From this teaching we can draw a sense of purpose with our sexual exploration, and go forth with a purer intention in the self-pleasuring ritual. The initial session with Shayne is intensely sensual and personal. There is an option to watch with or without narration, so you may follow along with the visuals or simply use the music to relax you once you are more familiar with the ritual and its methods.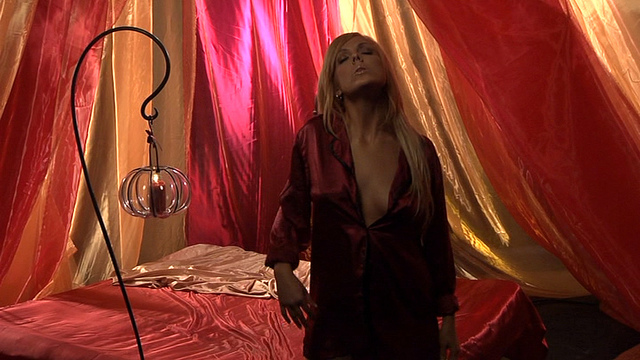 The room is dimly lit and quiet as Jaiya suggests setting the mood for these private sessions. Jaiya starts by guiding Shayne into a body-awakening exercise. Shayne shakes her extremities to increase circulation and sensitivity throughout the body.
The pace used throughout this instructional section is relaxing and calming. It is very easy to follow along.
Next Shayne sits and silently observes the sensations in her body. This is a part of a form of meditation I have practiced called Vipassana. By observing the sensations in the body and recognizing their impermanence, one begins to feel content. Enveloped in the wisdom of knowing that all things are impermanent, one learns to observe rather than to react.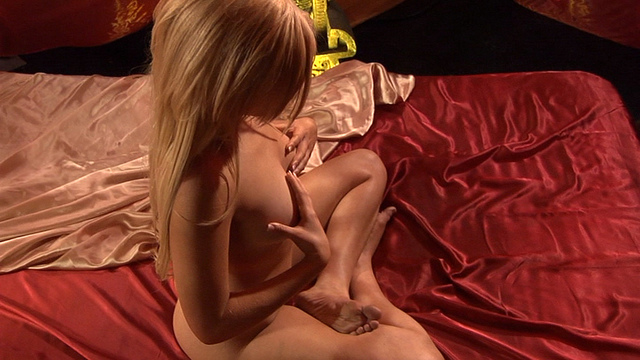 From here Jaiya leads Shayne to build arousal by doing a series of kegel exercises flowing into massage, then teasing of erogenous zones.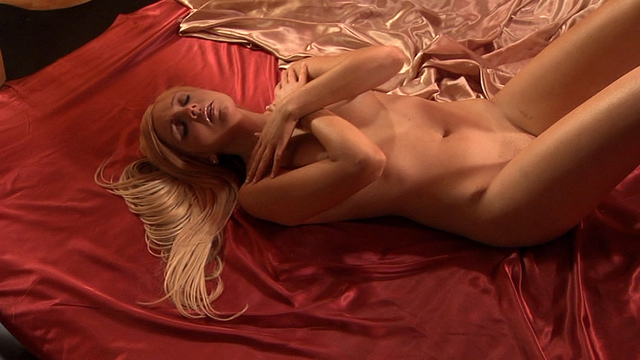 Jaiya's instructions are generalized enough to allow a very personalized self-pleasure session, discovering intense new feelings of pleasure through new techniques throughout the session.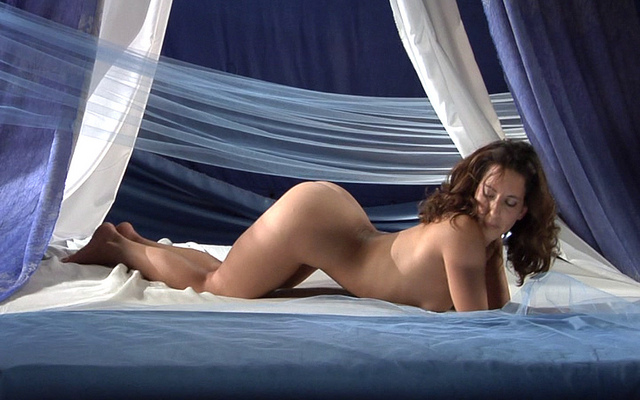 The 2nd disc features Rachel and her 1 hour session of Kundalini yoga, meditation, and her Pyrex glass dildo. There is no audible narration or instruction here, and the purpose seems to be simply witnessing in awe the sensuality and impressive self-tuned nature of this woman as she truly loves herself, physically and spiritually.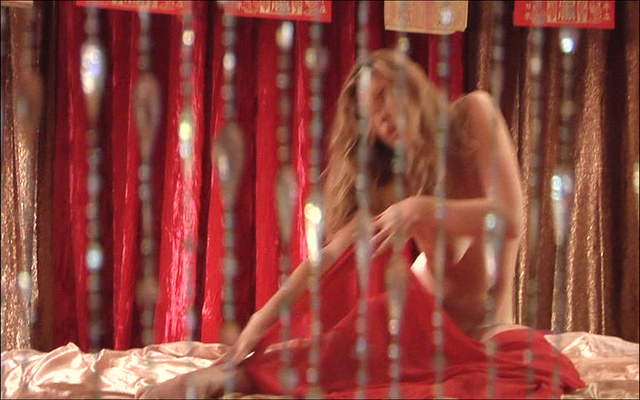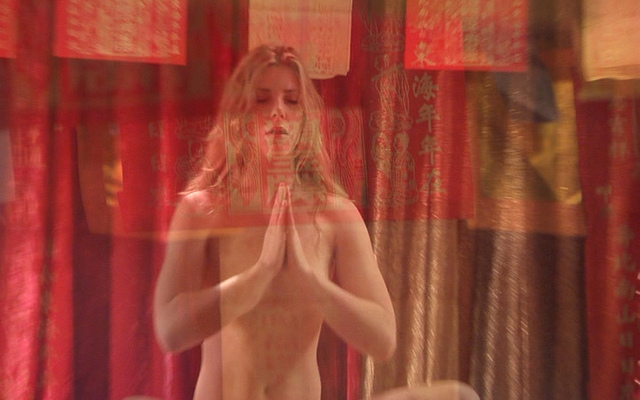 Eden is the 3rd actress who brings us a 15 minute sensual dance ritual, demonstrating self-pleasure without genital stimulation. One can go on a date with oneself, perform self-massage, or take a long luxurious bath to pleasure oneself. Eden uses her breath, dance movements, and self-massage to bring herself to orgasm.
This is really a must-have for anyone even mildly interested in the spiritual aspect of sexuality, in female sexuality or new techniques in sensual female pleasure. One will certainly walk away with new techniques and secrets about the female form that they never knew, empowered by their own sensuality and inspired by that of the four women shown in this magnificent, artistic New Order Sex Education film.
Follow-up commentary
1 month after original review
I highly recommend watching Jaiya's short video on self pleasure. It's a condensed version of the interviews on her tape, but in a more intimate setting. She's amazing.
Check out the video
here.
This is really an amazing film and I recommend it for anyone who has sexual hang-ups, guilt, or needs extra effort to orgasm. It will certainly introduce you to your body in a new way.
For males this is also a great film to educate you about female sexuality.
This product was provided free of charge to the reviewer. This review is in compliance with the FTC guidelines.

Thank you for viewing
The Art of Female Self Pleasuring
– instructional video review page!