Ahh; minty, tingly dessert!
If you are looking for something minty and sweet to add a little more fun and tingle to your sex life look no further, Tingle Gel by Cal Exotics is your solution! Easy to open with one hand and fun to use on or with a partner, no matter what the situation you will love this product!
Published:
Pros:
Great flavor, smells good, 100% edible!
Cons:
Contains Glycerin and two types of Parabens
I was excited to receive this product in the mail, more than I typically would be, because I'd ordered it so that it would arrive on a very specific date; my boyfriend's birthday! I watched the Tracking Number carefully, hoping that it would arrive on September 1st, and when it arrived I excitedly opened the box. I'd been looking for a gel that we could both enjoy, and he had mentioned wanting to try a flavored lube that had a tingling feeling.
The gel came packaged in easy to open plastic, "Tingle Gel" in the top right corner with general description of the product in a couple of places in the middle, and the California Exotic Novelties logo on the bottom right. On the back of the packaging was a bit more information about the product as well as the ingredients.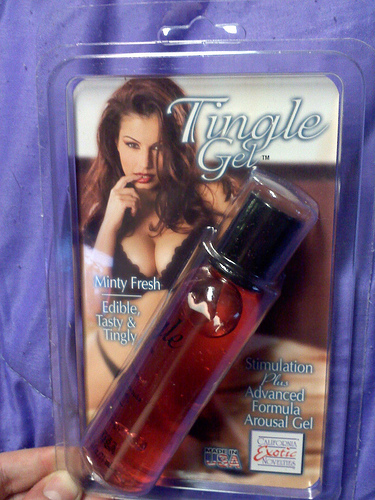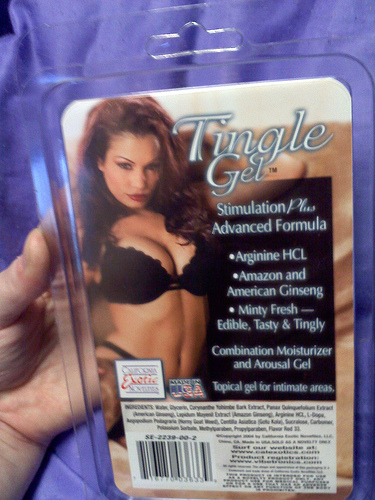 I was a bit surprised by the color of the gel itself. I was expecting a green hue, but instead, it was a light red, or maybe closer to a rose color. I opened up the plastic holding the gel and twisted open the cap. There was a foil cover which I peeled off and then twisted the cap back on. The first thing I noticed about the product, while the cap was off, was the smell. It smelled
very
strongly of peppermint, almost like a very strong Altoids mint. There was a tiny bit of the gel on the round piece of foil that had covered the bottle, and so once the lid was screwed back on, I decided to taste the product in advance just to see how strong the flavor was as compared to the aroma. It tasted more of a wintergreen flavor, and although it was strong, it was not overpowering. I could almost relate it to after having just used minty mouthwash, strong, but not so strong that I didn't like it. The bottle itself came in 2.4 fluid ounces, and my first impression was that this gel might not last us long!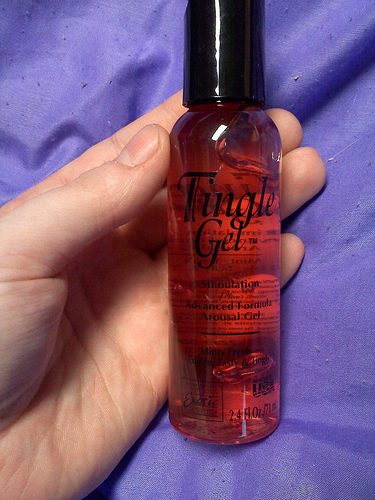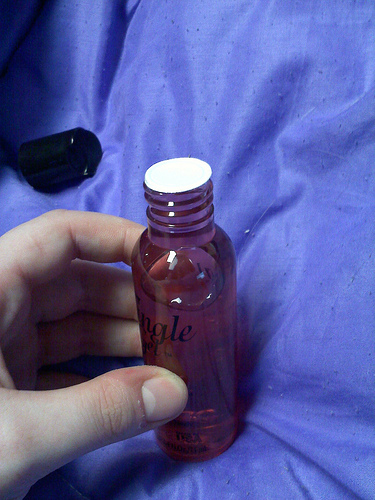 Surprisingly, it didn't take a lot of gel to go a long way! Even after several applications we had hardly touched it! It came out a bit thick but spread easily and almost like a liquid. It has the potential to drip onto sheets or clothing if you apply too much at once because of its consistency so I would start with a little bit of the product, spread it and if you need more, apply at that time. I don't think that this product would be good for water play, because when I showered after using the product, with some still on me, it came off almost immediately, so it wouldn't really stick to toys easily. It did, however, become a bit tacky on the skin once it started to dry, so we showered right away. Also, know that this product is water based, so it should be safe with any toy and won't break down the latex in condoms.
It also comes in a fairly small bottle so it should be easy for travel! You will more than likely want to put it inside of a plastic bag if you do take it with you, because the top may snap open while in your purse or suitcase, and you don't want to waste the product, as your clothes and other items may not enjoy it quite as much as you!
Here is a full list of the ingredients, as listed on the back of the packaging: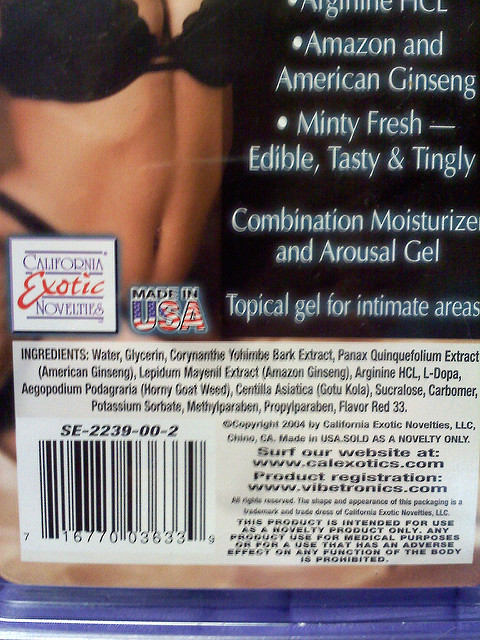 Experience
I decided that to be able to test out the full ability of the product, I would start off by applying it on him and letting it settle into the skin for a bit. I felt started him off with a nice hand-job, using the tingling gel as lubricant, and then moving on to oral would give us a good idea of the gel's capability. I applied a small amount directly onto his penis; he said it felt cool as it touched the skin. I moved my hand around, rubbing it thoroughly all over, and he said it felt like regular lubricant to him, no tingling yet. It wasn't too far into the hand-job, though, perhaps about two or three minutes of teasing movements, that he said he could feel a slight tingling sensation. Although it wasn't too much of a tingle it was still enough to get him going!

I applied another thin layer, and decided it was time for me to enjoy it a little! As I began to give him oral, I noticed that the smell wasn't as strong once applied to the skin as it has been in the bottle, but it still was pretty strong. I have a very sensitive sense of smell and can get headaches from very strong smells, but I did not have this problem with this product. I also had some concerns about the minty smell affecting my also sensitive eyes, but I had no watering or burning whatsoever being that close to the product itself. It tasted very good to me and made giving a blowjob that much more fun! Afterwards he mentioned that the tingling seemed to increase when I began to perform oral on him, between the heat of my mouth and the cooling and tingling of the product. He noticed it a whole lot more then, than just the product and hand job!

He stopped me as he was getting close to orgasm and decided he wanted to finish off inside of me, and we changed positions for a moment so he could return the favor! I wasn't expecting this, as I'd purchased the product with the sole intention of using it on him for his birthday (and of course thereafter!), but I gladly accepted! I, unlike him, felt the tingling almost right away, about 45 seconds in, and it lasted for several minutes while he continued to orally please me. The tingling started off a little more powerful but faded fairly quickly, but it still felt very good! Better than oral alone!

I didn't have any concerns about this lubricant being used on my genitals because I am not sensitive to any of the ingredients, but again, I will mention if you are sensitive to Parabens or Glycerin be aware that they are in this product. For me, it was very enjoyable, and this was my first experience with flavored lubricants that "tingle".

I'll admit, the oral was great to both give and receive, and it added a little something extra to the sex as well! I gave this product 5 out of 5 stars, because even though the tingling wasn't quite as much as I expected, we did enjoy the product and found nothing wrong with it!
Follow-up commentary
1 month after original review
The Tingle Gel is still excellent for hand jobs and blow jobs but we did find that often, actual intercourse isn't as pleasurable for him after using the gel. The tingling also causes a bit of numbing sensation, and he can't feel the stimulation of sex as well while using it.

It is still excellent for oral sex, though, and he fully enjoys it when I put a layer on him before licking and sucking away!

Overall, we still love this product, we just don't use it as often as some of our other lubricants which we can use for more than just oral sex!
This product was provided at a discounted price in exchange for an unbiased review. This review is in compliance with the FTC guidelines.

Thank you for viewing
Tingle gel
– clitoral gel review page!