Baby Powder Overload
While this doesn't have an unpleasant smell, it isn't very alluring either. It is a strong, baby powder and floral scent that lasts all day without having to reapply. It isn't going to attract a man but it isn't going to make him run away either.
Published:
Pros:
Lasts for hours, no need to reapply
Cons:
Smells like baby powder
Lure For Her is a pheromone attractant perfumed spray by Topco Sales. While I sincerely doubt that it will attract a man, odds are that it isn't going to repel him either. Some pheromone products that I have tried have an unmistakable musk-like scent that changes on the wearer. I sprayed this on three different women and it smells exactly the same on each one, even after wearing it for about an hour.
When you first open it, you are hit by a strong baby powder smell. After applying it, it still smells like baby powder but with a light addition of a floral scent. It is a fresh, pleasant smell. It reminds me a lot of walking into a baby boutique.
It comes packaged in a pink cardboard cylinder much like talcum powder, a precursor perhaps of the smells to follow. The bottle itself is a small glass bottle with a pink label depicting the female gender symbol and name on the front and a gold cap. It holds 1 fluid oz of the perfume. It is a spray bottle with a push dispenser. It is a small bottle but trust me when I say that two sprays will last you for hours. It is very strong and takes a long time to wear off. If you are sensitive to smells this may be strong enough as to cause a headache.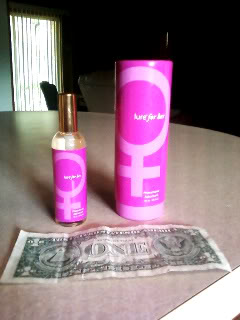 While it really doesn't seem to attract much but nursing babies, it does smell pleasant enough to wear. The bottle is the perfect size to carry in your purse or toss in the console of your car for a light spray when you need to freshen up a little bit. I doubt that I will be getting a lot more of this but who knows, maybe some super sexy guy will come up to me who adores the smell of baby powder and flowers.
Ingredients include: Denatured alcohol, Ethoxydiglycol, Fragrance, Glycerine, Androstadienone and Water.
This product was provided at a discounted price in exchange for an unbiased review. This review is in compliance with the FTC guidelines.

Thank you for viewing
Lure for her
– spray review page!