Back off Pooh, this honey is all mine!
A fantastic product with more than one use. You can use it to dust on yourself or you partner and kiss, lick, and tease away! It is also great to use as a day-to-day body powder to prevent chaffing, and to smell sweet. Not too sugary and not too strong a scent while still performing well. The only flaw I found with the product is that it does contain more corn starch than anything else, and may need to be stirred if it settles too much before use. Other than that, it is fantastic!
Published:
Pros:
Cute, mostly discreet packaging. Tastes and smells great! Inexpensive. Get a lot of product!
Cons:
Tastes more like vanilla than honey. Cheap Marabou feather.
"A Touch of Honey" is a flavored, scented powdery substance made of all-natural ingredients. As noted on the jar, the
finished
product is
not
tested on animals.
This is a more sensual item; made to be dusted on the body either to be licked or kissed off by your partner, or as a body powder to leave your skin smelling sweet.
The jar itself is pretty discreet; with 60gm of product and no inappropriate wording on the jar aside from the words "Sensuously Edible". It comes with a pink Marabou feather which can be stored inside of the jar, or in a separate place. The jar is made of an almost-clear plastic with a screw-off lid, with the label around the entire jar giving product information.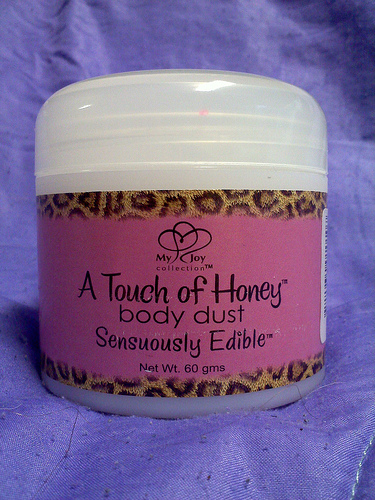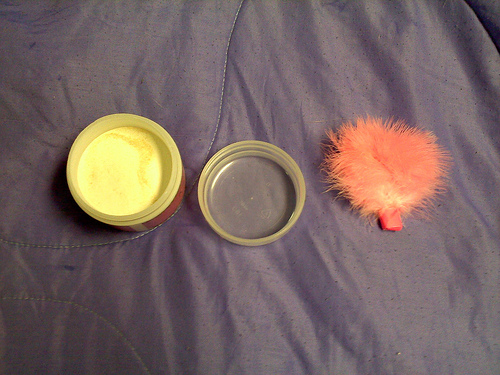 The feather seems as though they were all placed together and taped at the base. While the feather isn't made well enough to use as a tickler, it does a great job of getting the product from the jar to your skin with ease and no mess. Here is a better, closer view of said feather: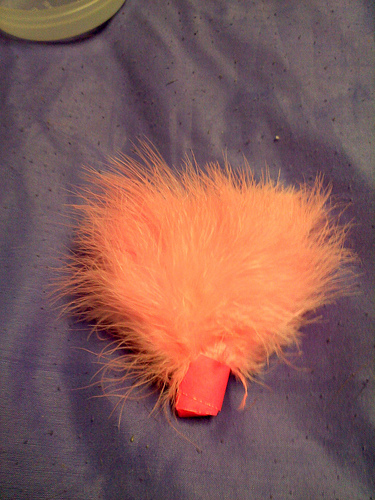 The aroma is wonderful, but not too strong. It smells more like vanilla than honey to me. On your body, it leaves a light powdery feel, with no sticky residue even after licking it off. This product also washes off very easily in the shower or with a wet washcloth, so cleanup is simple! The flavor is equally fantastic, starting off with a nice, sweet taste of honey and leaving the taste of vanilla in your mouth afterwards. It is not too sweet or strong. The vanilla is comparable to a lighter flavor of those Vanilla Tootsie Rolls.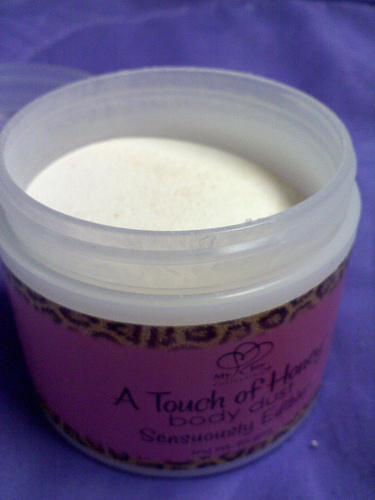 As you can see, prior to mixing before use; on the bottom closer to the right side are the darker patches of what I assume to be the baked honey.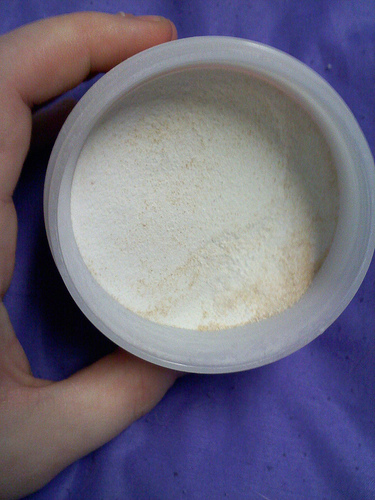 There are no real instructions for use on the product packaging, but it's pretty simple. Just unscrew the lid, dip in the Marabou feather, and gently dust the powder over your own or your partner's skin. Then, take turns licking it off of each other, or leave it on for a nice honey/vanilla scent that will last all day. The nice thing about powders/dusts made of ingredients like this, is that it is perfect for use in the summer time, especially in humid areas, to wear as a daily powder. It would be perfect to dust on the inside of elbows or knees, and under the breast area to prevent chaffing, and reduce sweat. Products made of corn starch are perfect for this use. It is also great for those with sensitive noses, because it is not overpowering with artificial scents like most powders you buy in the store tend to be.
A few patches of the powder contained thick amounts of starch, so stirring the jar before use is probably recommended. I found that the flavor didn't last too long in my mouth, nor did it leave any sort of bad aftertaste. I noticed that from the time I was licking the delightful powdery goodness off of my partner until the time he was finished licking it off of me, the flavor was already gone from my mouth.
Also, note that this powder is very light and fluffy, which is good for wearing it on your body, but can create a mess! If you shake the jar too hard with the lid off, even in circular motions to move the powder around a bit inside, it can fling over the side of the jar very easily. Though it is super easy to clean up, it can still cause the mess in the first place, and I am sure you would much rather have the powder on your partner or on yourself, than on your rug.
The list of ingredients is short: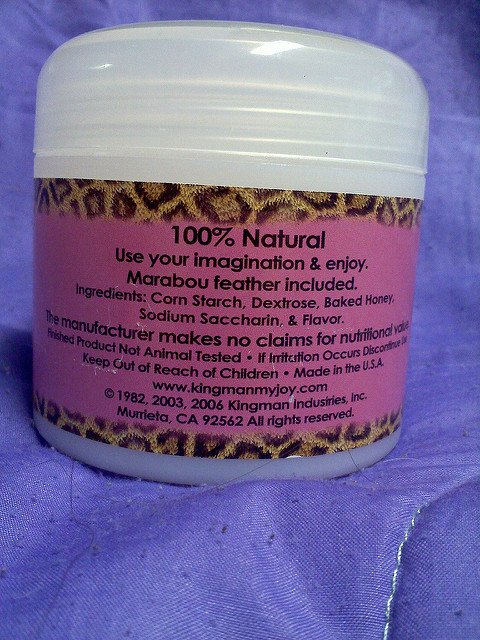 Allergic reactions to these ingredients are rare, however, those with reactions to either honey or corn, (both in the corn starch and dextrose) will need to be aware of these ingredients. Also, sodium saccharin is an artificial sweetener which has been used in commercial products for 100+ years and has been tested for safety. If you have fears of products containing artificial sweeteners like aspartame, you won't need to worry about this one!! The only thing you
will
need to be aware of is that
because this product contains a type of sweetener as well as honey, this could cause potential yeast infections if you are sensitive to them. If you know that you are not prone to these infections, you may be just fine, but you should always take caution when introducing sweets to your genitals
.
Experience
I purchased this product with the intentions of wearing it for my partner to lick off of me and to wear day-to-day as a body powder.

To try this product's potential out, I decided to secretly dust some of it on the nape of my neck, where I know my partner loves to kiss me and give me little love bites. Not too long after I had applied a light dusting around my neck and breasts, he came over to the couch where I was sitting and we began to watch a movie. He pulled me into his arms to snuggle with me and noticed the light scent; he asked me if I'd used a new body wash. I just giggled a bit and shrugged my shoulders. He thought I was just being cute, so he let it go. A little while later, he did exactly what I knew he would, giving me light little kisses on my neck. He lovingly pulled my hair back and continued kissing my neck when he realized that there was an interesting new flavor to his lover's skin. He let out an "mmm" sound, and gave my neck a lick. I stood up, paused the movie and held my hand out for him; he knew what that meant.


Once in the bedroom, I first had him lay down naked, then gave his chest a nice light dusting. He squirmed a bit; being much more ticklish than I, and the touch of the pink feather really got to him. He grabbed the jar and looked at it quickly to figure out what I was wearing and putting on him that tasted so darn good! Handing me back the jar; I set it on the table and began to give him little licks on his chest, gently nibbling on his nipples and licking every last bit of the powder off. I moved on to his penis, lightly dusting that as well. I gave him some sexy little licks first, and then took him in my mouth. He really enjoyed the sensation and I enjoyed the added flavor. I love the taste of his skin in my mouth, but every once in a while I find it nice to add something sweet to the mix.
Not letting himself finish first, he stopped me and we switched roles. He took the little feather "duster" and coated me in dust around his favorite areas to taste. He gave me kisses, licks, and nibbles on my neck, around my breasts, around my belly button, and on my thighs. Once we were both thoroughly teased, we began to have sex to finish each other off.

Because I don't have sensitivities to sugary substances around my genitals and won't get yeast infections, we didn't clean up before having sex. Some women may want to avoid getting this powder too close to their genitals or have their partner clean up before intercourse. Because the powder washes off so easily, this shouldn't be too difficult. You can even bring a wipe or damp washcloth with you to the bedroom, just to be prepared and not have to run to the bathroom.
Follow-up commentary
3 months after original review
I still use this often, and my jar is not even 1/4 of the way down after about 3 months of fairly regular use!

I love the flavor of this, still love the aroma, and it hasn't started to clump up or lose any of its flavor at all! I no longer use the feather duster, though, because most of the feathers have fallen out, so I use a makeup brush!
This product was provided at a discounted price in exchange for an unbiased review. This review is in compliance with the FTC guidelines.

Thank you for viewing
A touch of honey
– powder review page!