California Exotic Novelties pleasure gel is almost a complete waste of money.
This "stim", if you could even call it that, gel was a total waste of time and Eden's money. The entire tube wasn't enough to cause a reaction. Whats the point of a stim gel if it doesn't stimulate? I'd almost call it false advertising which is a shame because it was the right price and seemed to promise great things. The only thing its good for is oral sex. It tastes great but its rather sticky so I'd stay way from using it as a vaginal lube and its just too thin to use anally.
Published:
Pros:
Tastes sweet and mild
Cons:
No stimulation
No temp affectation
Useless
So I received my first free of charge eden-sponsored review item, just itching to see if it would live up to its awesome ingredient list. I am a connoisseur of clit stim gels, sometimes even going so far as to mix them together, and I thought that this one would come out on top.
Boy was I wrong!
I like to use stim gels before I masturbate or have sex. This one would be great before oral sex because it has a nice flavour- no harsh mint or chemicals on the tongue. You are supposed to apply a small amount to your clit, nipples or g-spot about 10 minutes before engaging in sexual activity.
First the ingredient list: water, propylene glycol, argenine (my fav), citric acid, niacin, dioscorea villosa (wild yam) root extract, paullinia cupana seed extract, turnera diffusa leaf extract (damiana extract), hydroxypropyl guar, xanthan gum, sodium chloride, potassium acesulfame, methylparaben, flavor.
Methylparaben can be quite toxic. It has been linked to breast cancer, male infertility and skin damage. I wish I had known this previous to ordering it. It's also chalk full of natural stuff that should have got me going, but it didn't. I thought maybe lack of peppermint oil or menthol might have been why I didn't feel a tingly sensation but the box said cools then warms. This did neither.
Consistency/viscosity:
Fairly thin liquid, like a water-based lube, it doesn't stay where you put it so it's better used as a lube than a stimulant. It dries without being sticky though it does leave a residue as most lube does.
Smell/taste/colour:
No smell but it did have a pleasant strawberry taste. At least one thing it advertised was correct. It's not a really fake tasting strawberry nor is it obvious fake sugar. It's mildly sweet. It's clear with just a tinge of colour which is probably from the wild yam.
Packaging:
This toy by California Exotic Novelties comes in a small plastic package with tiny logo. It states that it's made in USA on one side and has scantily clad woman on the other side, with a clear part in the middle showcasing a tube (bigger than I expected) with the same dated graphics and font. Claims to: "stimulate(s)' & heighten(s)clitoral sensitivity". Tube was a normal thick plastic white tube with a screw off cap. It was easy to squeeze out all of the product which I ended up doing just to prove it didn't work even when used excessively.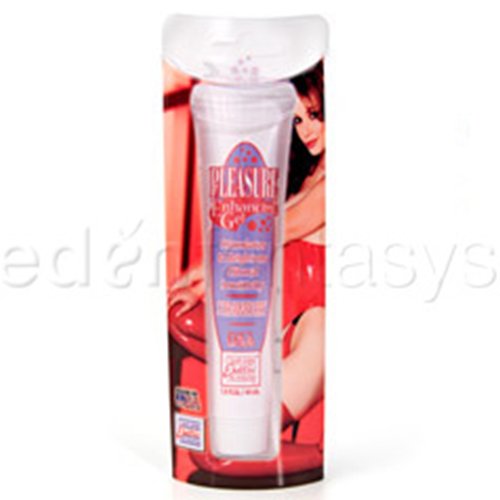 Experience:
So, when I received this from Eden I excitedly opened the package and was slightly disappointed with the lame packaging, but not nearly as much as when I attempted to use it.
The first time I used a dime sized amount.. waited with my fav toy nearby and .... nothing. The second time I used it I tried twice as much and once more... nothing. So the third time I used half the tube and finally...nope. Still nothing. Well, I thought, maybe it just doesn't tingle or get cold or hot but will still induce an orgasm. Nope- try as I might, and I knew I needed a stim gel to get me going- especially all by myself with a limited amount of porn but even my fav toys- ocean and we-vibe touch couldn't get me off.
I always look for silver linings and this is the only one I could find: it will work great as an oral sex lube...so now i have to find a guy to give head to.....
Follow-up commentary
2 months after original review
I threw the rest away, because it wasn't even a decent lube. The lid somehow came off and the remainder of the tube got everywhere and dried into a sticky pink mess. My advice: DO NOT BUY THIS PRODUCT. I am weary of purchasing any more lubes, gels or creams from California Exotic Novelties because of my experience with this no stimulation-what-so-ever gel. Cal Ex has many fine products (like the Inspire wand), but this is not one of them.
This product was provided free of charge to the reviewer. This review is in compliance with the FTC guidelines.

Thank you for viewing
Pleasure enhancing gel
review page!