Crazy for my Extra Cute Massager!
This is a fantastic, long-lasting massager, which is easy and fun to use. It provides a soothing massage and is great to use with a little massage oil. It's also pretty cute and discreet for leaving around the house if that's an issue. It's pretty portable and compact too, except you need to be able to heat it up wherever you take it.
Published:
Pros:
Not too hot, always the perfect temperature
Cute
Discreet
Easy to keep clean
Cons:
Uncomfortable edges
Have to reheat by boiling after 1st time
The Crazy Girl Heart Massager is a cute, compact warming pack. It's made out of PVC material and measures about 5" long in each direction. It has a clear plastic shell with a pink opaque heart on one side.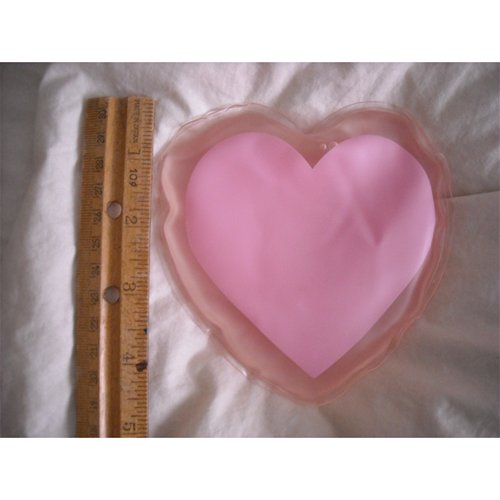 The first time you use it out of the package, all you have to do is bend the small, round metal disc inside the heart massager. This starts a reaction, which immediately heats up the pack for instant use. After this time though, you'll have to heat up the pack by boiling it. It's way more boring but totally effective nonetheless. You can also keep the pack in the freezer if you want it to be an ice pack.
Once heated, I find the warm temperature to last for 30 minutes up to 1 hour. What I love most about it is that even just after boiling the pack, it is not too hot, at least for me. I find I can pull it out of the pot and 20 seconds later I can use it without getting burned. Although, you should always be cautious and never apply it to a partner or yourself without being sure it's at a safe temperature. It holds the heat very well and I don't find that it gets lukewarm. After 20 minutes, it's still the same temperature as when I grabbed it from the boiling pan.
When using this for a massage, I find the texture of the plastic to be velvety and soft. However, there is a little friction and it helps to use a massage oil to smooth things out. The hot massager with a little bit of oil feels like getting a hot stone massage. It's the same warm, soothing heat without the ouch of overheated hot packs. It's very relaxing and great for sore muscles too. The only problem with it is the seams around the heart stick out a bit, which can be a little scratchy and uncomfortable. You are mostly using the flat sides though, so this isn't a big deal. It would be nice if it had smoother edges.
This product was provided free of charge to the reviewer. This review is in compliance with the FTC guidelines.

Thank you for viewing
Crazy Girl warming massager
review page!