Cupids Arrows Smell Divine
This is an awesome product for the price. It washes you, and smells awesome, if you like musty smells. It will last you a long time because a little bit goes a long way with this nifty shower gel. I personally haven't had to invest in a stick to keep guys away, but pheromones react differently to different bodies, so you still may need a stick!
Published:
Pros:
Strong smell, Lovely Smell, made in the USA, Pink Bubbles, Part of the profits go to charity.
Cons:
At this time, I see none.
Not Soap Radio's "The stuff the Cupid dips his arrows in(because sometimes fate needs an assist)" is the most discreet body wash I have received from EdenFantasys.com. Nothing about this bottle screams "SEX" or "PHEROMONES", it appears to be a regular bottle of body wash you would see in anyone's bathroom shower. It does say pheromone on the front, but it is in fine print and you don't see it until you are looking for it. There is no pictures on this bottle at all, the only stickers on this bottle are writing. The front of this bottle has all the brand and scent, mine is Not Soap radio's The stuff that Cupid dips his arrows in(because sometimes fate needs an assist). Also labeled on the front, in finer print, is that this is "Pheromone activation bubbles for bath or shower". The front also tells you that this bottle contains 12.17 fl. oz. or 360 mL. The top has a black plastic screw on lid. This piece has a lid for itself and pops up to reveal a small hole where you will be pouring your body wash from.

The back of this bottle is direct in it's pitch. Basically, use this and be irresistible to men and you will be "..in control of your romantic destiny". It also gives you directions back here, but they are pretty basic. Rub directly into skin and to buy a stick because you will be "..fending off admirers left and right". Two more fun facts from the back of this bottle. First, that a portion of the sale goes to a non-profit organization called 365 Birthdays. Pretty cool that while you are fending off those admirers, you are also helping out some at-risk kids. Secondly, this is made in U.S.A., very nice work America. The ingredients are listed on the back, but since they are listed on the product page, I won't post them in my review.

Washing with Cupid's special formula is but a dream. This particular flavor is a deep dark red. When you look at the pictures on Eden, this appears to be the color of the bottle, but the bottle itself is completely clear. The red body wash is very red as I stated before, and personally it reminded me of blood. After you put this sweet but musky smelling stuff on your loofah and start to rub it in to make foamy bubbles, you will notice the color does not go away. The soap at it's lightest color is a noticeably pink foam. So instead of the normal white suds you would be washing with, your suds will be pink!

Most importantly, the smell. The first whiff I took of this stuff, I sincerely thought it was for men. After a few more whiffs and a use, I smelled the femininity to it. The smell can best be described as a sweet floral musk. This smell is strong and may be over bearing for some. Personally, I love this musky odor and like smelling it on myself throughout the day. The smell of this stuff doesn't go away. This is one lingering smell and you can expect it to get stuck in your nostrils and into your pores. While you don't smell this after a day out and about in the world, for a few hours it can be smelled whenever your arms or body come near your face.
Experience
Personally, I love the smell and enjoyed the texture of this on my skin. I adored the pink bubbles. I recommend using this on a loofah or bath sponge rather than a wash cloth. I used the wash cloth for these pictures to clearly show what it looks like, and what it leaves behind. I should also note that what looks like a "stain" is not really. It does wash out in the washer.
Here are some pictures of this delectable bath or shower bubbles!
From the front: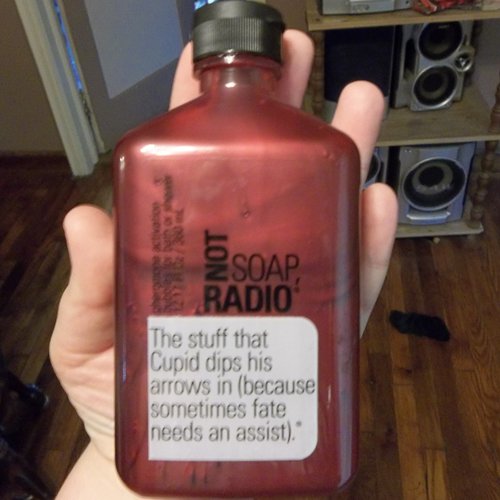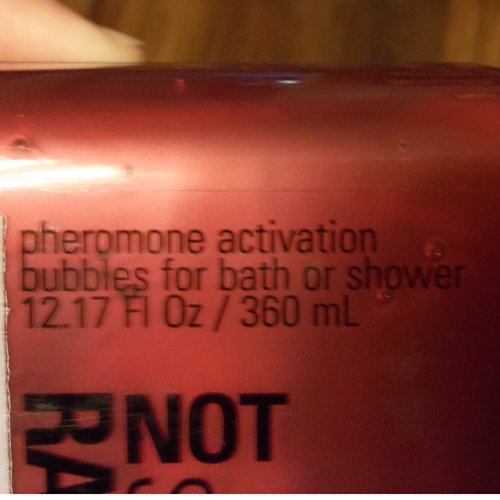 From the back: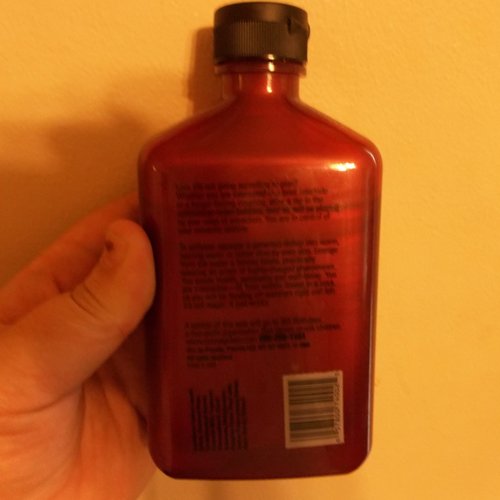 The Lid: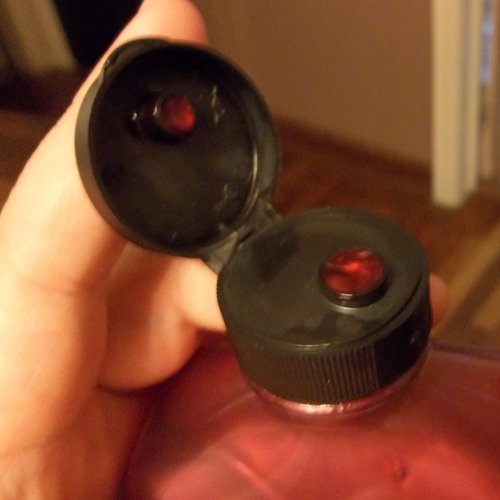 On a wash cloth, to show the pearl over the red, as well as to show the thickness: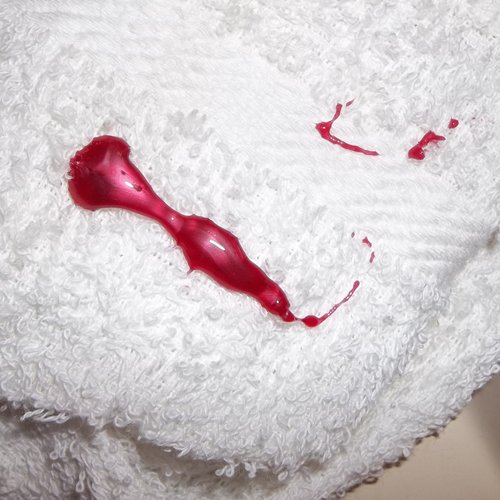 After a few rinses: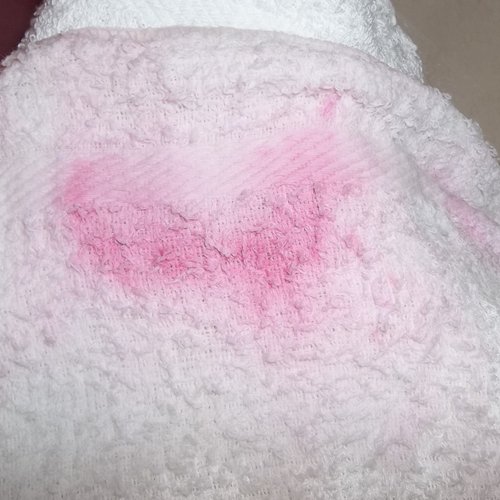 When totally rinsed clean, you can still see traces of it on this white cloth: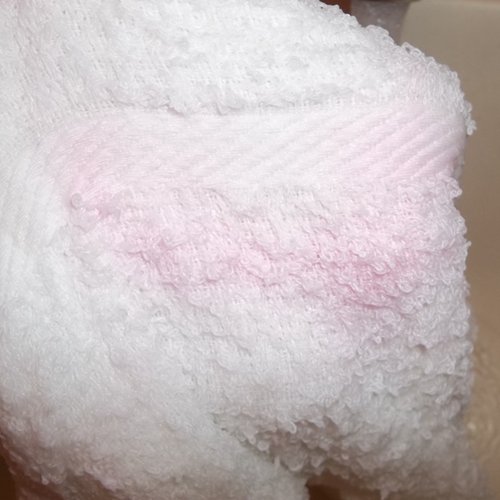 Follow-up commentary
3 months after original review
I ran out of Cupid's Arrows about 2 weeks ago. I really loved the strong smell of this body wash and that it clung to your skin long after your shower was over. After this scent ran out, I came back to Eden to try and order more, only to find that Cupid's Arrows were out of stock. I decided to try another scent from Not Soap Radio, Liquid Freud. I have been equally as pleased with it's scent and lingering abilities.
This content is the opinion of the submitting contributor and is not endorsed by EdenFantasys.com

Thank you for viewing
Bubbles and shower gel
– bath and shower gel review page!