Economy Size Cleaner With The Eden Apple Logo
I love this for cleaning after toying. Great for anal items. Simple, fast, easy and effective. Leave toys shiny clean! Keep in mind this is a spray, not aerosol so it will not work well upside down. This Eden brand is a bargain! Get double the amount for the same price. Two words to describe this: IT WORKS !

I did rate it 4 stars of 5 due to the slightly toxic molecules that fly in the air. I am learning, however, to not pump as fast or use too much.
Published:
Pros:
Economical, Fast, Simple, Effective, Great for any materials, Solution for less porous toys
Cons:
Slightly toxic chloride molecules will float in the air if spray a lot on the toy
Since we both toy so much, we like the convenience of toy cleaners. Fast, easy, simple and effective!
The Eden brand toy cleaners can be used on waterproof parts of any sex toy. It's great for removing water or silicone-based lubricant and coconut oil from dildos, vibes, probes, and glass toys. Pretty much anything. They also can be used on phone covers and plastics of any sort. Especially good for nooks and hard to reach places. I also use this on combs. Works great for getting accumulated hair oil and debris off. Just spray, let it sit and rinse.
Anyone owning anal toys should have this by their bedroom sink. Toy cleaners and anal seem to just make good sense. Not only to somewhat disinfect the toys, provides a extra measure of safety. It's very convenient to just spray some cleaner on the toy then rinse it off. Seems more sanitary than using one's own hands on a toy that just came out of one's back door.
Toy cleaners are great for cleaning less porous toys like jelly and TPR. TPR and jelly cannot be sanitized in boiling water so this is the next best alternative. I would not use toy cleaner on the Fleshlite or similar materials though. I would test a small amount on unimportant part of suspect toys first.
We have both the Edenfantasys and Wicked Cleene toy cleaners. For my review/video on the Wicked just go to its product page. Why do I have both you might ask ? Simple answer. For about the same price you get double the amount from the Edenfantasys' own brand. And we do a lot of toying. Sometimes I'll plug up 4-5 times a week when in one of those moods.
And OW often uses her Unity G and clit vibe 3-5 times a week. She has a habit of leaving it on her nightstand. By the morning the cum on it has dried up. Yes and you know who gets to clean it.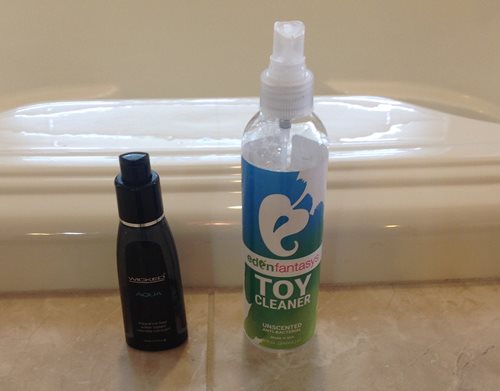 If you are curious about the ingredients in them, I suggest googling the first few words as those will be the main ingredients. Both will have cleaning and foaming agents. The Wicked Cleene also has flower extract to make it smell better.
Both say unscented and antibacterial. When it says unscented that doesn't mean it will not have any fragrance. Unscented to me means no scent or odor was added. The Eden brand has Chloride listed as one of its ingredients. And there is definitely a weak chloride smell if one sprays a lot of cleaner on the toy. The Cleene has flower extracts additives to make it smell more pleasant.
Experience
After cleaning the e-stim anal probe/wand with soap and water I discovered it needed more attention. On the first bead where the silicone/rubber ring sits was hard to get thoroughly clean. I had to use a dedicated teeth brush to clean that part off.

lube was still on the black band after hand washing
Then I remembered I had a new bottle of Eden toy cleaner. Problem solved!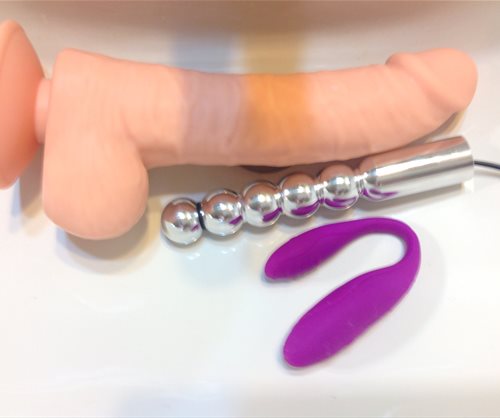 After letting cleaner sit for few minutes rinse off with water. Result : Clean and shiny
I have been using this on several items daily for 1 month already. Looking at the amount depleted, this bottle should last me about 9 months.
Follow-up commentary
9 months after original review
This is a must for all sex toy users. I've had this bottle for 8 months and still have a third left. It's great for many other plastic, tpr, hard to reach crevices too. Def a must for anal toy enthusiasts.
This content is the opinion of the submitting contributor and is not endorsed by EdenFantasys.com

Thank you for viewing
EdenFantasys toy cleaner
– toy cleanser review page!