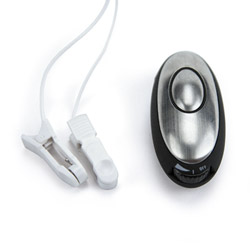 Elektra nipple teasers
E-stim nipple teasers
by EdenFantasys
Electro-Sex Therapy To-Go!
I would totally recommend this product! It came as an excellent addition to our bedroom play and is great for self-exploration and arousal as well. I suggest researching additional attachments to purchase in order to get the full experience of this unit.
Published:
Pros:
Adjustable speed and intensity levels, quiet, steady and smooth vibrations, discreet
Cons:
No extra attachments included, wobbly battery installation, instruction lacks details
These nipple teasers by Elektra certainly pack a little punch! With adjustable settings for speed and intensity, this product delivers electric pulses in a multitude of pleasure volumes, from tease to thrill. These clamps can be used on the nipples as well as other sensitive areas of the body. The settings don't get very intense, but felt really pleasurable on my most sensitive area, the nipples.

The product can go slow and faintly noticeable to fast and with a stronger electronic vibration. The intensity level and speed are easily adjustable and the speed and vibes can be suited to meet individual needs. The lowest setting is very faint, and the highest setting is not completely overwhelming. Just right for finding your groove. Men and women can both enjoy this, and is a definite must as a sensory item in your bedside toy box. If your most pleasurable parts need a little vibrating stimulation, then this is the right product for you

The unit includes the control, which is a small oval shape made mostly of plastic with a black and metallic surface, a 3V lithium battery, detachable plastic clamps, and strap for easy carrying. This item is super lightweight, discreet, and very easy to store or pack away for travel. This product is great because it makes no sound when in use, and no bigger than your average IPOD with earbuds (about 1.5 inches long). There are also included vague instructions on product use.

Attachments can be used to enhance the feelings of this device in different areas, although this product didn't include such attachments. Purchased separately, electric stimulator pads and electric stimulator rings (for use around penis and testicles) can be used along with this device to enhance vibrations on different areas of the body. Although it is not severely intense, it is recommended that those with heart ailments or using a pacemaker, consult a physician before using.

This product is best used with a lubricant or water-based substance to enhance electric pulses made through the clamps. It is best to place the control metallic side down, near the area of the body which is being clamped. To turn the unit on, simply slide the notch located on the front of the control, to the left. The further to the left the notch is turned, the greater the pulse intensity. There is a button on the top left side of the control, which allows you to control the pulse frequency. The clamps are plugged into the back side of the control, next to where the included attachable strap loop is located.

This product also has another interesting feature. On the top right hand side of the control, is a switch which lets you choose IN or OUT mode. When using it in IN mode, the control becomes its own stimulator. Put the control into palm with oval center facing the inside to relax sore hands and fingers. When in the OUT mode setting, the control unit sends signals directly to the attachment. Unit will not work unless both clamps are connected directly to the skin.

Cleanup is a breeze. Just detach the clamps and other devices used along with this product, and wipe with disinfectant, water, or sex toy wipes. Dry fully before putting away or re-use.

Item was shipped in small brown box and came in a clear circular packaging with no labels or images displayed on front
Experience
This is a great addition for exploratory fun and letting your partner know what really turns you on! Awesome for foreplay, extending the pleasure, or simply enhancing it. My better half and I explored many ways to use this teaser, and even writing about the fun we had, is a bit of a tease. It would be excellent if the device included had either the stimulator ring or pads to experiment further.
Follow-up commentary
2 days after original review
After using this device time and again, the product has maintained its original use in intensifying erotic pleasure points. Both my partner and myself consider it a very stimulating must-have. Since its initial use, our Elektra nipple teaser has made an appearance in every sexual experience to date. I would estimate total usage time to be well over 2 hours so far, without fail or fade from dying battery power. Now I really have a desire to find suitable attachments for this unit, mostly to see what else we can bring to life from its tantalizing pulses.
This product was provided free of charge to the reviewer. This review is in compliance with the FTC guidelines.
Thank you for viewing
Elektra nipple teasers
– e-stim nipple teasers review page!