Fashionable Nipple Pain
Overall these nipple clamps are 100% worth it. They are affordable, they fit most people, they are comfortable, and they stay on. I can't say that about any other pair of clamps I own. If you're a beginner looking to explore the world of nipple pinching this is the place to start; and if you're an advanced user looking for something effective and affordable I'd say this is probably also a good fit.
Published:
Pros:
Fits most nipples
Comfortable
Affordable
Stays on
Cute
Beginner friendly
Cons:
Nothing ❤
-"Eden beaded clamps" are by far the sexiest nipple clamps I own. I used them for their original purpose as nipple pinchers, but you could easily put them on your clit, I just prefer not to, but who knows, you might love it! If you're a man don't be afraid to try them out either though, women aren't the only people with nipples; I feel like people often forget that. Nipple clamps are a good way to introduce yourself into BDSM if you're curious about it. Experimentation is an important part of sexuality, don't be afraid of your body. "Eden beaded clamps" can be a good introduction as I said before, because of this its a good choice for beginners; however advanced users can enjoy this item as well.
-These clamps are a tweezer style and can fit most nipple sizes. They are made of metal arms and plastic nubs that I found very comfortable. I read some other reviews that said people had issues with the nubs coming off. I didn't have this problem; however, if you find yourself in this situation, I recommend simply gluing them back on so it won't be a repeating problem. They are lovely clamps at a great price.
-The "Eden beaded clamps" are less harsh and scary than other nipple clamps that close with springs and screws. Tweezer style clamps like these close with a small hoop that can slide up and down allowing you to control how much pressure you want to use very easily. I was pleasantly surprised when I was trying these out because they actually stayed on me even as I moved around. Most clamps I use fall and/or pull off easily; however, when I tightened these, they didn't go anywhere.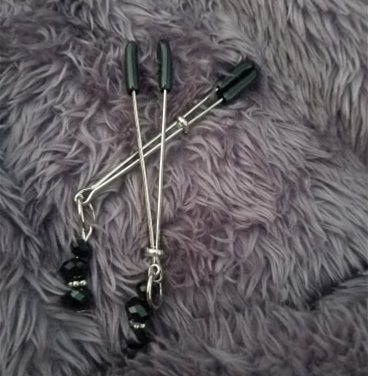 This content is the opinion of the submitting contributor and is not endorsed by EdenFantasys.com

Thank you for viewing
Eden beaded clamps
review page!