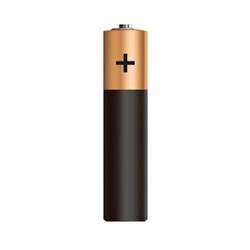 AAA battery single
Batteries
by Challenger Cable Sales
Hey. Guess What. It's A Battery.
It's a little extra to save you a little extra time. Recognizable brand name battery that works and shows no warning signs. Definitely worth it if you're buying a toy as a gift for someone else, as a way to ensure they're able to use it upon receiving it. Otherwise, you should probably only get it as a little luxury. It's less than a dollar after all.
Published:
Pros
Working battery that comes with your other orders, so no wasted time looking for your own.
Cons
You could save a little money buying a pack from your local shop, but you knew that already.
Okay. You're rightfully wondering what can possibly be reviewed about a battery, but let me say this:
- Batteries can explode.
- No one wants battery acid filling their sex toy.
- And who is going around ordering single batteries for their sex toys? It's a unique purchase however bland. Someone should say something about it. Anything.

With these thoughts in mind, I thought I'd relay the basics of my experience for the paranoid and otherwise curious shopper.

PACKAGING
I ordered this battery along with two other toys, one in which the battery was needed. It all came in a small and discreet box. Among some packing bubbles and the toy boxes, at the bottom, was a single AAA battery inside a small and clean ziplock bag.

THE BATTERY
It's a Duracell AAA battery like you've probably seen in your supermarket. For safety giggles, it appears totally clean and new and has an expiration time of March 2026 (Purchased in December 2016). When inserted into the proper toy, it worked fine. A session of about two hours did not present any signs of weakened power.

OVERALL EXPERIENCE
There's something a little nurturing about the purchase. Like a mother preparing your lunch with little containers of carrots and celery. It's as if someone has lovingly slipped a battery into a ziplock just in case you forget there's a loose one in the kitchen drawer. If you have my ordering luck, tiny extras like these often get forgotten for some reason or another, and to those with a similar anxiety, it arrived without issue. And lastly, and let's not lose focus here - It's a battery - when I put it in its intended toy, the toy turned on with all expected electrical life. Much buzz was had.

TLDR: It's a perfectly good and usual Duracell AAA battery.
This content is the opinion of the submitting contributor and is not endorsed by EdenFantasys.com
Thank you for viewing
AAA battery single
– batteries review page!