Honeymoon in a bag and on a budget
If you can get this kit on sale or with a discount, some of the included items could make for an interesting weekend for those new to sex toys and allow them to develop a taste for what they like (and don't). However, most of the items don't have what material they are made from listed and there are Glycerin and Parabens in some of the liquid items, so users should proceed with caution when playing.
Published:
Pros:
Variety of items to sample
Cons:
Questionable material, Glycerin and Parabens, no safe retrieval string on anal beads
I want to start off this review by stating that I did not personally use any of the items in this kit. I purchased this as a bridal shower gift, but I wanted to review this to give a glimpse into what was in the bag, the quality (or lack thereof) of the items, ingredient lists (if supplied), and of course, photos! All of the liquid products have a seal on them, so I cannot tell you exactly what they smell/taste like and I did not open items that were vacuum sealed in bags nor did I place a battery in the vibrator and turn it on to test the power because it was also sealed (since this is a gift, I'm not going to break any of the seals).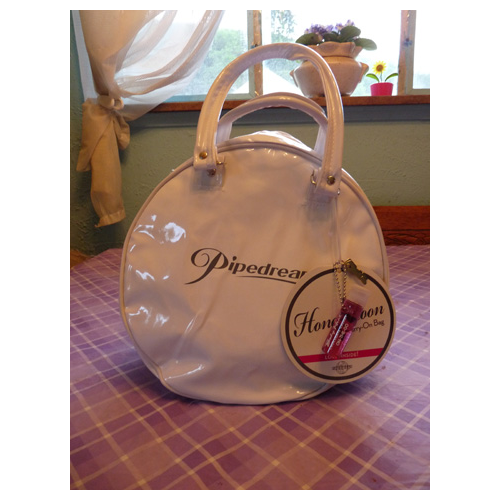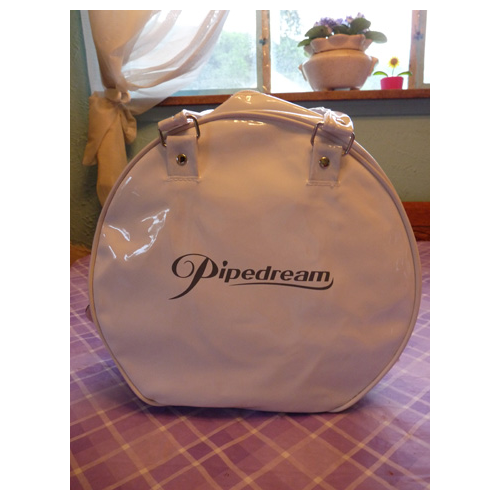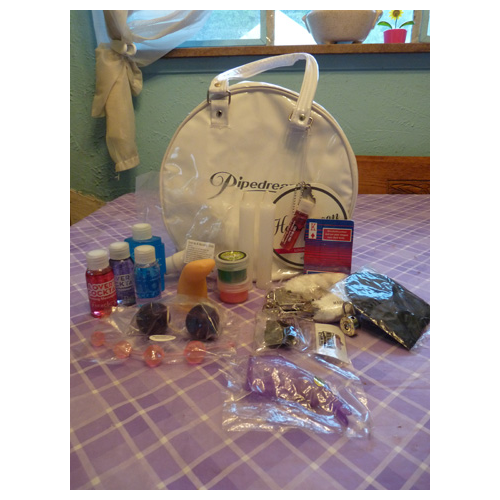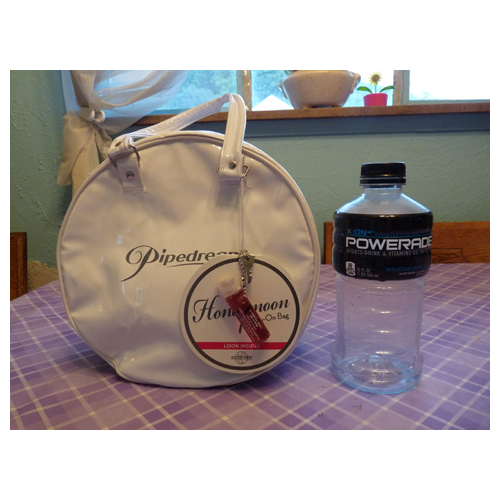 In the above photos, you can see the front, side and back of the white, "Pipedream" labeled bag. The bag resembles a bowling ball style bag - rounded with a flat bottom so it sits upright. I am unsure of its material, but it appears to be made of a thin vinyl. It has a single zipper with two zipper pulls and two handle straps on the top. The bag is about 9 inches high, about 10 inches at its widest, and about 5 inches deep. In the last photo, you can see a size comparison of the bag and a 32 fl oz Powerade bottle. The next to last photo shows the bag with all the items included inside. The bag itself (minus the tag) is very discreet and does not give any idea of what it contains.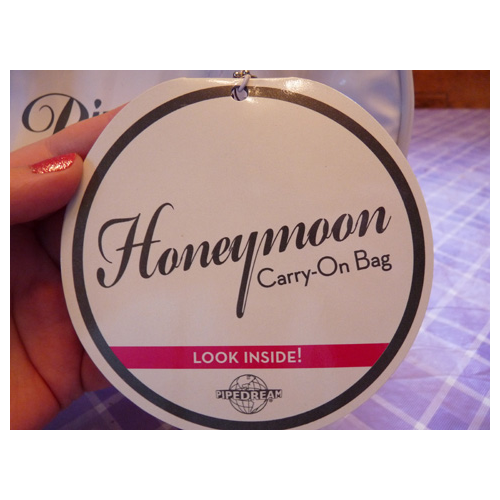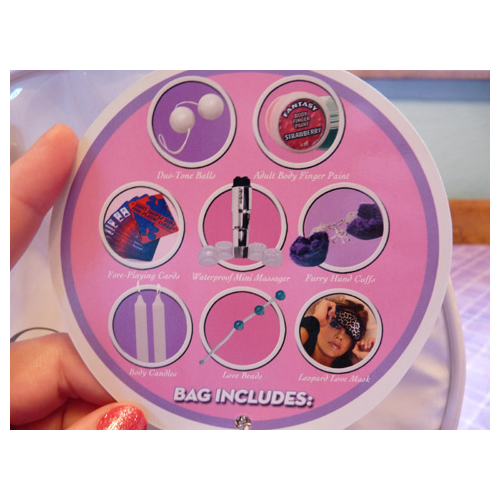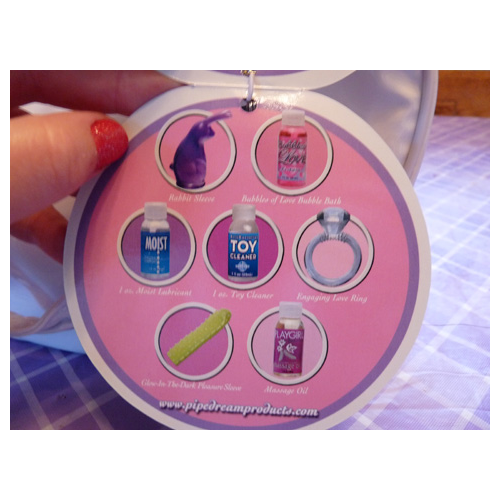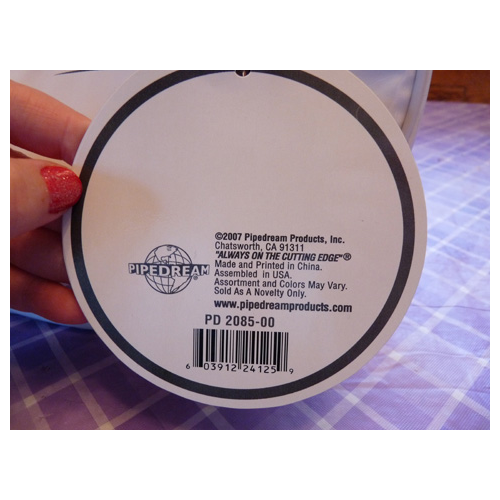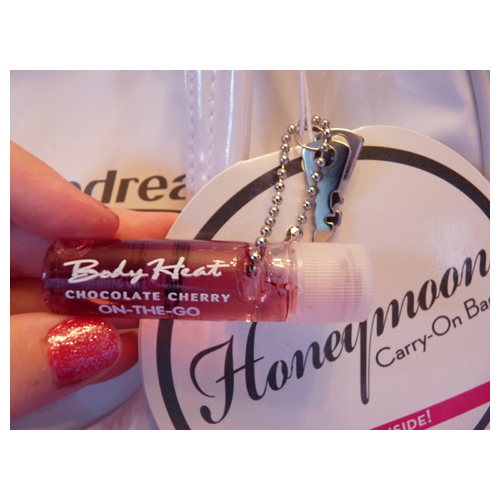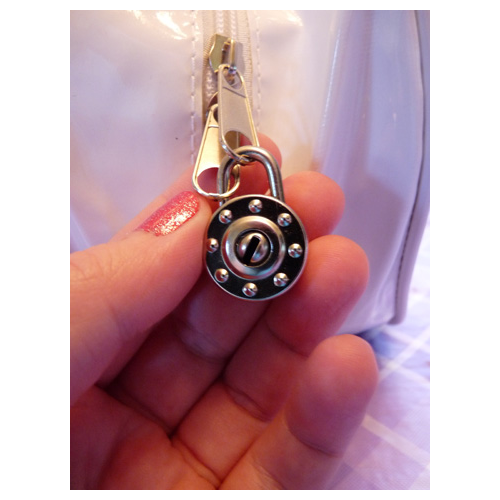 This is the tag hanging from one of the handles. It lists items that "should" be in the bag (though actual contents will vary according to many reviews): Duo-Tone vaginal balls, Adult Body Finger Paints, Fore-Playing Cards, Waterproof Mini Massager, Furry Handcuffs, Body Candles, Love (anal) Beads, Leopard Love Mask, Rabbit (vibrator) Sleeve, Bubbles of Love Bubble Bath, Moist Lubricant, Toy Cleaner, Engaging Love (penis) Ring, Glow-in-The-Dark Pleasure (penis) Sleeve, and Massage Oil.
The elastic that holds the tag also carries the keys to the lock and a .4 fl oz bottle of Body Heat massage oil in Chocolate Cherry (ingredients for the oil are not given). The lock is about 1 1/4 inches in total length and fits through the loops of the zipper pulls to keep the bag secured. The lock is decent in quality (not the greatest, not the worst) and does its job.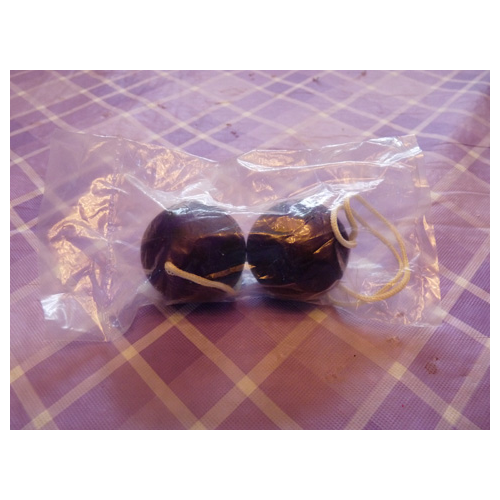 These are the Duo-Tone vaginal balls. They are a dark purple in color and have a diameter of about an inch and a half. There is a three inch string in between them and another one (looped) to act as a pull string. They are firm and give very little when squeezed; there is also another ball inside to create the Duo-Tone balls' "vibration". Their material is not listed, but there is a very visible and easily felt seam along the middle of each ball.
The material for the anal Love Beads isn't given either. I don't believe that they are jelly; they are firm and give very little when squeezed. The material does, however, resemble that of the Duo-Tone balls. There are four balls total in various sizes (ranging from the smallest at a half inch diameter, to the largest at not quite one inch in diameter), plus a tiny ball at the top to act as part of a retrieval string. The whole thing is roughly 8 inches in length.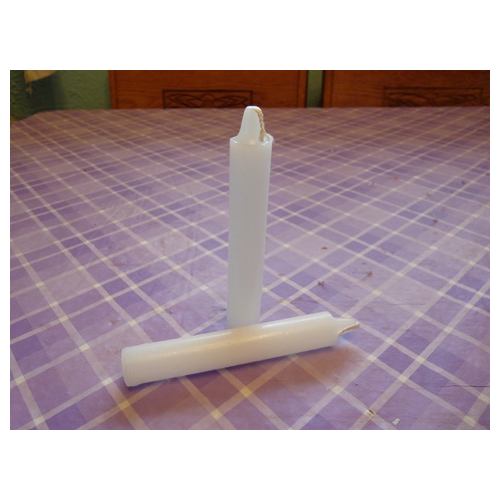 These are basic taper candles. Two are included in the bag and they are 7 inches in total length. They can be used as regular candles to "set the mood", or to drip hot wax onto your lover's body.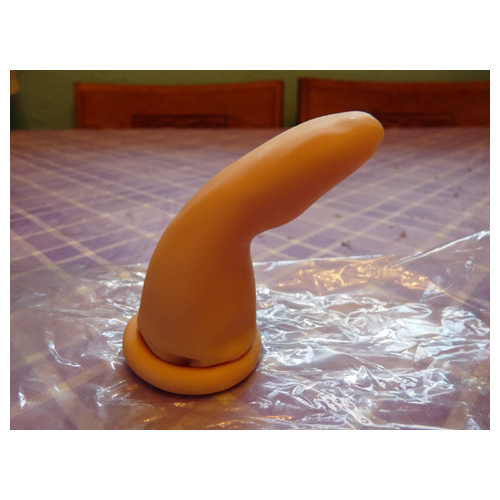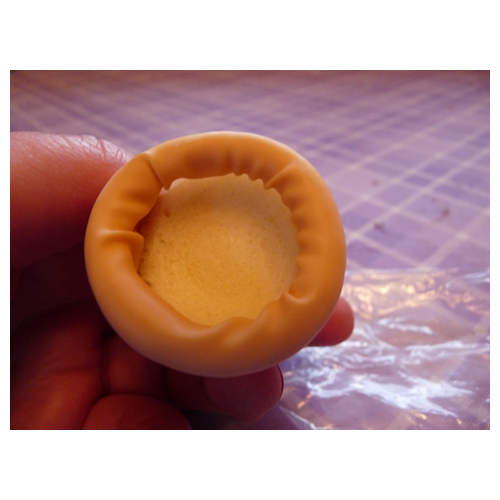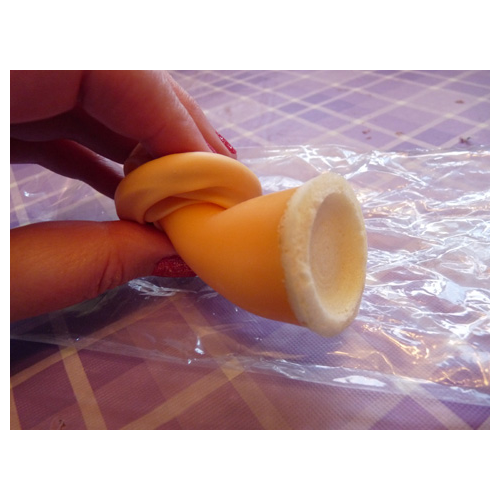 I'm not entirely sure what this is, but it appears to be a G-spot penis sleeve. Materials are not listed, but it looks and feels like a "balloon" type "condom" on the outside. The piece inside has a foam end and a, what I'm assuming to be rubber, G-spot curve-tickle thing.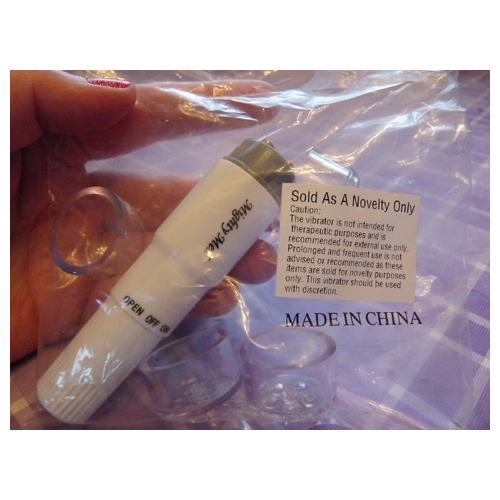 Next we have the Waterproof Mini-Mite pocket rocket vibrator. The toy itself is plastic, 6 inches long and comes with four interchangeable plastic caps. The average Vrooms and Bees given to this toy are 3 and 2 respectively. You can read more about this particular toy and its reviews
here
.
Experience
Continued --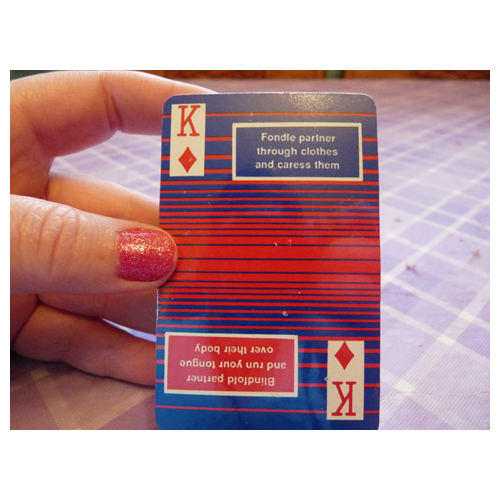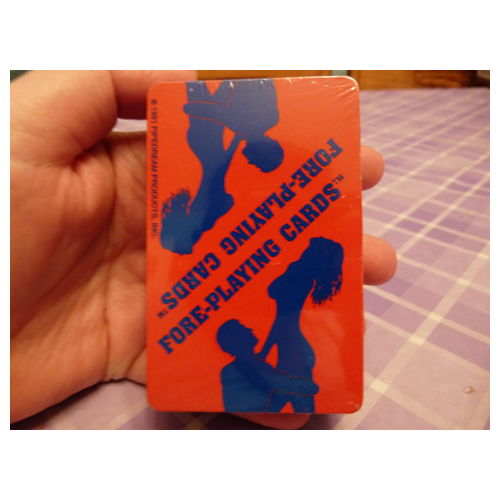 These are Fore-Playing cards. They are blue and red and just your average playing cards with one exception: listed on each card are two foreplay type activities to spice up any card game you wish to play.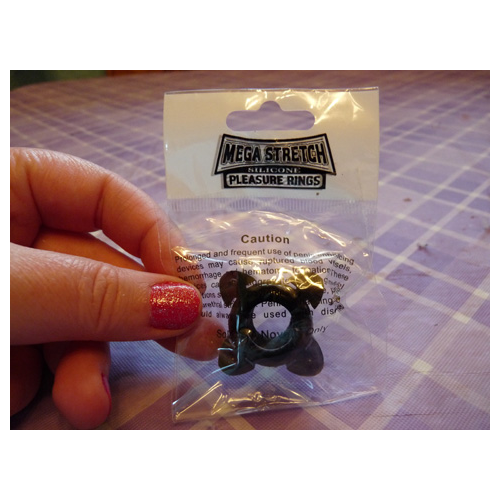 This is the Mega Stretch Silicone Pleasure Ring. I'm assuming that the material is Silicone because that is what the title implies. The ring itself is black and quite stretchy (so it should fit most users). Unstretched, it is about an inch wide and high (not including the four rivets or nubs on the outside). Inside, it is tapped... or rather it has rings like the inside of a nut or bolt.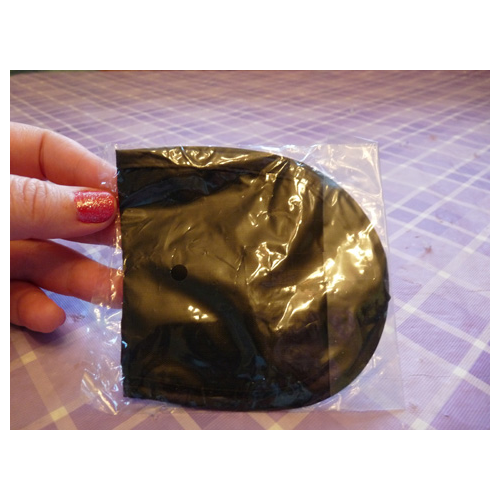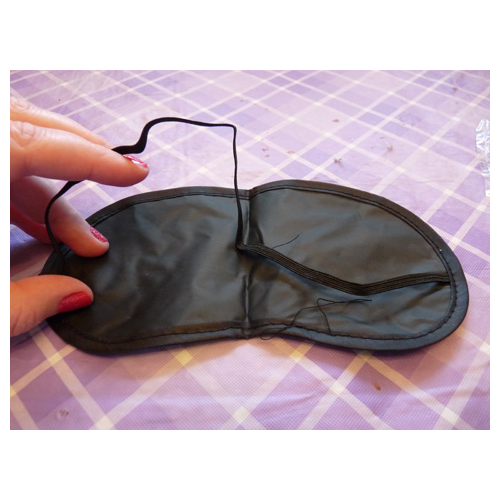 The tag advertises the Love Mask as being Leopard print, instead, this kit has a plain black one. It is very thin, and as you can see in the last photo, it has some wayward strings. However, the mask is opaque, not allowing the wearer to see anything, and the elastic is stretchy enough to fit most people.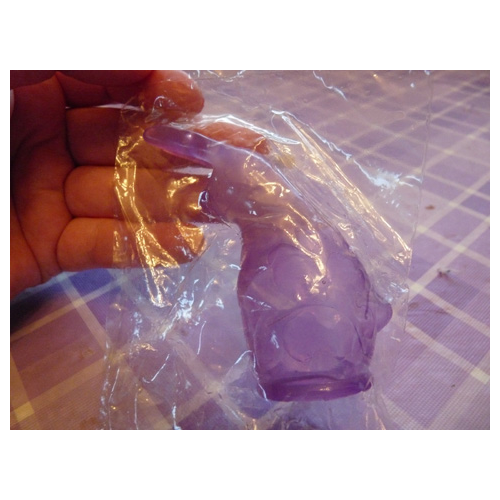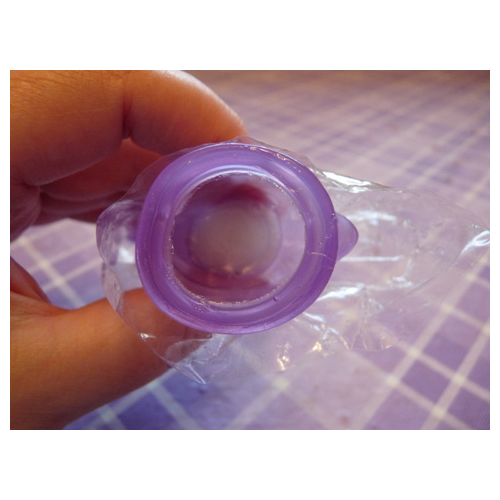 Next is the Bunny vibrator sleeve. Material again is not listed, but it is about 3 inches in total length, with an opening of about an inch. The one in my kit is very nasty. It is sticky and slimy, and as you can see in the second photo, there is some type of substance inside of it. I have no idea what that is, but it leaked and slimed up the entire sleeve.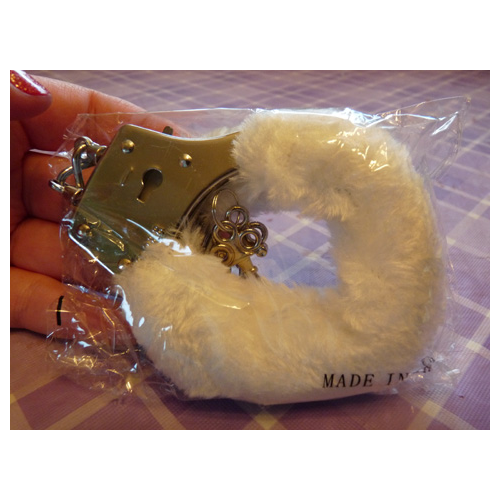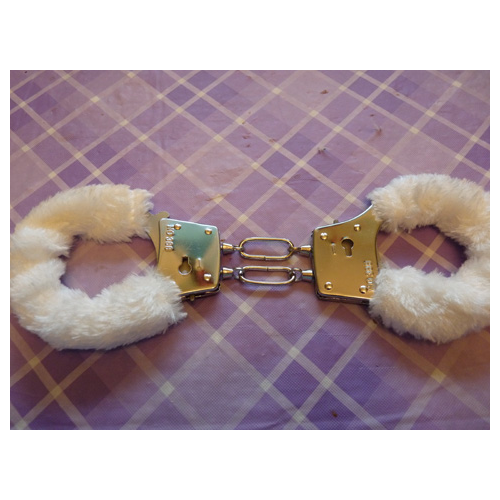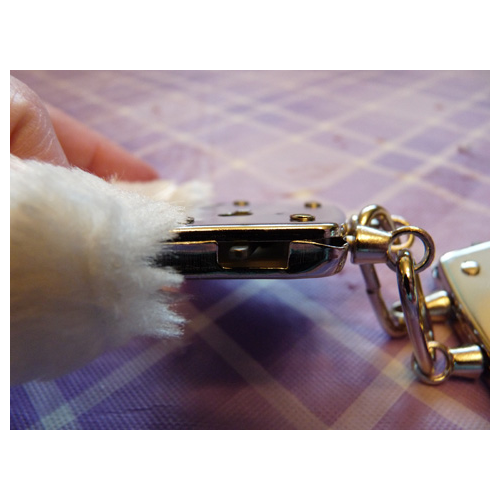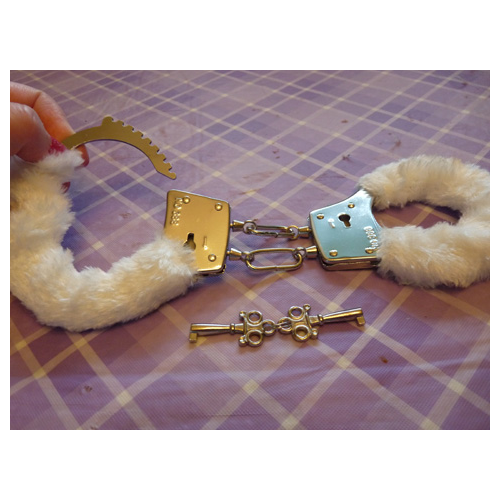 These are your basic fur-covered handcuffs. They are actually quite heavy and much nicer than other cuffs that I've gotten in similar play kits. They come with two keys, though they aren't needed because each cuff has a safety release latch.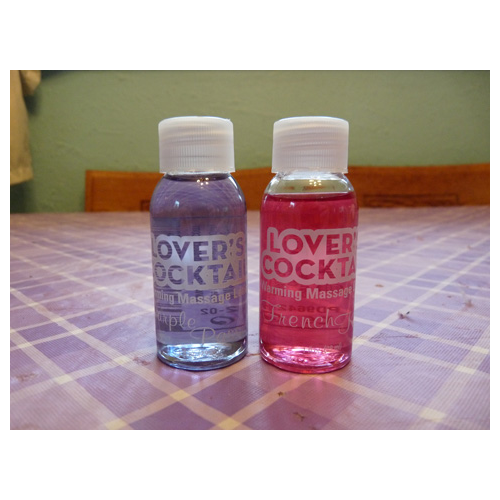 Also included are two bottles of Lover's Cocktail Warming Massage Oils in Purple Passion and French Kiss. Each bottle holds 1 fl oz of oil. Warning: both contain glycerin!
Ingredients listed on the Purple Passion:
Glycerin, Propylene Glycol, Water, Flavor, Sucralose, Sodium Benzoate, Potassium Sorbate, Sodium Citrate, Citric Acid, Red 40 (CI#16035), Red 33 (CI#17200)
Ingredients listed on the French Kiss:
Glycerin, Propylene Glycol, Water, Flavor, Sucralose, Sodium Benzoate, Potassium Sorbate, Sodium Citrate, Citric Acid, Red 33 (CI#17200), Blue 1 (CI#42090)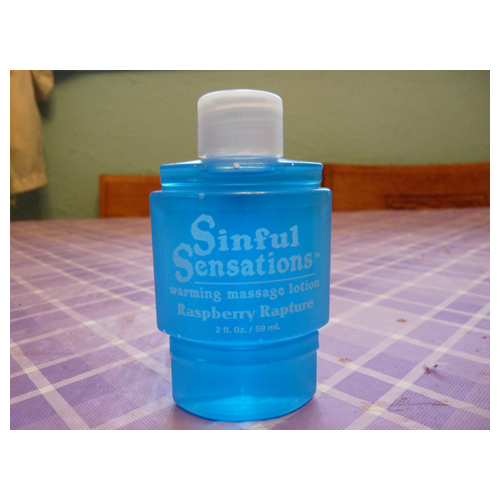 Here we have a 2 fl oz bottle of Sinful Sensations Warming Massage Lotion in Raspberry Rapture. No ingredients are given.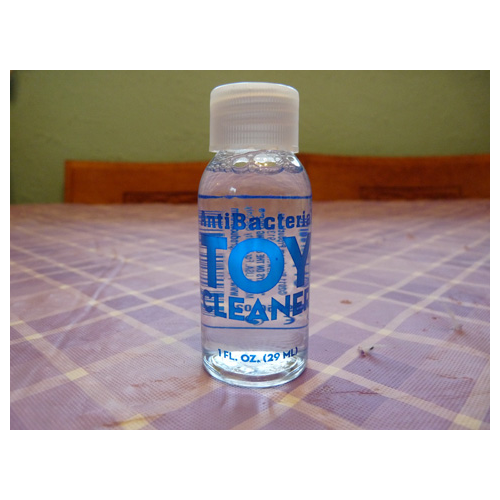 This is a 1 fl oz bottle of Antibacterial Toy Cleaner.
Ingredients listed on the bottle are:
Water, Ammonium Lauryl Sulfate, Cocamidopropyl Betaine, Cocamide DEA, Sodium Carboxymethyl Lauryl Glucoside, Sodium PCA, Propyl-paraben, Methylparaben, Diazolidinyl Urea, Citric Acid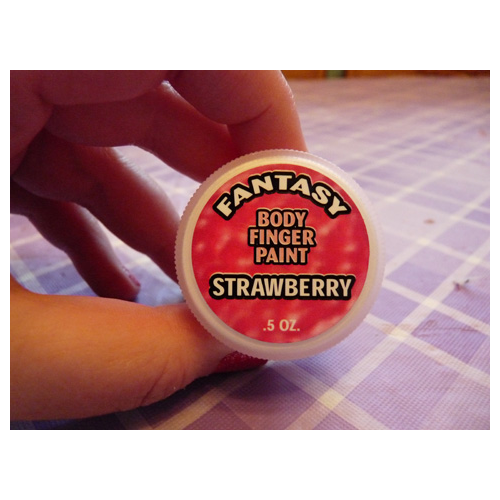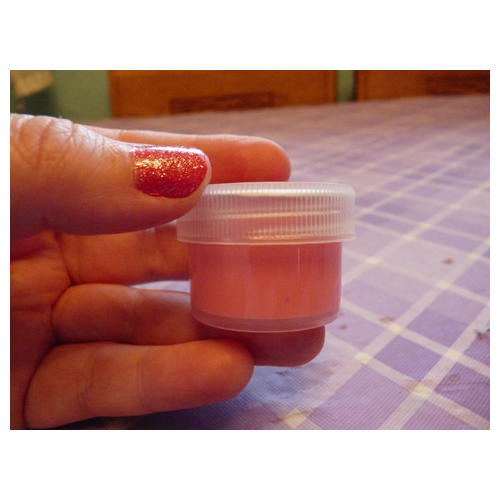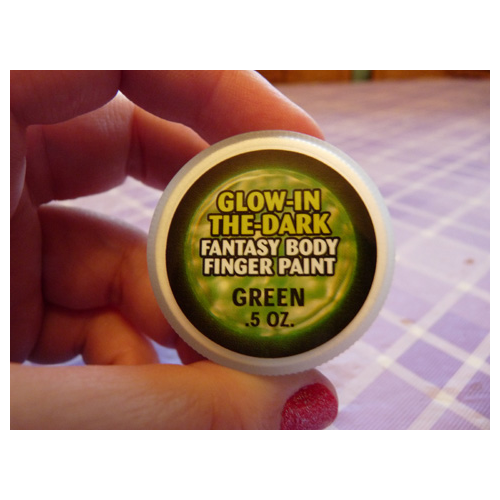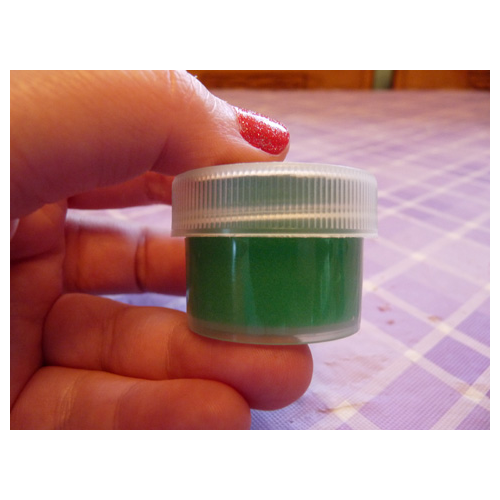 Lastly, we have two .5 fl oz containers of Adult Finger Paint. The first is edible and Strawberry flavored. The second is Glow-in-The-Dark and obviously that shouldn't be tasted/eaten. No ingredients are given for either product.
Follow-up commentary
2 months after original review
As I said in my original review, this was purchased as a bridal shower gift... and the recipient loved it. Of course I still believe this kit is for absolute beginners to give them a taste of different items so they can then go ahead and purchase better quality ones of what they liked. I of course removed some of the nastier items from the kit... and also added a bunch more items to round it out (mostly a lot of items that Eden has given away free with purchase).
This content is the opinion of the submitting contributor and is not endorsed by EdenFantasys.com

Thank you for viewing
Honeymoon carry-on bag
– sensual kit review page!