It's NOT Hot, But It IS Yummy!
If you're looking for a great-tasting, inexpensive edible product, you've found it with the Hot Stuff oil! If you're looking for a heating edible product, there are better options out there.
Published:
Pros:
inexpensive, tastes great, non-greasy, large quantity, long-lasting.
Cons:
does not heat up when blown on like it says it does.
We've tried both the cinnamon and cherry flavours of the Hot Stuff massage oils now. Unfortunately the cinnamon flavoured oil leaked everywhere so we ended up tossing it. I'll be doing the review on the cherry flavoured.
Like most lubricants and oils, the Hot Stuff Massage Oil did not come in any packaging. The bottle of oil looks slightly different than the one on the product page. You can see in the photos below that bottle is actually red, rather than the white that the stock photo shows. Not a huge difference, but I thought it was note-worthy.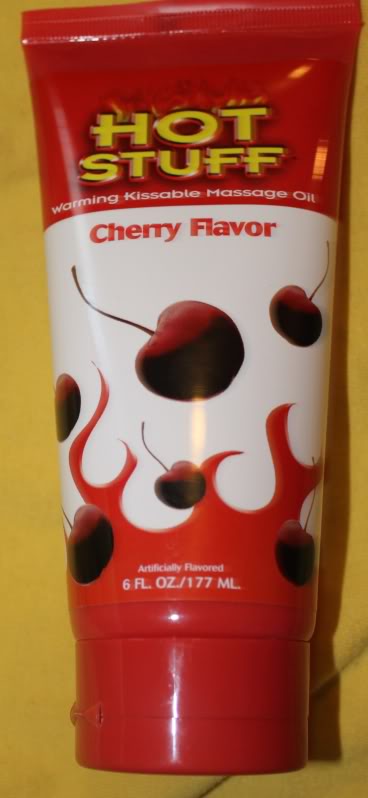 The below photo of the back of the product was taken without the flash. The picture above, of the front of the product, is a more accurate photo of the colour of the bottle.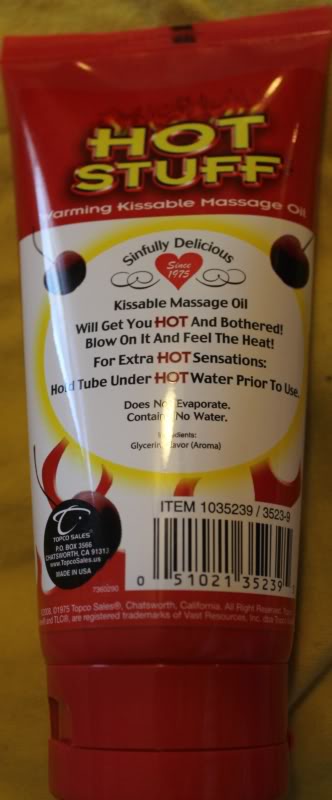 The bottle has a flip-top lid. There is also a seal underneath the lid when you first receive it. The bottle is 6oz. and the ingredients stated on the package are as follows : Glycerin, Flavor (Aroma). Yes, just those two ingredients.
There are five different flavours to choose from which are: cherry, cinnamon, raspberry, passion fruit, and pina colada.
I was a bit worried when we ordered the cherry flavour as I've had some bad experiences with other products with the cherry flavour. I'm happy to say that this product actually doesn't taste disgusting. It's a very nice, sweet taste that has no bitter or odd flavour to it. It is also not so overbearingly sweet that it hurts my stomach. I have a pretty sensitive stomach when it comes to sweet edibles, but this one is just right.
On the back of the bottle, it states that you will feel heat when it is blown on. I personally don't feel any heat other than the heat of my partner's breath. If you are looking for a mind-blowing heat, I suggest the Hot Motion Lotion that I have previously reviewed.
I also don't find the product to be hot in taste. The bottle does say for "Extra hot sensations: hold tube under hot water prior to use". We haven't done this yet, so I cannot say if that really makes any difference. I'm sure it would add a bit of warmth though.
The flip-top lid makes the oil less likely to leak. Our cinnamon flavour leaked everywhere because we had not snapped the lid on tightly enough. You shouldn't have any problems as long as you ensure the lid is snapped tightly before putting it away.
The oil is thin, and is great for massaging because it is not sticky, greasy, and does not easily absorb into the skin. The oil is a clear colour. It will last us for many applications because you do not need to use much since it doesn't absorb quickly like other oils can. Also, the oil does not have an overpowering scent to it.
The oil is extremely easy to clean off your body by using soap and water.
I prefer the cinnamon flavour to the cherry flavour, but that is only because I love the taste of cinnamon. Both flavours have a place in my heart.
As for the price, at $9.00 per 6oz. bottle, you are paying .67 cents per ounce. Out of all of the edible products I have reviewed this far, this is the absolute best price/oz.
I would highly recommend this product and I feel it deserves a 5 out of 5 star rating all around!
Please note: because of the glycerine in the product, this product should be used for external application only.
Follow-up commentary
3 months after original review
Both my partner and I still love the Hot Stuff Oil. We've used it a number of times since my review, yet there is still so much left! The price is excellent for the quantity, and it really takes delicious. My partner and I will continue to use this oil until it runs out, and plan on purchasing another one when this one is finished.
This content is the opinion of the submitting contributor and is not endorsed by EdenFantasys.com

Thank you for viewing
Hot stuff oil
review page!