LUV massage oil
Even though I wasn't in love with the scent of this product I would buy it. The fact that it is all natural and is super moisturizing outweighs the smell for me. This is actually one of the only massage oils that I have used that I didn't have an allergic reaction to. We will definitely be purchasing it again!
Published:
Pros:
Super moisturizing
100% natural
Great bottle and dispenser
Cons:
A little too strong of a scent
USE:
Luv massage oil is a 100% natural product. The oil is intended for massage only not for internal use. The oil is thicker than most so a little goes a long way. The pump dispenser delivers a small amount of oil; it took 3 pumps to massage my entire back so you really don't use a lot and this bottle will last quite a while. After using the product I would definitely wash your hands especially if you plan on touching intimate areas; due to the product having the perfume in it, it can cause burning and itching. The oil is used for massage and you can use it to massage the back, thighs, stomach, butt, and arms.
TASTE/SMELL:
I received the sensual scent. The scent is quite strong but disappears fairly quickly. So if you have very sensitive skin that reacts to perfume this product may not be the best choice. The smell of the product doesn't stink but it doesn't have a smell that I fell in love with. It kind of smelled like an air freshener to me, but my husband loved the scent. The product is not intended to be consumed but I know there are people who wonder "what is this going to taste like if it gets in my mouth". Well my lovely husband tasted it and his exact words were, "That tastes like hell". So I highly recommend not getting this in your mouth.
SPECIAL FEATURES:
This product is 100% natural and the ingredients are:
*Glycine soja (soybean) oil
*Cocos nucifera (coconut) oil
*Cannabis sativa (hemp) seed oil
*Prunus armeniaca (apricot) oil
*Cimmondsia chinensis (jojoba) oil
*Persea gratissima (avocado) oil
*Tocopherol (vitamin E)
*Phthalate-free fragrance with essential oils
The hemp seed oil:
-Traps in moisture
-A natural anti-inflammatory
-Natural moisturizing factor
-Keeps your skin feeling soft
-Skin rejuvenating properties
Texture/Thickness/Viscosity/Consistency:
The massage oil is a little thicker than baby oil. You can put a little on your hand and tilt your hand and it takes a little bit before the product will start to run. The oil is very slick so if you use the oil in the bath take extra precaution because the bottom of the tub/shower will become VERY slick and you risk the chance of slipping and falling.
Performance:
The oil is VERY moisturizing, it doesn't take a lot of effort to get the oil to rub into the skin. It also doesn't leave you feeling gross and slimy. Once the product was rubbed in the smell was nice it was not overbearing anymore. The scent actually stayed on my skin even through the night, I woke up ultra smooth and smelling really nice. I can't wait until my husband gives me another massage with this.
Packaging:
The product was delivered in a small plastic bag. It comes in a heart shaped bottle with a pump dispenser with a cap. On the front of the bottle it has the name of the company, the size of the bottle, and the name of the product. On the back of the bottle it list the ingredients and the special features of the hemp seed oil.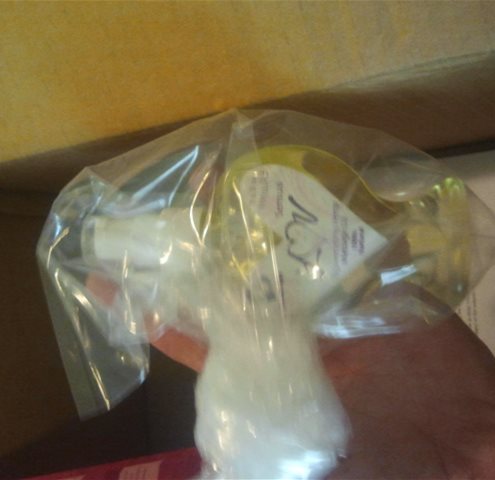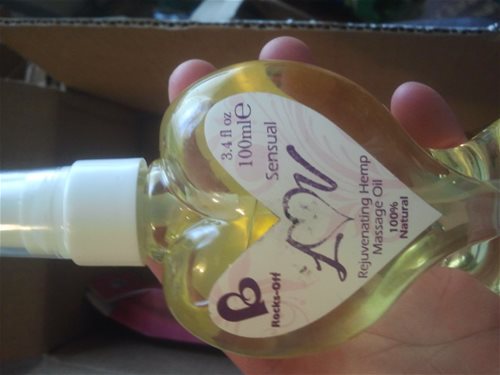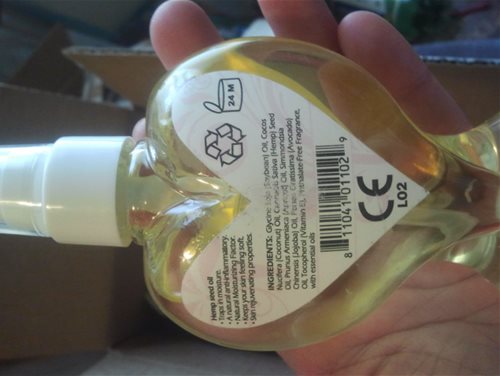 Experience:
This product really surprised me by how well it soaks into the skin. Unlike a lot of massage oils this product didn't stay greasy. The oil is thicker than most but still delivers enough slickness to give an effortless massage. I loved that the product was all natural and didn't have any harmful ingredients. My husband is a pretty hairy guy but this product was so rich in moisture that it was able to get through the hair onto the skin and leave his hair and skin ultra soft.
Follow-up commentary
2 months after original review
I absolutely love the moisturizing properties of this product. I have even gotten use to the smell. My husband and I love this product so much we use it at least twice a week and will definitely be purchasing more very soon.
This product was provided free of charge to the reviewer. This review is in compliance with the FTC guidelines.

Thank you for viewing
Massage oil
review page!