Mineral makeup minus the allergic reaction!
This mineral eye shadow offers all of the benefits of a mineral makeup without the worries you typically would have with such a compound. Coming in a beautiful, light-reflective purple with an easy open jar, this eye shadow is sure to win you over!
Published:
Pros:
Didn't cause any adverse reactions. Easy to apply and clean up
Cons:
Contains some ingredients which may cause irritation to some wearers
This
mineral eye shadow
by Body Language is an easy to apply shadow which is great for anyone who loves to wear eye makeup!
What you are getting
With your purchase you will receive one round, somewhat small plastic jar of eye-shadow. It is labeled as "Amethyst" for the color, which is written on the top of the jar. At only 1.6gm of powder, this seems like very little but it also
takes
very little product to produce color and shimmer!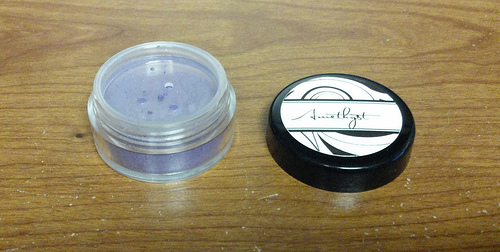 How to apply your shadow
The product does not come with any type of sponge or brush to apply your eye-shadow to your eyelids. The best way to apply the product is to use a regular eye-shadow wand or brush and glide the powder gently across the lid. Apply it to the desired area of the eyelid and reapply as needed! It applies smoothly and does not create dust on your cheek as some shadows do.
Here you can see the difference. I've applied the shadow to only one lid, and this was the color after two applications: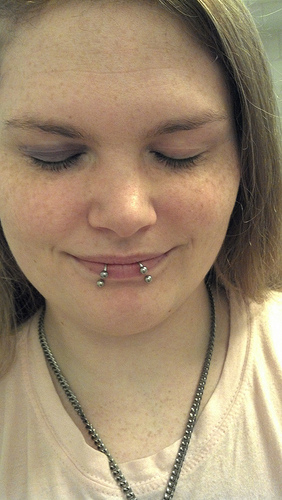 How to remove the product or clean up any mess
Typically to remove your makeup you will want to use a makeup remover or just soap and water with a wash cloth. This tends to stick to the eyelid through regular soap and water, so you will have to do a bit of extra scrubbing, though not enough to make it painful. Regular, cheap store-brand makeup remover will also work wonders and take this right off, no scrubbing needed! Should you spill any powder, it does not stain and comes right off of fabrics with a quick vacuum or sweeping. You may want to avoid using a damp cloth or water to remove the powder, as it will turn into a more sticky substance when wet.
Pros and Cons of mineral eye shadows
There is both the good, the bad, the ugly
and
the beautiful when it comes to mineral makeup. There is a huge controversy over whether it is "safe" or "green", so I did a bit of digging and discovered some lists of pros and cons.
One of the first concerns is always ingredients. This eye shadow does contain an ingredient known to be an irritant for some people. This ingredient is the first on the list, and is called
mica
. Luckily, however, this makeup does
not
contain the other common irritant, Bismuth Oxychloride.
According to the website
beautyfool
, if you can get past the tricky application, frustrating at times removal, and irritants it can actually be some pretty good stuff! It can protect your skin from the sun's harmful rays and should also not clog pores like some makeups will.
Overall, if you are able to avoid having an awful, potentially painful or itchy rash or swelling, mineral makeup can be better for you than any other kind. At least, that's where my research has led me!
Important Ingredient Breakdown
Mica is what creates the shimmer in the powder and gives you that shine. It is also the most skin irritating ingredient in the shadow.
Titanium Dioxide helps create the coloring and assists the mica in its job of shimmering and adding brightness! It also is what protects you from the UV rays of the sun.
Magnesium Myristate aids in allowing the powder to be more spreadable and helps the powder to stay in place longer. It can, however, build up in the body over extended use. Also, this means that if you have acne it can be an irritant. You will want to avoid getting this too close to "trouble areas" with this product.
The full list of ingredients is as follows: Mica, Titanium Dioxide, Violet Ultramarine, Blue Ultramarine, Boron Nitride, Magnesium Stearate, Manganese Violet, Magnesium Myristate, Tin Dioxide, Iron Oxide, and Ferric Ferrocyanide
Packaging and storage
Your powder comes in a clear plastic jar with a black screw on/off lid. The lid shows the name of the color and has a swirly, black and white design. Unscrewing the lid, you will see a sticker tab you have to pull so that your powder can move freely inside of its confines. There are 3 holes which lead from the bottom compartment to the top compartment where you will actually find your powder. This can be stored in a makeup case, on your sink, in your dresser, wherever you'd like! No one would guess where you purchased it and it does not look like any type of sex toy related item whatsoever!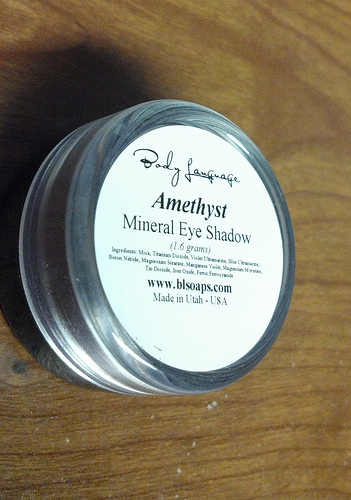 Experience
A neat trick to do with your powder is to take a brush and dip it in water, wipe the excess off, and dip your brush into the powder. This will create a "paste" that you can apply to give you a more wet-looking shadow or to convert the shadow to eyeliner! This works especially well with mineral makeups!
In my time wearing this product, I did not experience any irritation or redness in or around my eyes. I did not have any swelling, eye watering or any sign of reaction at all. That being said, this should be safe for more sensitive wearers, as long as you don't have any direct sensitivity to any of the ingredients.
4 out of 5 stars because it still does contain some irritants, did not create as much shimmer as I was expecting, and needed 3 applications to make it as dark as I like.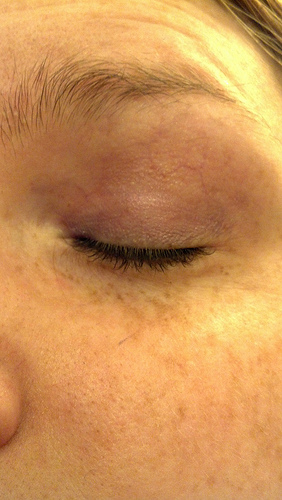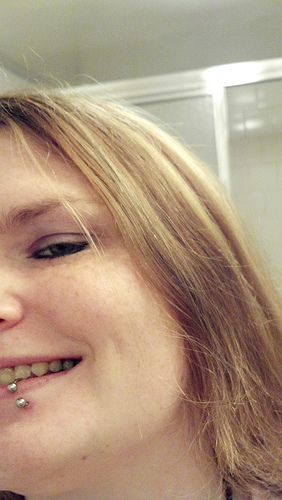 This product was provided free of charge to the reviewer. This review is in compliance with the FTC guidelines.

Thank you for viewing
Mineral eye shadow
review page!