My Nipples are Flying as I Dance with My New Fav. Body Charms!
I love to wear these on my nipples under my clothes, and no one knows I'm wearing them. They make me feel so sexy, and naughty... and I can't wait for the clothes to come off to model them! I'm happy that I can finally wear nice body jewelry, without actually putting extra holes in my body!
Published:
Pros:
Sexy, durable, pretty, long lasting, don't have to pierce body.
Cons:
May fall off in hot/humid weather if worn for long.
USE:
Body charms Butterfly by California Exotic is a set of two adhesive butterflies with crystals attached to chains, in which you can decorate any part of your body without actually piercing it. Use it on your nipples, navel, earrings, or anywhere else on your body you want add a little bling. Surprise your partner by doing a little dance, and revealing the added sparkle while it dangles!
MATERIAL/TEXTURE:
The packaging states that the materials are plastic. The butterflies look like they could be made of a type of metal, but could very well be plastic. They are smooth in texture, with adhesive tape on the back. The chains are silver coated, and the crystal beads are plastic as well.
The adhesive is quite strong, and you may find it hard to remove the Body Charms. If this happens, run it under warm water and slowly remove. Be cautious wearing these during hot and humid weather, as they may fall off. It all depends where on the body you placed it.
Food-grade material / Latex free / Phthalates free / Hypo-allergenic
Weight: 0.1 lb
DESIGN/SHAPE/SIZE:
The Body Charm Butterfly portion is about 1" from top to bottom, and from side to side. The Butterfly Body Charm that I received is pink. On the back of the butterfly there is double tape, one side attached to the star itself and one side that attaches to your skin.
There are three silver plated chains attached to the bow, that are various lengths: The first chain is 1 1/2" including one pink crystal bead, the middle chain is 2 3/4" including 2 pink crystal beads, and the third chain is 2" including 2 pink beads.
The length of the entire design is 4" long and 1" wide at its widest point on the star.
CARE/MAINTENANCE:
Can easily be cleaned with antibacterial soap and warm water by wiping it down. Make sure to avoid the tape area while cleaning, as it could damage the strength of the stickiness. If tape loses it's stickiness, you can replace it with double sided tape to prolong the use of this item.
PACKAGING:
The packaging for this product is quite durable and protects the jewelry nicely. Be careful while removing the Body Charms, as the chain portion is held snugly in place. It's best to just turn the plastic packaging over and pop the Body Charms out, that way they don't get damaged.
Someone mentioned in another review for this item, that the packaging wasn't the same as the photos on the website. That is not true, they are identical to the photos seen here on Eden Fantasys.
Other review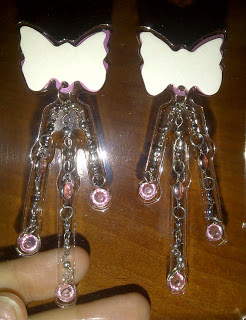 Experience
Overall I loved this product and will get lost of use out of it. I had no problem keeping the Body Charms on while dancing and doing a striptease for my fiance. In fact, they stuck on so well that I had to run my nipples under warm water to slowly remove them!

Another time I wore one of the Body Charms in my navel area, and after a period of time it fell off. I believe it was because of the summer heat, and my body sweating. If you're planning on wearing these for a period of time, make sure it's in an area of the body where it would be more secure. I was able to wear them on my nipples through a whole day of work, and then go on a date afterwards. I had absolutely no problem this time with them falling off, but I think it was because my bra held it in place during the time of perspiration.

I'm so happy that I can wear nipple jewelry, without having to put extra holes in my body!
Follow-up commentary
20 days after original review
I'm still loving these charms, and my fiance loves them more! Looks very sexy on, and the sticky tape is still going strong. I love wearing these while dancing for my cutie!
This product was provided free of charge to the reviewer. This review is in compliance with the FTC guidelines.

Thank you for viewing
Body charms butterfly (pink)
– body jewelry review page!