No piercing, but no staying power.
This belly button ring clips on, so you can play with the look of being pierced with no pain. However, mine wouldn't stay on for more than a few seconds at a time.
Published:
Pros:
Can be used in a variety of places, no piercing required
Cons:
Wouldn't stay on my belly button, made of mystery metal
I'm one of those people who has pondered adding piercings or tattoos to my body for ages, but has never actually gotten around to getting any. This no-pierce belly button ring is made for people who want to play around with body jewelry, without the pain or commitment of actually getting pierced.
I was a little surprised to see that this is made by California Exotics. Who knew a company that makes vibrators would also do body jewelry? I noticed that they also make
non-piercing nipple rings
and this actually appears to be the exact same product, just one instead of two. Funny enough, it would be cheaper to purchase 2 of these belly button rings than the pair of nipple rings. Unfortunately, there is no "actual size" photo available for either one, so I can't be sure they are actually the same thing. I'm actually kind of curious if after coming up with the nipple rings, California Exotics just said "Hey! I bet we could sell the same thing solo and call it a belly button ring!"
The ring arrived inside a plastic package with an insert containing basic information, such as California Exotic's website, and that this is sold as a novelty only. The material is listed as "metal", which is a little vague, especially since some people have allergies.
The ring itself measures about an inch in diameter, and was really light. It is almost the same size as a quarter, which is larger than I expected. I was picturing something closer to the size of a dime.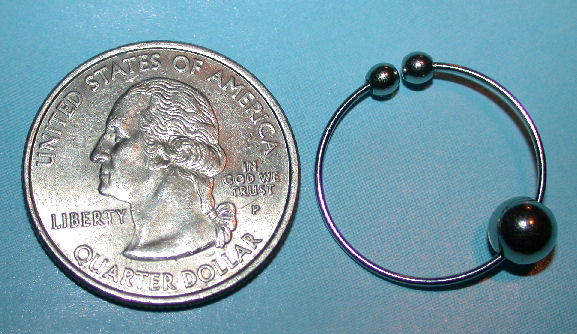 It is a basic circular shape, but instead of being a solid circle, there is a tiny gap with small silver balls that close around the skin. A larger ball is free to move around the ring.
Experience
I was pretty skeptical that this would actually stay on for any length of time, and with good reason, because I couldn't get it to. I found it really hard to get the ring on my belly button to begin with. You need to pinch a small amount of skin between the ring's ends, and I tried everything from the smallest amount possible to a pretty good sized chunk, but nothing helped it stay on for more than a few seconds.

Being curious by nature, I of course had to test this out to see if it would work anywhere other than the navel. In the spirit of EdenFantasys, I tried a nipple first, with much better results. In my opinion, the ring is a little too large to be a nipple ring. But it stayed on much better there, and looked pretty hot. Once it is on a nipple you can even tug it gently without it popping off. I found that it provided a pleasing amount of pinch, so those who enjoy some nipple stimulation might enjoy wearing this during sex or solo play.

Continuing my experiments, I tried the ring on the outer part of my ear, where it stayed nicely, but again was a little too large. I wanted to try my eyebrow, but couldn't get it to go on.

Funny enough, this fits my ring finger perfectly, so I could wear it that way if I wanted. But I found the floating ball moves around a little too much to make it comfortable as a ring.

It is hard to say if the ring is a dud in general, or if it is just the shape of my own personal bellybutton that made it fail. If you can actually get the ring to stay on, I think this would be fun to surprise your partner with, or perhaps even use in some role play (It would go great with a sexy schoolgirl costume, for instance.)

If the ring is too tight, on whichever body part you are using it on, you can stretch it open a bit by pulling the balls apart. Be forewarned though, that once it is stretched I found it impossible to get it tighter again.

I really wish this had worked out better for its intended purpose, but I'm glad I will at least get some kind of use out of it!
This product was provided free of charge to the reviewer. This review is in compliance with the FTC guidelines.

Thank you for viewing
Belly button ring
review page!