Oh..oh..Come on!
This is the little brother of the stimulator you want. He doesn't know what he's doing, he's obnoxiously loud, and he's awkward to handle. Put the effort into snagging the strong, silent type.
Published:
Pros:
Inexpensive, AA batteries
Cons:
Loud, attracts lint, not enough vroom, not multi-use, difficult to clean
California Exotic's Pleasure Dot is more like a pleasure not. I'm not a very experienced toy user, but I can tell you that this toy did not tickle my "fancy".
First and foremost, I found out that Eden has a sense of humor when I received a box that was as long as a standard size pillow and half the width. Instantly, I found myself trying to remember what I ordered that could be that large and then wondering exactly how large the pleasure dot was supposed to be (the size of a back scratcher?). Alas, when I opened the box, I pulled out yards of tissue paper to find a box about the size of a TI-scientific calculator that took up probably less than a fifth of the box used to ship it.
The pleasure dot comes in red and blue, though if you're looking at the picture on Eden, it most certainly looks pink. I ordered the red and I found out it is actually red.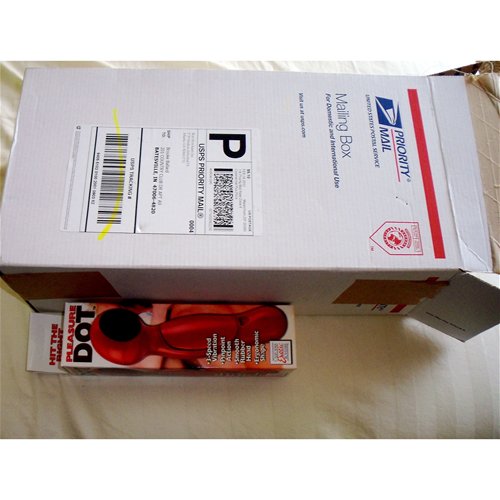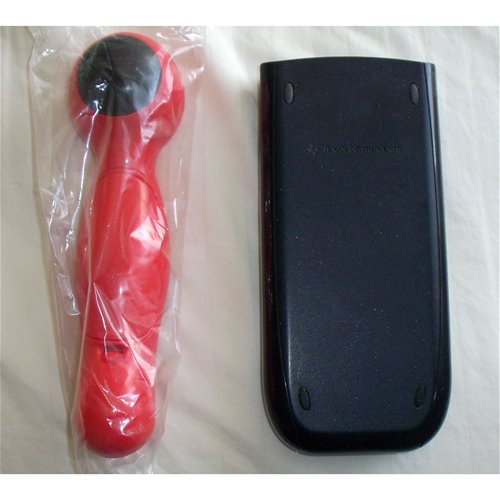 When I opened the pleasure dot box (which is adorned with a woman on top of a man on it as well as a picture of the toy) I found that the pleasure dot was wrapped in plastic as well. I tore off the plastic and immediately noticed the giant button and battery compartment. The area is literally at least half the toy. There is a little tab you push up on to insert two AA batteries into the toy (batteries not included.) There is also a diagram showing which ways to place the batteries.
When the compartment was closed, I pushed the button and noticed a medium buzz/vibrate. Then, there was another click and pulsing, followed by a third click that didn't really seem too different from the first vibrating setting. The button for changing vibrations is so large that I bumped it at least two times while trying to play.
The top of the toy has a little rubber circle on it, while the rest of the product seems to be plastic of some sort (not stated on the box what it actually is). The top rubber part is supposed to be for clit stimulation, but it's huge! It also attracts lint. The dot didn't come into enough direct contact with my clit to provide and end result. In fact, the bottom of the toy vibrates much more strongly than the top, so I found myself using the bottom to get any stimulation.
More fun news...this toy is not waterproof and with such a large battery compartment, the chance of it getting wet is huge. Not to mention that to get any stimulation from the top rubber circle, you are going to want to use lube as it feels kind of like skidding your skin across a gym floor.
The pleasure dot is also not useful for penetration (not waterproof), so it can't be redeemed by creative uses either really. I read another review that said you could cover it with a condom, but I wouldn't advise it. There are far too many crevices in this toy.
Finally, this toy is loud! I put it under my covers (a thick comforter), closed the door to my room, and I could still hear a faint buzz.
Experience
When I was playing with the toy, the vibrations were nowhere near strong enough to get me off, though they did create a good tease. I found myself throwing the toy off the bed to finish with my hand after about 15 minutes as well as using my hand and then the toy repeatedly during. There's just not enough buzz for the buck!
Follow-up commentary
8 days after original review
I'm sorry to say it, but the Pleasure Dot still isn't doing it for me. I've actually never owned a clit stimulator prior to this experience, so I have a feeling it's even lacking the vroom for beginners. I'm still disappointed by the fact that the battery compartment's size makes it useless for a variety of play ideas. It's still unbearably loud unless you want to announce to the house that you're having playtime. I have stored it in the original packaging to keep it from collecting lint.

If I want to say anything good about this, it would be that I like the color, but that doesn't say much in terms of function.
This product was provided free of charge to the reviewer. This review is in compliance with the FTC guidelines.

Thank you for viewing
Pleasure dot
– massager review page!