Ouch, Ouch, Pinch, Pinch.
The stroker beads are irritating, pinching little sons of guns! There was absolutely no pleasure for me or my partner with these. I can't understand how anyone could use these and not have a painful experience. They ruined the mood one too many nights.
Published:
Pros:
Adjustable - Fits many bodies
Cons:
Painful
Painful
Painful
Use:
The Lover's thong with Stroker Beads – crotchless panty – by Cal Exotics looked like a fun toy to try out for a different sexual experience. I hadn't seen anything like it, and it was pretty cheap at just $10.99, so I thought, "Why not?".

Now that I have tested this awful piece of junk, I think, "Why'd we ever?"

Let me explain.

The Lover's thong with stroker beads is a crotchless panty of sorts. It is worn by either partner, guy or girl, during sexual intercourse. The idea being that the beads stroke the penis, the vagina and other sensitive parts while you move. The panty is put on like a thong and the beads should be placed either around the penis or directly in front of the vaginal opening. This item is made for partner play or solo play if you use a dildo or other insertable toy. You could also just wear it around the house under clothing.

This toy could be used for beginners or for advanced users who are looking for something different. But in my opinion, I suggest it for NO ONE!

Material/Texture:
Material: Plastic/ Elastic
The beads and the connector pieces are plastic. Plastic is non-porous and is a phthalate-free material with firm, smooth textures. The beads are smooth and round with a single crease down the center. When rubbing them in your fingers you can feel the crease. It is semi irritating. The connectors are more of a flexible plastic/rubber and have rivets in them. The rest of the device is elastic. It is extremely stretch and pliable. The elastic is also connected by rivets. The texture of the elastic is rough, but not terribly uncomfortable.

The piece is not uncomfortable in your hand or on. But once it is in position and being used for the purpose it is designed for, it is terribly uncomfortable!

Design/Shape/Size:
The design looks like a harness or a thong. There are adjustable elastic straps at the waist and thong piece. The device can be positioned higher or lower very easily when laying down, but when walking around in it, it is out of place and too high.

The entire piece is black, with the exception of the rivets which are silver. The main part of this device is the circle of beads. These beads spin and twirl and the circle can expand because they are on an elastic strand. It is kind of like a bracelet of beads. The connectors are above and below the bead circle. They combine the parts together.

The measurements I took:
Diameter of bead circle: 1 ¾" (stretches to 4")
Smallest waist size (adjustable strap): 24"
Largest waist size (adjustable strap): 40" (stretches to 64")
Thong cord (adjustable): 7" - 11" (stretches to 14")

The device can be pretty small or large. It is adjusted in multiple ways which is nice. The beads circle can also be stretched, but the more it stretches the less bead rolling there will be, which is the point of this. The device fit me well and my partner too. It is not discreet and would look fishy if found by the TSA.

Performance:
The purpose is to roll the beads along the penis shaft and the opening of the vagina. It is supposed to be an extra sensation of pleasure and an added touch to a sexual experience.

**But it is not. Not in the least! It is a pinching, scratching worthless device that gets in the way and causes all sorts of pain and discomfort. It is quite miserable actually. It would pinch about every 3 seconds. With or without hair!

Care/ Maintenance:
This is hard to clean. You have to hand wash in the sink and let air dry. But the real kicker? The elastic tends to soak up smells so you MUST clean it right away. Not only that, you have to stretch the bead circle out somehow to let the inside elastic string dry out completely. Yeah made that mistake once. The strand didn't dry out and it now is icky.

Packaging:
The stroker beads came in a very typical sex toy box. On the front was a nearly naked model and some limited information. It is not discreet and would not make a good gift box. There were no instructions included.
Experience
Personal Experience :
I wish for my personal comments I could simply write "OH HECK NO!"
But I thought I would leave you with a little more of an explanation.
Just wow. This "toy" is more like a torture device – and not in a good way. We tested this device out 2 ½ times (yes, a ½ time, because we removed it ½ way through on the 3rd time. It just wasn't worth it). It pinched with every move my partner or I made. I used it with and without hair down there – and it didn't matter! This will pinch anything it can sink its little stroker beads into – hair, skin, vagina lips. It isn't pretty...
I am almost positive that after the 3 month follow up review – I will be throwing this out. Of course I will give my honest opinion then, and give it one last go, but if it still pinches and hurts? It is outta here. Sad, I know. But hey, I could always cut the bead portion off and make a pretty black bracelet from it! Not a total waste then, right? Ha.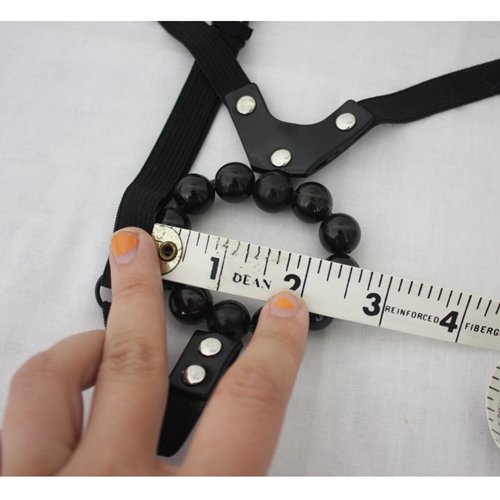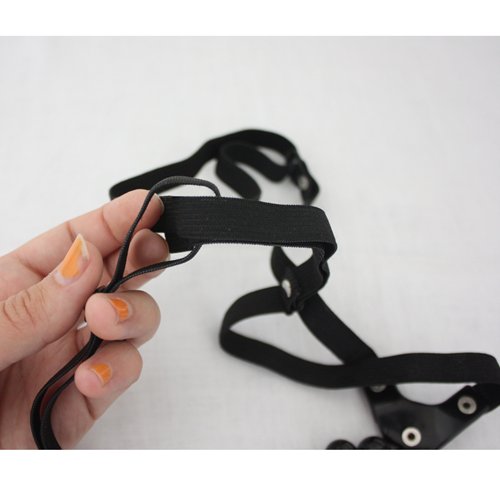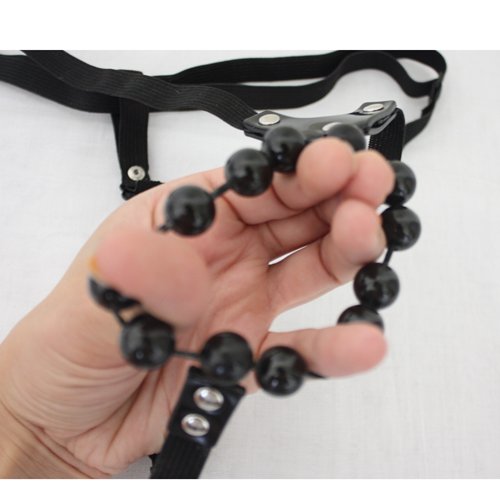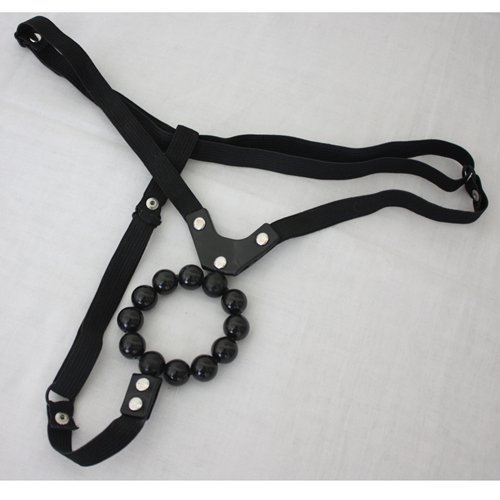 Follow-up commentary
10 months after original review
This Lover's Thong and I - did not get along. It pinched, pulled and hurt - it was nothing but pain... which I am not into. I never did get to liking these, and I still feel that they would be an annoyance to maintain as well. The fabric elastic and beads are incredibly hard to clean. I like the idea of this, and maybe someday there will be a better version made of this, I would be willing to try! I can only see this as a good item for those that like pain down in the sensitive regions!
This content is the opinion of the submitting contributor and is not endorsed by EdenFantasys.com

Thank you for viewing
Lover's thong with stroker beads
– crotchless panty review page!