Paints, dusts, powders reviews
Chocolate tattoo set

If you are looking for something fun that both partners will enjoy then I highly suggest purchasing this product. It is well worth the money you spend for it.
It can be enjoyed by both partners
Can be a little sticky if all of the chocolate isn't removed
Rating:
Published:
October 08, 2008

Overall, this is a high quality product and a very fun toy. I highly recommend it for chocolate lovers and romantics alike.
Tastes great, comes with useful tools, brush and stencils are easy to clean
Basically chocolate syrup, has to be refrigerated
Rating:
Published:
February 04, 2008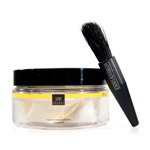 Luxury sensual body powder

Tastes great, smells great, feels...ummm...like sand? I do not like the way this feels on skin as it is more of a sand than a powder. Some days I love it, some days I hate it.
Smells and tastes great!
It looks like sand, and it feels like sand
Rating:
Published:
August 14, 2008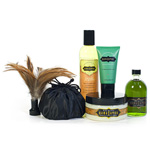 Earthly delights gift set

I'd highly recommend Kama Sutra's Earthly Delights Gift Tin to anyone looking to delve into the world of high-quality sensual lotions, creams and powders. It might be more expensive than some products on the market, but the difference in price is WELL worth it!
Full-sized products, nice selection of Kama Sutra's line, most products are edible, lovely packaging
Massage oil is not edible, Pleasure Balm can burn if over-applied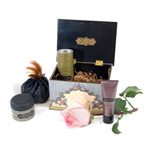 Bedside lover's tool kit

The Kama Sutra Bedside Lover's Kit is a wonderful foreplay product. There are enough different things included in the little box that you're almost guaranteed to find something you like.
There's enough variety to keep you busy for quite a while.
Putting the dust in a jar would make it easier to use. Not everyone will taste the same thing.
Rating:
Published:
February 13, 2008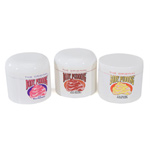 Body pudding 3-pack

All went on smoothly, and were fun even if used as lotion and only during playtime. The scents are pleasant.
Rating:
Published:
January 10, 2008