Pretty AND Sexy!
These inexpensive but effective rings look cute, stay on (for the most part), and feel sexy. They take some getting used to, but once you get the hang of them, they are a fun addition to the toy box.
Published:
Pros:
Inexpensive, cute, stays on without being painful
Cons:
Fall off with vigorous movement, look cheap
There's something just so lovely and sexy about body jewelry. For me, though, it's really not an option. It took me three times just to get normal earlobe piercings to take! When I saw these *non-piercing* Asian Hearts Nipple Rings, it seemed like it would be a perfect temporary alternative to a permanent piercing.
Let's start from the beginning: the packaging. I'm not going to mince words here, the packaging is awful. The word "indiscreet" doesn't quite cover it - I'd say more like tacky. The nipple rings come in a clear plastic package graced by a very oddly shaped nude woman wearing only a pair of spiked heels. I tried to look beyond that to the info on the package. "Non-piercing, Non-Tarnishing, Nickel Free" is the only information other than the company and place of origin (California Exotic Novelties, made in China). Non-piercing and non-tarnishing are pretty self-explanatory, but I focused on "nickel free." So, it's nickel free, but what kind of metal is it? I looked all over the package, but couldn't find it anywhere. As someone who is very aware of what I put in and on my body, I found this concerning. I did e-mail the makers of Asian Hearts to ask what they are made of, but have yet to receive a reply. I'll add an update later if they get back to me.
On to the appearance of the rings themselves! You won't mistake these for high quality jewelry, but that doesn't keep them from having a certain cuteness. The rings are a bit under 3.5" in circumference, and the two chains and hearts that hang down from each ring are 2.25" and 2.5" long, respectively. The little plastic hearts on the end look red in the product photo, but the ones I have are...what's a color between red, pink, and orange? Whatever that color is, that's what I have.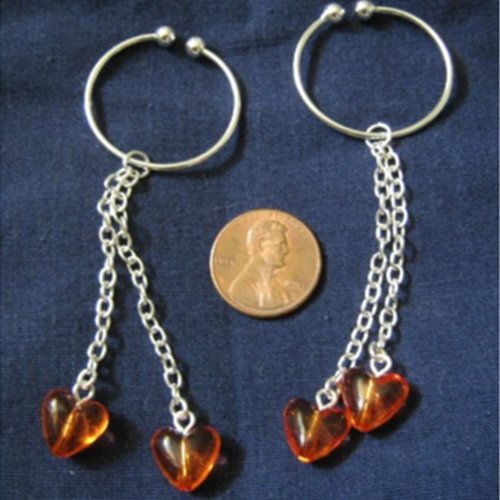 At the top of each ring are small metal balls on each side of the opening. Right out of the package the balls are right up against each other, making the rings very, very tight. Good news! You can bend the rings so the opening is wider, thereby adjusting it to fit you.
As for use, there is a bit of a learning curve. It does take a few times to learn how to put them on and get them adjusted, especially if you are trying to do it yourself. With one hand you hold the ring and try to adjust it, with the other put your nipple through the opening. After the first few times, though, it is extremely easy to get them on alone. But once they're on, do they stay that way? Well...yes, mostly. If I put them on, add a shirt, and walk around, they stay in place for the most part. They may shift just a smidge. Even with moderately active movement, such as short hops or bending over to pick something up, they stay put or shift just a little. However, with vigorous movement, they do shift and eventually fall off. I find that as long as you don't mind giving them a little readjust every now and then, this isn't really a problem.
But what about comfort? In order to get them tight enough so that they won't continually fall off, they will feel a little tight, maybe even a little pinchy, but not so much that they are unbearable to wear. That being said, you probably won't forget you are wearing them.
Cleaning is very easy. Water, soap, rinse, dry, done. Storage may be an issue, since the original package is ugly, but you can't just throw them in a jewelry box because the chains do tangle and wrap around the rings.
Of course, I couldn't have non-piercing jewelry without trying them on other body parts. On my belly button, the ring sticks straight out, rubs against my shirt, and shifts painfully when I sit down or stand up. It's the same story when I try it on my labia and clitoris.
Experience
I have never tried non-piercing jewelry before, but these were just so darn cute I couldn't pass them up. I wanted something that not only would I think was sexy, but my husband would, too. Though he wasn't quite on board when I first told him about non-piercing nipple rings, he did admit that once he saw them on he found them much sexier than he thought he would. These are now a favorite.
Follow-up commentary
30 days after original review
I still love these nipple rings, but it STILL bothers me that I don't know what they are made of. I e-mailed the manufacturer about it over a month ago, but they never bothered to get back to me.

I've used these several more times after my original review and found that they fall off pretty often during vigorous movement and sexual activity unless I make them almost painfully tight. It's enough to mildly annoy me, but not enough to make me dislike them.
This product was provided free of charge to the reviewer. This review is in compliance with the FTC guidelines.

Thank you for viewing
Asian hearts nipple rings
– nipple jewelry review page!