Sex on the Go Arousal Wipes: Sensitive, but not aroused.
A great idea, but may not work for all. These wipes are nicely compact and last quite a long time, but may not be so much more arousing than your current state of mind. If you like cooling effects that don't burn you, then you will like these. If you find you like these, you will be highly disappointed that you only get three wipes per pack.
Published:
Pros:
Can fit in your purse, wallet, etc
Stays moist for a long period of time
Cons:
Not discreet
Not very many in packet
Contains parabens and not-so-pleasant ingredients
These arousal wipes by Cal Exotics are quite convenient to have when you are on the go and want to boost your sensitivity level. Because of their size, you can fit an individual packet easily into your purse, pocket, or even your wallet. This does not only have to be confined to use on the genitals for arousal, but you can use these wipes all over your body and on other erogenous spots (such as the nipples) for a nice, cooling sensation.
Packaging and Size Information
The box contains 3 wipes total. Each wipe has their own individual packaging which are not resealable. Because the retail price of these are $3.99, that means you are paying $1.33 per wipe. The packaging is not discreet, but it is easily hidden because of its size.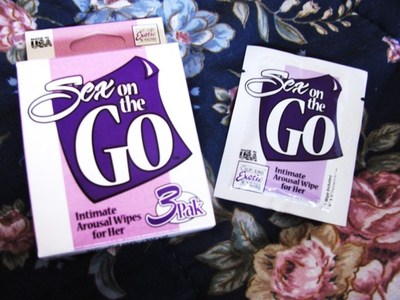 I measured each wipe to be 5" x 5-1/2", though the box says the latter is supposed to be 6". When stretched to it's full capacity, I measured 5-1/2" x 6". The outer wrapper is 3" x 2-1/4", making it between the size of a credit card and a condom, both of which fit easily into a wallet to keep safely hidden.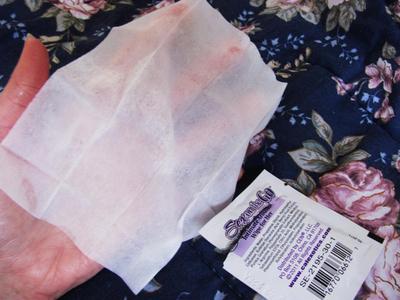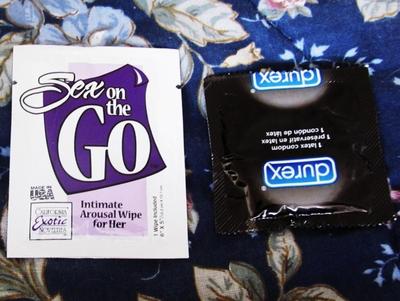 Texture, Consistency, and Aroma
All in all, this feels very much like any other wet wipe - except that it is
extremely
wet. These wipes will stay wet for many uses, especially if you put it back in its packaging between applications.
The wipes themselves are pretty durable. They will stretch quite a bit but do not return to their original size like some wipes do. If you do pull beyond that extent, it will rip easily. The way the fibers are woven makes the wipe the slightest bit rough, but it wasn't noticeable until I rubbed it between my fingers to get a better feel. Be careful not to wipe too vigorously on your sensitive bits if you are applying while in a more dry, unaroused state.
The only downside I found was that it does leave a sticky residue until it was completely dry, which took about 10 minutes. At that point the residue was still there but not annoyingly obvious. If you were using this on the go, you'd probably want to wash your hands after, because you will get the liquid all over them while applying. These were not meant to be scented, but you can smell the subdued menthol (which is one of the ingredients).
Ingredients
The ingredients are listed on the back of the box as well as on each individual wipe. There are some good ingredients, but lots of bad as well. If you have extreme sensitivities, do read this carefully.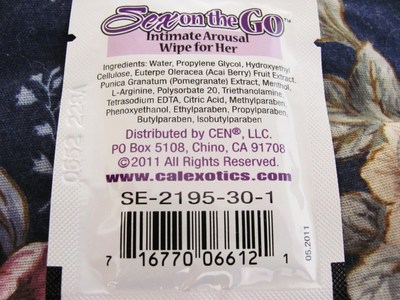 The good: The wipes contain certain ingredients thought to boost arousal in the body: Acai berry extract, pomegranate extract, menthol (to give you a cool, tingly feeling), and L-Arginine. Phenoxyethanol is a preservative used to give these wipes antibacterial and antimicrobial properties, and Triethanolamine is used in this product to help balance pH levels to where it is applied, and Tetrasodium EDTA is added to make this product water-soluble.
The not-so-good: There are 5 parabens in this, so this is definitely out of the question if you are trying to avoid products containing them. Propylene Glycol is a petroleum-derived compound, that is supposed to allow the product to easily penetrate the skin and help it retain moisture. Not a fun fact, but this is the main ingredient in anti-freeze products. The packaging does not warn you that this contains alcohol, but it actually does: it's listed as Hydroxyethyl.
Experience
As I mentioned in the title of this review, I found these wipes to be sensitizing, but not arousing. The ingredients used for arousal were not potent enough for me to feel the effects, however, I did notice sensitivity right away due to the menthol. Let me tell you: these wipes are cold! While applied, it gave a decent cooling sensation that did make my clit extremely sensitive from the get-go. For me, it was neither arousing nor unpleasant, just made me more aware. That feeling subdued in about 5 minutes while using a toy, but when I reapplied it and waited to see how long it lasted, it began to fade after about 10.

I found that if I put the wipe back in the packaging, it helped to make the wipe stay moist much longer. I took it out to wipe about 5 times during 1 hour, and it was still wet. After that, I decided to leave it out to see how long it took to dry out. After about 4 wipes in the past hour and a half, it has finally lost most of its moisture, and lost its cooling effects about halfway through that period of time.

I was really hoping that this would be more arousing rather than just cooling- I highly dislike being too sensitive because it produces the opposite effect in terms of arousal. However, I do admit this is a great idea. If it works for you, then that's awesome. I'm deducting two stars because of the less than desirable ingredients and sticky residue, and the fact that you only get 3 wipes per box. My personal rating would be a 2 stars because of the fact that the only noticeable sensation was the cooling, but I know that this will work better for other women out there.
This product was provided free of charge to the reviewer. This review is in compliance with the FTC guidelines.

Thank you for viewing
Sex on the go arousal wipes for her
review page!